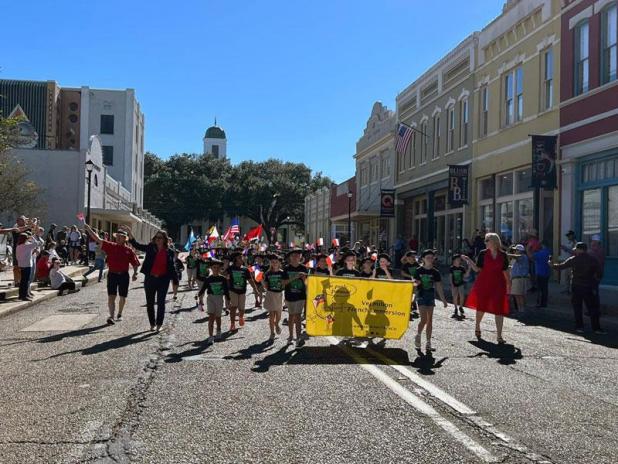 Vermilion Parish showcased: Great Acadian Awakening kicked off in Abbeville on Saturday
LeBlanc Elementary French Immersion students lead the parade downtown Abbeville.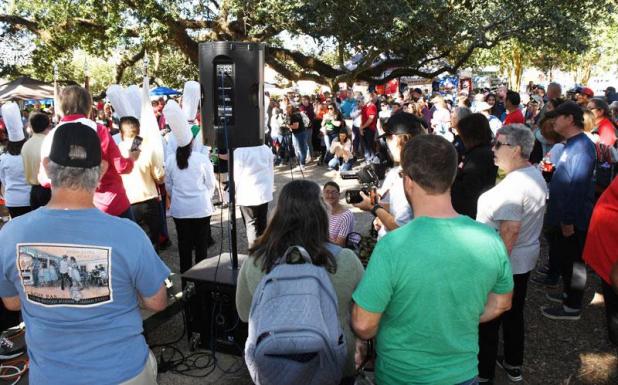 A crowd gathered at Magdalen Square for the opening ceremonies.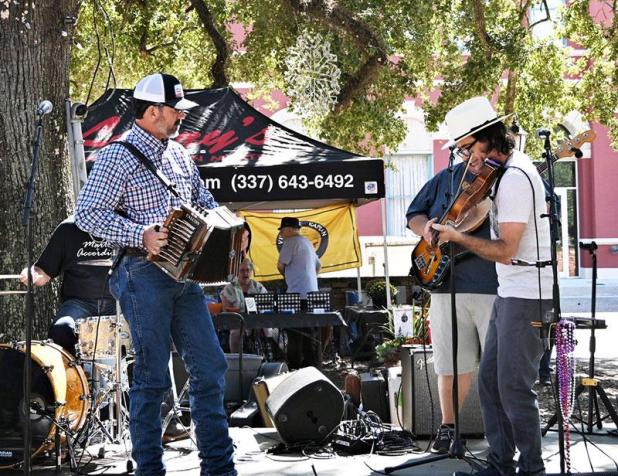 Ryan Abshire and Jason Harrington, members of the Envies band, performed at the Grand Reveil Acadien Saturday in Abbeville.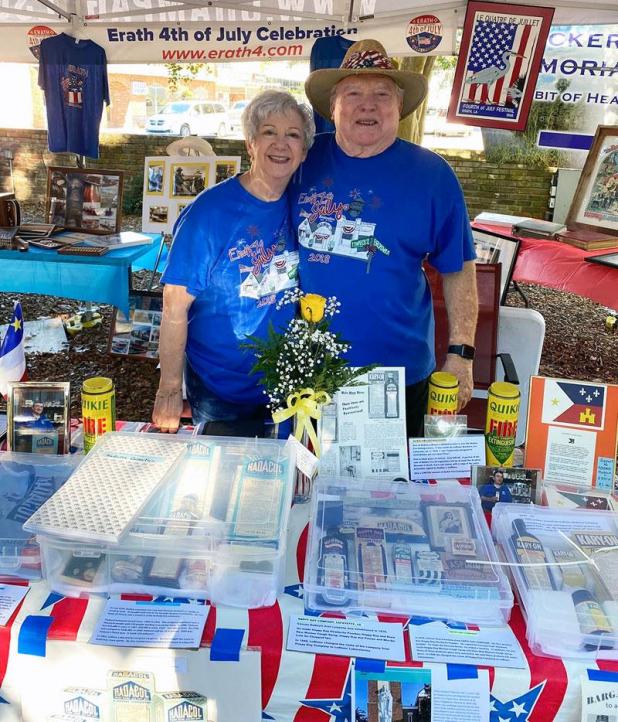 Jackie and Douglas Vincent of Erath stand under the Erath booth that highlighted the town of Erath's history. They are standing behind the Hadacol's collection collected by their son, the late Robert Vincent.
The Grand Reveil Acadien/Great Acadian Awakening will undoubtedly end up as its name indicates.
On Saturday, Abbeville and Vermilion Parish helped set a tone for the multi-day event.
Downtown Abbeville served as the site for the opening ceremonies for the event, held every five years and initially scheduled for 2020. From morning through Saturday night, music, food, and a celebration of Cajun culture filled Magdalen Square.
Abbeville Mayor Roslyn White said she is proud of the work everyone involved put in to highlight the area in front of the Cajun world.
"The team did a great job," White said. "I think the event was a wonderful showcase of our culture and all our parish offers. My favorite part was showcasing the French immersion children and their excitement over being part of the day. In addition, I visited with both local and international guests, who all shared their appreciation for the program.
"It was a great day for Abbeville and Vermilion Parish."
Councilman Brady Broussard Jr. couldn't agree more.
"The grand opening of the 2022 Great Acadian Awakening in downtown Abbeville exceeded all expectations as a tremendous success," Broussard said. "Crowds and participation did reach and likely exceeded the pre-event estimates of 1,000 visitors who filled Magdalen Square to reconnect with Acadian cousins and neighbors. At the same time, the highest caliber of our legendary Cajun music was played from morning until evening."
Abbeville Main Street Manager Charlene Beckett said she spent the entire day speaking to many visitors. How she talked to them is part of what made the day extra special for her, personally.
"I had so much fun speaking French to all these people," Beckett said. "I also met some cousins I didn't know I had.
"It was a terrific event and wonderful to showcase the parish."
Alison Miller, Vermilion Parish Tourist Commission Executive Director, said this event did allow Vermilion Parish to be placed front and center.
"It was a great day to showcase what Vermilion Parish offers," Miller said. "The weather was beautiful. The food was delicious. The music was outstanding and the crowd was tremendous."
Broussard echoed the sentiment of White, Beckett and Miller.
"This was for all of Vermilion Parish," Broussard said, "and we were pleased for our neighbors in Erath, Kaplan and Maurice who participated and contributed to this success."
Broussard added that it is an honor for Abbeville to have kicked things off.
"In Abbeville, we are thankful for the Louisiane-Acadie board who chose us for the grand opening of this week's activities."
St. Martinville, New Iberia, Arnaudville, Rayne, Church Point, Houma, Thibodeaux, Lafayette, Broussard and Port Allen will serve as other locations. Closing ceremonies, set for Sunday, Oct. 9, will include a 9 a.m. French mass at St. John's Cathedral in Lafayette, followed by a Tintamarre to Warehouse 535 and concluding activities at St. Luc's Immersion School in Arnaudville.
"The Grand Reveil continues this week throughout Acadiana," Broussard said, "but the memories of the grand opening here in Abbeville will not be forgotten."