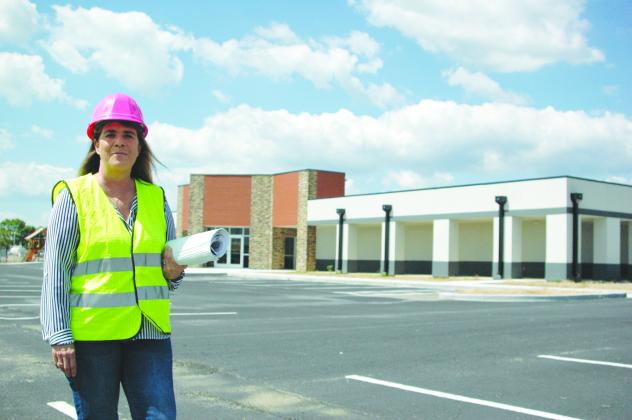 Lifestyle
October 12, 2022
For Sanders, industry bias 'makes me stronger'
What is required of a woman in business to be recognized for her abilities rather than her gender?
You're not named Small Business Woman of the Year in California one year and ranked in the Top 10 for women in business another year without being a savvy businesswoman, one who is a force with which to be reckoned.
You're not awarded contracts to build new squadrons for the Navy's largest master jet base — home of Strike Fighter Wing Pacific, where the F/A-18 Super Hornets are the primary aircraft — and America's second largest naval air station without being at the top of your game in the construction industry.
And you're not awarded five-year federal contracts for Tinker Air Force Base, the Oklahoma Air National Guard and General Services Administration for the entire state without a demonstrated reputation for excellence.
Yet, in spite of her myriad of achievements and keen business acumen, MGS Construction Services president Diane Sanders is reminded — constantly, she'll tell you — that women are still victims of stereotype, that when it comes to business, some men are often condescending no matter your credentials.
"The obstacles I've overcome is when I answer the phone, they wanna talk to the owner," Diane begins. "I answer the phone, and they say, 'Well, is there a man I can talk to?'"
Diane's husband John, sitting nearby at their base of operations in Sallisaw, quietly acknowledges: "It happens a lot."
Diane continues: "It happens, still to this day, it does. And I stand my ground. I say, 'No, you're talkin' to the owner.' But that's probably [too much to ask] for a man to take me seriously. There's been some that have refused to talk to me. [John] gets on the phone with them — there's only been a few. I've learned that there's some people you'll never change.
"It's hard for a woman to be in construction, it truthfully is, unless you're in payables or you just sit in the office and answer the phone. But to be in the thick of things, it's very hard."
Then the other shoe drops. "And I still get called Hon … and Sweetie … and Missy. Constantly. Constantly.
"I don't dwell on that," she assures, placing the tip of her finger to the side of her head, "but I still have it here. It makes me stronger."
(But those men don't call her "Babe," which is her favorite song by Styx from the 1980s.)
'We did it together'
It's at this point that John, who is MGS vice president, interjects to document his wife's unabashed commitment to hard work. "When we first started, I bought her a hard hat. She was in the trenches with me. She was shovelin' just as much as I was" on a project at a police station in Avenal, Calif.
Running the pad of her index finger across the palm of her hand, Diane laments, "And I have callouses still from putting up a whole fence."
But then she makes her point: "I'm not afraid of working. We did it together."
Diane and John started MGS in 2006 when they lived in the fertile San Joaquin Valley of central California. "We decided with his talent and my knowledge of government contracting, that we should do this, so we formed MGS." The Sanders reflect the gender demographics of the American workforce, where more than 50% of employees are women. Diane holds 51% of MGS ownership, and John holds 49%.
"I never did it by myself," Diane is quick to point out. "And I think that's what women, the ones that are boasting that 'I am woman, hear me roar,' they're the ones that are gonna fail first. I've never said it was just me. Never. It's always been the team that you surround yourself with. And if women understand that, they'd be better.
"I'm 51%, he's 49%, we work together everyday. Been married 16 years, most people couldn't do it, but it's because I know, that without him, I'd be nothing, and vice versa," she says.
"For a family to succeed, it takes a village. It takes 'em all," John adds. "One husband or one wife can't do it by themselves."
And Diane wants to set an example for her grandchildren, in general, and her granddaughters, in particular.
"Everything I work for, besides my husband, is for my five grandkids. I want them to be proud. I want my two granddaughters to know, 'If VaVa can do it, I can do it.' I want them to know that because they're girls, if I can do it, and do it the right way, they can do it. That is what is actually important. My little Betsey girl — we bought her a hard hat, but none of 'em wanna be in construction — but I want 'em to follow their dreams, whatever that dream is, it's obtainable. With God, all things are possible."
MGS is named after John's dad, Merlin, G is for God and S is for Sanders. "God, in the middle, He has been the middle and center, front, everything to us. That's very important," Diane says. "In my emails, it says 'With God, all things are possible,' because He has shown us. If we put Him first and give to the community and those in need, He always has taken care of us, no matter. When the economy dumped in 2009, that's when we were the busiest. We've never slowed down. We've been blessed."
The business thrives
It took them three years — "and a lot of determination" — to negotiate the difficult red-tape terrain to get their foot in the door for working with the government sector.
In 2010, MSG was accepted in the 8(a) program, a certification accredited by the Small Business Administration (SBA), which is a minority program for woman-owned small businesses.
That's when things really turned around for MGS.
"After that, we just started reaching out to our local base, which is Naval Air Station Lemoore, they are our home base. Finally, after a few years, they decided to give us our first project, which was a bathroom remodel." From there, their reputation carried them to the summit — building new squadrons for the Navy's largest master jet base, and one of the nation's largest naval air stations, which is second only to San Diego Miramar.
"So we've done small projects to constructing ground-up new facilities for 'em," Diane says. "We got to the point that they could sole-source contracts, they could choose who they sole-source 'em to, and most of the time it was us. It was because of our reputation, our ethics, we heard that several times."
Diane is quick to give ample credit to MGS subcontractors who are loyal and reflect their work ethic and morals. "One of the biggest contractors is New England Sheet Metal, who is a billion-dollar company — they don't need us — but they continue to work with us," Diane proudly points out.
When Diane, John, their son (Joe Contente), daughter-in-law (Nichole Contente) and their five children (Mason, London, Rowan, Betsey and Bo) decided on Mother's Day 2016 to move from California, they initially targeted Arkansas. But Diane, who was born and raised in California, years ago lived in Stilwell with her young son, so eastern Oklahoma was also in play — kind of a reversal of "The Grapes of Wrath." By July, the relocation search had shifted to Sequoyah County. And by October 16 six years ago, they had a home and base of operations just north of Sallisaw, while still maintaining their original construction business in California.
"Sallisaw feels like home. It really does," Diane says. "Everybody's been welcoming, and we love it. The people are amazing. We'll never leave. I'll never, never leave here."
Moving halfway across the country, uprooting your family and starting your life over in a new community where no one knows you is, for many, an obstacle of monumental proportions. Not so for Diane.
"The obstacles weren't there, and I know you may think it's strange, but it's God," Diane says, reiterating the "G" in MGS. "It just seems like it all kinda flowed together the way it was supposed to. He allowed the doors to open that needed to be open.
"Every time a door would close, He always opened another."
Follow your dream
To be sure, there are examples of how the male-dominated business world wants to keep doors closed for women. But Diane believes the world might just be a better, more efficient place if women played a greater role.
"I actually believe that women are more structured than men. I think when a woman is at the top — equal — at the top, that all the paperwork and all the legalities of the business, are run better — my opinion only," she says, then decides to go all-in on her view that women may be better equipped to handle the multitude of tasks faced each day. "No, I think it's better, just because I think women are more structured, at least I am. They have to get the kids, and all that kinda stuff, and run a business. My hat goes off to the ones that have kids [in addition to everything else]."
For women who are ready to accept the challenges being in business presents, Diane provides a road map.
"First of all, your dream. If you have it, have a plan. I always have a task list every day. Follow your plan, and if you have to deviate from your plan, learn to be flexible," she advises. "There are so many resources out there that I believe Sequoyah County just doesn't realize. The SBA is out there to help businesses succeed. If you have a good business plan, you go to them, they're not gonna turn you down. There are things out there that you just have to research, and if you start with the SBA's website, you are gonna find every answer possible. They may tell you 'no,' as they did us, but then they're gonna end up tellin' you 'yes.' Once you come in with that business plan, and you follow it. Once you follow it and they have it, they're gonna give you every tool you need, and then some. One friend of mine, she's like, 'Well, I don't have the most perfect credit.' OK, I get that. I understand that. We didn't either when we first started in 2006. It's the goals that you make for yourself, and if you continue to try for those goals every single month — sixth month, leave a mark and see if that's where you're at. I'm all about plans, I'm all about your daily task, your daily to-do list. But the SBA, if women would just really resort — and men — to reach out to 'em, I think they'd be surprised."
There are life events, however, that can derail even the best-laid plans. Diane believed a woman in business didn't necessarily have to make sacrifices, that, much like a man, they can "have it all." But is that realistic?
"I would like to say 'yes,' but after losing my mom, I would say 'no'," she says, tearing up thinking about losing her mother, Frances Leal, to COVID on Nov. 23. "When we lost her in November, a lot of our business was hurt. It wasn't hurt in a way that anybody would know, but it was hurt in the way that I knew, that I let things go. Until January, I was in a fog. I didn't know how to handle it all. Getting out of bed was my biggest accomplishment, and not looking down there and seeing my mom was my biggest accomplishment. Going upstairs to my office every day, I watched her funeral over and over, I didn't focus on work. So I think it's harder for the women, at least for me. I'm very emotional. But we did it, we made it through. Without my family and friends picking up the pieces that I dropped, it wouldn't have happened. I do payroll, and nobody else does payroll, I do it. My guys got their payroll. I mustered myself up enough to get that done. So I think it's harder for a woman than a man for that part."
Conquering new horizons
It was after that life event shook her to her core that Diane and John were presented with opportunities to not only expand their business empire, but also honor her mother.
"My mom loved Mexican food and loved sweets. So we were approached by our friend Stephanie [Goad] that owned Tasty Delights about purchasing it. John and I talked, and I was like, for Mom," Diane says of her epiphany. So on July 6, ViVa's Snack Shack was born. Diane explains that in Portuguese, ViVa means great-grandmother. "We have a picture we're gonna put up there of her. That was for her."
Then on July 29, another local business was acquired.
"And then Cinco's, when we were approached, I was like, 'Oh my goodness, Mom loved Mexican food'," Diane says. "We always wanted a restaurant, but I tie it in with my mom. That's for me."
Diane explains that her daughter-in-law Nichole, who is also executive contract administrator for MGS, runs ViVa's. Meanwhile, Diane's son, Joe ("My greatest thing that happened in the '80s — my son was born in '83."), oversees Cinco's while also "runnin' the things in California that I'm not doin'."
"If we didn't have our family, it wouldn't have happened, it just wouldn't have happened," she says.