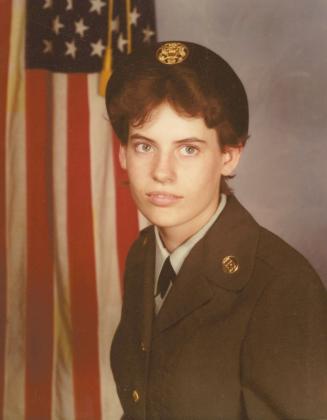 Lifestyle
October 12, 2022
From military to education, Oliver says 'Ain't Nothin' Gonna Break My Stride'
Marilyn Oliver of Vian doesn't back down and nothing breaks her stride.Â
A woman of many talents and interests, she does it all – wife, mother, grandmother, sister, student, teacher, hunter, runner, educator, principal, and military servicewoman.
Oliver was born in Springfield, Mo. and lived there until third grade.Â
"My dad worked for the railroad as a painter, and my mom was a full-time homemaker during my early years, later working as a teacher's aide and paraprofessional," Oliver said.
During the end of third grade, her parents purchased land near Urbana, Mo. and the family moved there.
"My brother and I stayed with grandparents near Springfield during the week to finish out the school year at Pleasant View Elementary," she said. "After moving to Urbana, I attended Tunas Elementary until it closed and was consolidated into the Skyline district."
Oliver said growing up, all of her family lived in or near Springfield so she spent a lot of time outside playing baseball, football, tag, shooting hoops, and riding bikes with all of her cousins.Â
"My brother and I have always been very close and although he is four years older than me, from the time I can remember, I always thought that even though I was a girl, I could do whatever he did," she said.
"We often pretended to be like Evel Knievel, and would set up ramps to jump our bikes which often ended up in bumps and bruises and once, it landed my brother in the middle of our pond!" she remembers.
"We had creative imaginations and always found something to do outside, even if it was just walking in the pasture or the woods. I've always loved nature and animals, and would often bring home the critters that I'd find.Â
"My mom hates snakes and never allowed those in the house, but sometimes she'd let me keep one for a day or two outside by the back door."Â
Oliver said when she was a kid, she remembers playing "teacher" to her younger cousins and leading small reading groups during second grade.Â
"I've always enjoyed school, loved to read, and to learn about new things," she said. "I just love learning."Â
In high school, she was involved in cheerleading and fast-pitch softball, played the clarinet and saxophone in band, and was a student manager for basketball.Â
"I always loved school and took every business class that was offered," she said.Â
Oliver said it was hard for her to settle on what she wanted to do in life as a career, because she's always had so many varied interests.
"But one thing I always did know, was that I wanted to do something to help people. I've been blessed with so many wonderful teachers in my life that I could never name them all and although my parents and grandparents did not work as educators, they really were my first "teachers" and laid the foundation for my success throughout school and beyond," she said.Â
And while she loved learning, she also knew she wanted to join the military at a young age.
"I remember an Army helicopter crew visited our school and spoke to us. After that, I decided I wanted to join the Army and become a helicopter crew chief," Oliver said.
"My dad spent four years in the Air Force before I was born, and always talked positively to me about it. He was proud of his service and of his country, and he believed that it was part of our duty as an American citizen to serve," she said. "I think that is actually where my interest in joining the military began."
Not long after she turned 17, Oliver said she went to the local recruiting station and enlisted in their split-option program as a military policeman in Detachment 1, 102d Military Police Company of the U.S. Army Reserves.Â
"Before I left for Basic Training, my dad's advice was, "Don't stand out; just be outstanding." I've made that my mantra from that time on and have tried to live with that in mind," she said.
She left for Basic Training at Fort McClellan, Ala. in June 1984, and then returned to finish her senior year, graduating from Skyline High School in 1985. She returned to Fort McClellan in June 1985 to complete her military police training.Â
It was the 1980s and Oliver said most of her 80s memories revolved around being in the military, or hanging out with her high school friends and driving the square on Friday or Saturday nights.
"Purple Rain or really the entire Purple Rain soundtrack was very popular when I was in Basic Training, and it always reminds me of sitting on the bleachers, shining my boots and hearing some other soldiers playing it in the background," she said. "The song, "Ain't Nothin' Gonna Break My Stride" was a favorite song, too."
She then attended Drury University for two years as an accounting/business administration major. "Being unable to afford to continue, I left college and went to work full-time in Kansas City for the U.S. Department of Agriculture as a clerk-typist," she said.Â
"Later, after moving to Oklahoma, I went back to college at Northeastern State University in Tahlequah and graduated in 1998 with a Bachelor of Science in Elementary Education, with a minor in Early Childhood Education. And in 2007, I earned my Master's Degree in Education Administration."Â
Oliver spent a total of 33 years in the Reserves and Oklahoma Army National Guard before retiring in June 2017.Â
"One of the highlights of my career was when I was chosen to be a part of the Oklahoma delegation, along with 49 other Air Force and Army service women, to march in the dedication of the Military Women's Memorial in Washington, DC in 1987."Â
Oliver graduated as Distinguished Honor Graduate from the Personnel Administration school at Fort Benjamin Harrison, Ind. in 1987, earned her Air Assault wings in 1990 as one of the first enlisted females to graduate from the course at Camp Gruber, and graduated from Warrant Officer Candidate School at Fort Rucker, Ala. in 2005.
"I served in numerous positions to include Military Policeman, Operations and Training Sergeant, Range Scheduling NCO, Human Resources Officer, and Adjutant," she said.Â
"During my deployment with the Multinational Force and Observers (MFO), I served as the S1 Adjutant for the 1st Support Battalion at North Camp, Sinai, Egypt, during the ousting of then President Hosni Mubarak in 2010-2011."
She has been married to Danny Oliver for over 31 years.Â
"We met in Oklahoma City while we were both in the National Guard. At the time, he was a Trooper with the Oklahoma Highway Patrol and drilled at the Military Academy, and I worked at the State Headquarters," Oliver said.Â
The couple lived in Wagoner for several years and then moved to Vian in 1998.Â
Oliver started teaching at Vian Elementary in 1998 and taught every grade from first through sixth. In 2007, she moved to the high school and taught Technology Education to grades nine through 12th. And since 2015, she's been the principal at Vian Middle School.Â
"In the classroom, I always tried to instill a "love of learning" in my students and worked to find ways to make lessons interesting. I wanted my students to know that I cared about them beyond the classroom, to recognize their own potential, and to use their education to grow up and become contributing members of society," she said.
She also did run some 5K races back in the early to mid-2000s when she was trying to get into shape for Warrant Officer school.Â
"I don't think I ever placed in any of them. I've never been very fast when it comes to long distances, but jogging was good for my health and a great stress reliever. Now, I still do them when I have time, but I walk instead of jog," she said.Â
"My husband always says that moving to Vian ruined his favorite hunting spot because we ended up building our house across the creek from there," she laughed.Â
"I like to deer hunt also, but my rule has always been that you can't hunt from the house. Any deer in our yard are considered my pets and are off limits."Â
The couple has one son together, Jonathan, a daughter-in-law, Ceara and a grand-dog, Zulu, who just moved near Knoxville, Tenn. They also have two cats, Little Bit and Blackie.Â
"I also have a step-daughter, Shawna, who lives near McAlester and a step-son, Robbie, who passed away a few years ago," she said. "We have nine grandchildren and five great-grandchildren."
Oliver said she'd like to organize and simplify her life so that she has more time to spend with family and travel, specifically back to Israel again.Â
"I've been blessed to visit Israel twice already, once while deployed to the Sinai and once with a church group from Blackgum, but there's so much more there to see and experience," she said.
Oliver said she also enjoys reading, traveling to see new places, and camping and fishing at the Roaring River and Colorado.Â