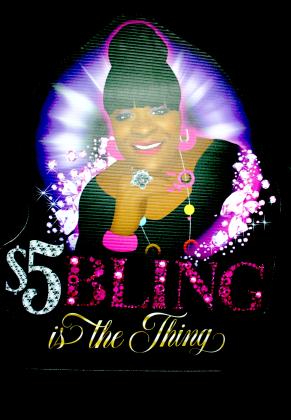 Lifestyle
October 12, 2022
Queen of Bling
Â
Bling was popular in the '80s but has remained in style and a way of life for LaShawn Cook, owner of the Pink Sheek Boutique in downtown Sallisaw.
The first thing one might notice when walking into the boutique, located at 125 E. Choctaw Ave., is all the colorful jewelry and décor making it difficult to notice just one thing. The boutique is filled with a variety of jewelry from one end of the boutique to the other. Some pieces such as earrings are displayed meticulously with matching bracelets and necklaces, while other individual pieces can be matched to the customer's choosing.
Cook, who is an independent consultant for Paparazzi Jewelry, sells "fabulous jewelry" for $5 each. The job and her creativity has been a perfect fit since it is a business she loves and puts her heart into it every day. The boutique is decorated nicely with an inspirational message or a theme such as "She believed and she did" and "Paris" in one corner or "No Boys Allowed" in another in colors captivating to the eye. The boutique offers earrings, bracelets, necklaces and Urban Jewelry for women, and other pieces of jewelry capable of accessorizing or matching any color imaginable, she says.
"I have over 8,000 pieces of jewelry in my inventory. I believe I'm making my girls and gentlemen too, beautiful $5 at a time," she said.
Cook's love of interior design is evident in her boutique which is decorated mostly in pink and coordinating colors.
"I love to decorate and be creative in anything I do," she said. "I grew up in California and I decided as a young girl, I wanted to be a fashion designer. I've always had a creative mind as a child. I guess you could say I was 'girly, sheek and playful.' When I became old enough, I enrolled at Studio 7 in California to study fashion design."Â
After receiving her degree, Cook decided to work in interior design. She also discovered she enjoyed coordinating weddings and "just making things vibrant and pretty" and continues to work on the side to help to make weddings and homes beautiful.
"I have many gifts God has blessed me with. I enjoy decorating and I enjoy making things memorable, and elegant and, just absolutely beautiful!" she said.
While in California, Cook said she would host tea parties and it's something she hopes to begin doing at her boutique.
"I hope to have a mother/daughter tea at some point. I think it would be something enjoyable not only for me but for those who would come to the event," she said. "It's something I would love to do for the community. I'm just very thankful of how the Sallisaw community has received me and supported my business."
Cook arrived in Sequoyah County a couple of years ago because she has family here and was also seeking a treatment facility for a medical issue and discovered a hospital in Little Rock, Ark., could help her.Â
"It's just miraculous how in the past two years, God provided me great health care, a community with good people, a home and a business here. I just love it," she said.
In addition to her creative talents, Cook exhumes her fun personality with every customer who walks into the boutique.
"Oh I make them feel special and I want to help them find the right piece of jewelry they may be looking for. I've had moms and daughters planning to go to the prom, wedding participants and just the regular customers here. When they walk in, I want to give them an experience and just have a good time in here," she said.
Cook said her customers order from her from as far as California but her local clientele from the surrounding towns such as Gore and Vian and in Fort Smith, Ark., is also growing.
"Many people can't believe our jewelry sells for just $5. It's beautiful, fashionable and fun! Bling is the thing," she said.
"I started my business because I wanted to have an additional source of income. Since joining Paparazzi, I have the opportunity to empower individuals everyday and make them feel phenomenal through wearing fun, fabulous $5 jewelry. I believe every woman's essential is to feel beautiful and confident. I invite anyone to let their journey begin today by joining my team. Take that leap of faith and trust God and go for it. I did! And it changed my life. I'm honored to be a part of a company with Christian values."
Cook invites everyone to go to her webpage at Mygurlfriendzboutique.com to learn more about her and Paparazzi jewelry. She can also be contacted at 909-206-3057.