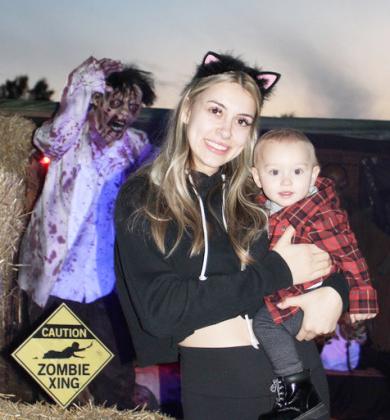 Wicked Willow fun fest provides spooky trail rides, games and fun
Goblins, treats, hayrides, pumpkins, games and lots of fun has all been available this October for area children at the Wicked Willow Fall Festival which will be ongoing until Halloween, organizers of the event, said.
Located west on Lenington Road in Sallisaw, the festival includes over 1,000 sq. ft. of "wicked animatronics," decorations and live actors. The wicked trail ride includes 17 acres of wicked trails and spooky scenes. There are also such games as "gellyball" and the "zombie shooting gallery."
"For the little ones, we have a scare-free inflatable park with bounce houses and slides," said Sonya Morgan who is in a partnership with Jim Kidwell, who moved to the area from Las Vegas, and is familiar with the mechanical zombies and other animatronics. Other members of their families are also taking part to bring the festival's activities together.
Morgan, who owns the Willow Valley Venue at 2510 W. Lenington Road, said the festival has been well-attended so far.
"We've had groups coming from Bell, Muldrow, Liberty and other local schools for field trips. We're only open on weekends but the field trips have been ongoing throughout the days and we're booked all month," she said.
Along with its creepiness, the field trips provide an educational value included with participants learning first hand about about "creepy crawlers," as well as learning to make arts and crafts," Morgan said.
Riley Kidwell, one of the workers who has been in charge of the zombie shooting gallery, said the game has been popular with participants getting a chance to shoot at the zombies and winning a prize.
"See if you can survive a zombie invasion in this interactive zombie apocalypse shooting gallery," she says.
A haunted house complete with animatronics is a brainstorm of Kidwell who brought his ideas with him from Vegas. The spooky creatures located inside the haunted house are motion activated making them seem real at times. Kidwell said some of the workers for the haunted house includes actors from the Sallisaw High School Drama class.
There are also bouncy houses and slides on the grounds for the smaller children and a pumpkin patch complete with photo scenes, yard games and more available on the grounds. The festival includes hot dogs, and other snacks and treats, which can be purchased from a concession.
"We invite everyone to come out and bring their children to take part in the games and other activities we have. If nothing else, they can take advantage of the photo opportunities available anywhere on the grounds."
For more information about hours and costs, call 918-629-9008.