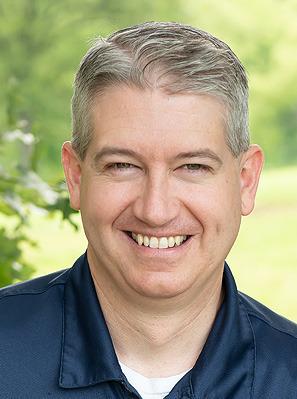 Following 8-month stoppage, VA center now 'back on track'
While appearances may oftentimes be deceiving, this is not the case with the Sallisaw veterans center.
If it appears that no work has been done for months on the new facility, it's because no work has been done for months on the new facility.
But according to Joel Kintsel, executive director for the Oklahoma Department of Veterans Affairs, that all changed on Oct. 7 after construction resumed on the multi-million-dollar project after an eight-month work stoppage.
"We had a work stoppage due to a dispute with the contractor, but that's been handled, and things are back underway — October 7th we were back up," Kintsel said Tuesday. "Technically, the project never stopped, it just slowed down for awhile."
The work stoppage, which Kintsel said lasted "about eight months," occurred because the ODVA "had to make a change in the A&E (architecture and engineering) team."
Following the September 2020 groundbreaking at the 90-acre location on U.S. 59 south of I-40, construction of the long-term care facility made major strides during the ensuing year, with the skeleton of the 230,000-square-foot center quickly taking shape.
But for the majority of the past year, the massive center has consisted primarily of exterior walls overlayed with green house wrap.
"We've had weather issues, we had this work stop-
"On a project this size, it's hard to know what challenges are gonna arise and are unanticipated, that's kinda the nature of something like this. We're in a good place, and the project's back underway. We're very thankful for the community of Sallisaw and their support for the project. They've been absolutely wonderful."
Kintsel said the center is "approximately 60% completed," and said current work is focused on completing the roof and enclosing the exterior.
"Obviously, you don't start with your finishes until completion of the outside, until it's buttoned up. That's where we are right now, finishing up the roof and enclosing the exterior," he said. The eight-month work stoppage, however, was not without its casualties, which came with an increased price tag and a delay in opening the facility.
"The additional expense is going to be about $15 million," Kintsel acknowledged. "The actual cost of it prior to this situation with the architect would have been about $77 million."
Projections for the cost of the facility had included a price tag of as much as $85 million, but Kintsel said that estimate "was probably an early number. After we were able to get going on the project, we were able to tighten the costs and get it down to about $77 million.
"But with this additional amount, we're lookin' in the $92 million range. We're trying very hard to control the costs where we can," he affirmed.
The delays — weather, work stoppage, supply chain — have pushed back the opening of the center by 13 months, from March 2023 to April 2024.
But veterans who were looking forward to moving into the new facility can still be among the first to reside in the 180room center.
"We maintain waiting lists for all of our veterans homes, where people, even when they're not ready or not even imminently prepared to enter the facility, they can put their names on [the list], so at the point that they do decide they're ready to come in, there's very little paperwork for them to do and they can just come," Kintsel said.
While Oklahoma veterans will be a priority for the new center, Sallisaw's proximity to western Arkansas opens residential possibilities for out-ofstate veterans as space allows.
"If there is capacity and there are veterans from the Arkansas side that qualify, we absolutely would serve them, too. The fact of the matter is we're gonna serve any veteran that needs help. Obviously, if there's availability that's not being used by Oklahoma veterans and there are Arkansas veterans that need it, we would certainly serve them as well," Kintsel said.
"The funding that we're provided to carry out this mission, it's federal dollars, and the feds are not gonna quibble with whether or not it's an Oklahoma veteran or an Arkansas veteran. If the need's there, they're gonna be pleased to support that."
With work resuming and an opening delayed but imminent, the fate of the veterans center currently located in Talihina has been sealed.
"No, it hasn't closed, and I don't know that it will close until we move," Kintsel said of the Talihina veterans center. "There's a lot of factors that go into that, but currently it is not closed, and it would be our desire to keep it opened until the move happens. Once we make the move, it will be sold and repurposed."
Speculation has also surrounded the future of the Jack C. Montgomery VA Medical Center in Muskogee, but the ODVA does not have jurisdiction for that facility. "That's a federal facility, that doesn't belong to us," Kintsel said.
When Kintsel visited Sallisaw in October 2021 and ballyhooed the new center when he was the speaker for a Sallisaw Chamber of Commerce membership luncheon, he said employee recruitment would begin in October 2022. Now that the opening for the new center has been pushed back, so has the employee recruitment schedule. "[Employee recruitment] will commence under the current schedule in the fall of 2023 — about six months before opening — late fall, early winter," he said.
When completed, the Sallisaw veterans center will feature four buildings — three residential "neighborhoods" and a central community center. A neighborhood at the center is similar to a subdivision in a housing development. In two of the buildings currently under construction, a neighborhood consists of 72 residential rooms, with a third building comprised of 36 residences. The centralized community center will offer a reception area, dining room, a large room that can be used as a theater or a chapel, space for arts and crafts, a barber shop, a physical therapy room and a pharmacy to serve medical needs of the residents.
" This is a state-of-the-art facility. It's a home-like environment, and will be the premier facility of its kind in the U.S.," Kintsel said at the October 2021 luncheon. At that chamber gathering, Kintsel said veterans with 70% disability or higher will not have to pay anything to stay in the facility.
Sallisaw beat out finalists Poteau and Muskogee in selecting the new eastern Oklahoma veterans center location. At the beginning of the selection process, there were six communities, which also included McAlester, Hugo and Holdenville.