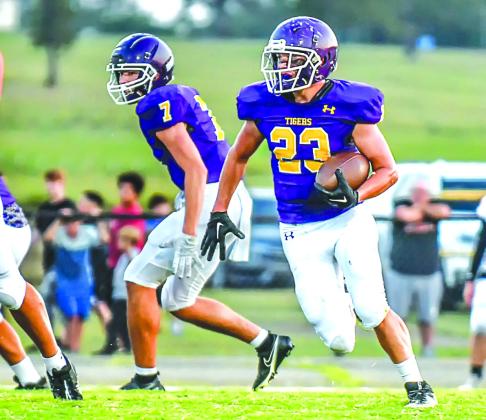 Central holds on for close win
PANAMA – In another game that went down to the wire, Central emerged Friday night with a 2422 victory over District A-8 rival Panama. Tigers head coach Jeremy Thompson was pleased with his charges' ability to win in a pinch and not fold in the face of adversity. "We felt like we were in control of the game for the most part," Thompson said. "We had some penalties in the fourth quarter which gave them pretty good field position, cutting our 16-point lead to eight. They got an onside kick and went down and scored, but we held them out for the two-point [conversion] and finished 24-22. Defensively, we played well."
The Tigers were able to start the game with a safety that put the first two points on the scoreboard for Central, and gave the Tigers the ball, as well as great field position, not to mention the swing in momentum that a safety can net.
"Issac Rogers had a safety that came in big for us at the end of the night. The safety was the first points on the board. We got the ball back and good field position. It was a big deal and a big momentum swing out of the gate as well."
The Tigers had some big plays on the night that made the game momentum swing to Central's favor multiple times, and eventually made the difference when regulation ended.
"Jeffery Stacy recovered an onside kick for us coming out of halftime, and that was big for us to start the second half. Stacy does a good job, and made a big play for us," Thompson said.
"In the third quarter, we ended up getting penalized on first down, which backed the chains up," Thompson explained. "We just felt like this was a good opportunity in the game to catch 'em off guard with a double pass. We've had that play in our back
The Tigers' leading 2022 season rusher Coy Blackburn looks for an opening at the line of scrimmage after Joseph Lee handed the ball off to Blackburn during Central's game against Roland earlier this year.
JIM CAMERON •TIMES pocket for a while, and Connor Green's an athlete that's proved that he can do a lot of things, so we wanted to get the ball in his hands and let him make that decision."
On the play, Tigers quarterback Joseph Lee passed the ball to Green, who then connected with leading receiver Cade Tucker for a 27-yard touchdown.
The offense was able to put up some good plays against a tough Panama defense because of the skill in the Tigers' offensive line.
"Offensively, I was very pleased with the offensive line. I thought they played a good game. The O-line and D-line guys had to have a good game, and they sure came out and played well. I'm proud of left tackle Chooch Bush, left guard Eric Young, center Ethan McKinney, right guard Cole Holcomb and right tackle Josh Marino. I felt like those guys did a good job controlling the line of scrimmage for the most part."
The Tigers' offense was led by Lee, posting 9-of-16 passing for 105 yards, along with 20 rushes for 102 yards and a touchdown. Green had the one pass attempt for 27 yards and a touchdown, and added 33 yards receiving. Tucker led the receiving corps with four catches for 16 yards and a TD, and Issac Rogers snagged a pass for 24 yards as well. Coy Blackburn had 15 rushes for 50 yards and a touchdown.
The Central defense was led by Blackburn with 13 tackles, followed by Hunter Pack with 10 tackles, Green with nine tackles, Lee with an interception and a forced fumble that was recovered by Aidan Sainer.
The Tigers host Canadian Friday for Senior Night and the last regular-season game of the year. Central's seniors will be honored at 6 p.m., with kickoff at 7 p.m.