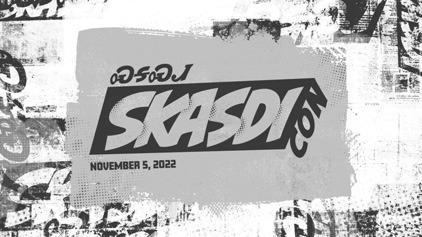 Natives star in SkasdiCon
Kids Robin Read and Libby Smart are thrilled by a new event about modern comics and Indigenous Americans.
features Native perspectives at the Cherokee Nation's _irst-ever Indigenous comic convention Saturday, Nov. 5 in Tahlequah.
"SkasdiCon is providing a platform to celebrate and share the Native perspective and in_luence on comic books, video games, tabletop games, novels, _ilm, television and more," said Talisha Lewallen, manager of cultural programs and events for Cherokee Nation Cultural Tourism.
Pop culture can unite people from different walks of life, she said. "By combining that with the Native perspective, we hope to give people a [venue] to be themselves and share what they love."
It's free from 10 a.m. to 5 p.m. at the University Center Ballroom, 612 N. Grand Ave., NE State University, Tahlequah, OK.
Cherokee artist Roy Boney, Jr. championed the Skasdi Con event. "Skasdi" is Cherokee slang for playful pride or feistiness. Boney is a Cherokee language preservationist, artist, and _ilmmaker. He designed a cover for Marvel last year and created the illustration above.
Cosplay, a costumed role-playing competition, is included (register by 1 p.m.).
SkasdiCon includes panel discussions, Indigenous artists, games and more.
Young people can enjoy a screening of "Inage'I", a Cherokee language animated _ilm.
Event schedules, cosplay rules, and a roster of participants are at: https://skasdicon.com Robin and Libby hope a parent will drive them to Skasdicon so they can plan cosplay costumes and learn about Indigenous culture.