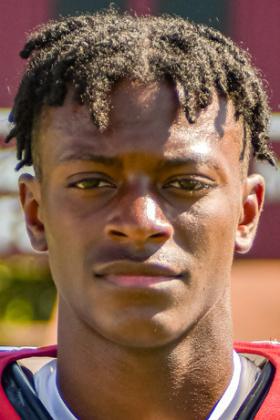 No. 1 Lincoln Christian snaps Muldrow's win streak
Class 3A No. 1 Lincoln Christian lived up its ranking Friday night inside Aubrey J. Henshaw Bulldog Stadium as the Bulldogs from Tulsa County snapped No. 8 Muldrow's threegame winning streak with a 49-7 District 3A-3 victory.
Muldrow (4-2 in the district and 8-2 overall) has an open date this week and Lincoln Christian (5-0, 8-1) hosts Locust Grove (1-4, 2-7).
"They're as advertised," Muldrow head coach Brandon Ellis said. "They're good, they're very, very good. They do everything right. They're well coached. Their kids are physical. You can tell they're the No. 1 team in the state."
Early in the opening period of Friday's game Lincoln Christian took a 7-0 lead when John Washington rushed for a 1-yard touchdown and Drew Lancaster kicked the point-after.
Muldrow's Jacob Gregory returned the ensuing kickoff 95 yards for a touchdown and David Frias' point-after kick tied the score at 7-7 with 8:04 remaining.
With 1:24 to go in the first period Washington rushed for a 2-yard touchdown and Lincoln Christian took a 14-7 lead to the second stanza after Lancaster's PAT.
Lincoln Christian registered three touchdowns in the second stanza. Wide receiver Dylan Baldridge caught an 11yard touchdown throw from quarterback Luke Milligan at the 7:12 mark before Washington crossed the goal line after a 1-yard run with 3:17 remaining before the half. With 28 seconds to go before the intermission Milligan completed a 20-yard touchdown pass to wide receiver Seth Kruse and Lancaster's third PAT of the period gave Lincoln Christian a 35-7 advantage.
Fifteen seconds into the third quarter Kruse returned an interception 22 yards for a touchdown and the visiting Bulldogs recorded their final six-pointer of the contest with 4:35 left in the third on a 46-yard pass from Milligan to wide receiver Camden Dooley. Lancaster's seventh extra-point kick of the game ended the scoring.
M u l d r o w quarterback Camden Matthews completed 6-of-13 passes for 28 yards with two interceptions in the game and Trenden Collins was 0-for-1. The host Bulldogs' pass catchers were Eli Crumrine (2 receptions for 13 yards), Bryson Limore (2 for 8), Bobby Plank (1 for 4) and Collins (2 for 3).
Collins rushed for 40 yards on 10 carries and Jerrard Palmer added 18 yards on five rushes.
Milligan completed 18-of-31 throws for 264 yards and three touchdowns with one interception and Lincoln Christian's top receivers were Washington (7 catches for 103 yards), Dooley (4 for 82 and a touchdown), Cruse (4 for 54 and a TD) and Baldridge (2 for 20 and a TD).
Washington led all rushers with 18 runs for 137 yards and three touchdowns and Moses Fullingim added 80 yards on nine attempts.
Muldrow's leading tacklers were Collins (13 total tackles), Palmer (12), Denver Click (10), Gregory (8), Frias (7), Cody Gibbs (6), Plank (5) and Will Stratmann (4). Palmer also registered three tackles for loss.
Collins also returned an interception 74 yards in the game.
Despite the loss Muldrow will finish no lower than third in the district standings. Lincoln Christian is the 3A-3 champion and Muldrow, Stigler and Berryhill will fill the next three district spots. Stigler (3-2, 7-2) plays at Checotah (1-4, 3-6) this week and Berryhill (3-2, 4-4) travels to Seminole (14, 3-6). Depending on the results of those two games Muldrow will finish second or third in the 3A-3 standings.
Ellis believes this week's open date will benefit his team.
"It gives us a little bit of a break," said Ellis. "The kids have been going since Aug. 12, basically. It gives us a break to kind of heal up and it will give us two weeks to prepare for our (first-round playoff) opponent. It's much needed, especially this time of year. If you can make it to this time of year with the least amount of injuries as possible you're doing pretty good and we're in that boat right now. It couldn't come at a better time."