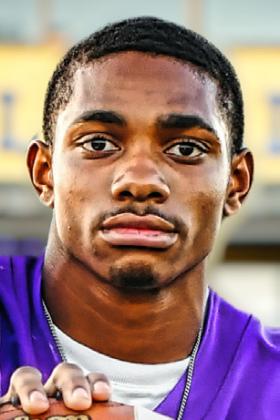 No. 4 Vian hands No. 5 Prague first loss in 2A-5 showdown
Class 2A No. 4 Vian scored 20 unanswered points in the final 13 minutes of the game to pull away from previously unbeaten No. 5 Prague and defeat the Red Devils 40-19 Friday night inside a wet Charlie St. John Stadium as the Wolverines claimed the 2A-5 championship.
This week Vian (6-0 in the district and 7-2 overall) takes on Sequoyah (15, 1-8) in Tahlequah and Prague (5-1, 8-1) hosts Okemah (3-3, 4-5).
"A tough one," Vian head coach Gary Willis said. "Prague was really tough and physical. They pretty much shut down our run-game from what we've been doing but we knew they'd be tough against the run so we were prepared to throw and we made a lot of big plays in the passing game. I thought the defense played their best game in a year or two probably, big-play wise. They bent a little bit but Prague has a really good running game so they (defense) came up with some big plays when we needed it."
Prague's Joe Fixico returned the game's opening kickoff 60 yards for a touchdown in the rain to give the visitors a 6-0 lead.
With 7:56 remaining the Wolverines' Masyn Wright returned a fumble 30 yards for a touchdown to tie the score at 6-6. Vian defender Cash Collins caused the fumble.
Almost midway through the second stanza quarterback Diego Ramos completed a 36-yard touchdown pass to receiver Desean Mays and the score remained 12-6 following the unsuccessful two-point conversion (run) attempt.
The Wolverines led 12-6 at the intermission. Prague running back Trevor McGinnis' 18-yard touchdown run with 8:57 remaining in the third quarter tied the score at 6-all and Robbie Schlitz' point-after kick gave the Red Devils their final lead (13-12) of the night.
Vian wide receiver Jacob Brannick's 55-yard touchdown reception from Ramos and Ramos' two-point conversion reception from wide receiver Nathan Creasey put the Wolverines on top 20-13 at the 7:37 mark.
With 1:52 left in the third Prague quarterback Aiden Auld crossed the goal line after a 3-yard run but the Vian lead stayed at one (20-19) after the Wolverines' defense kept the Red Devils out of the end zone on the twopoint conversion (run) try.
Ramos and Mays teamed up for a 31yard touchdown pass with 50 seconds to go in the third period to put the Wolverines ahead 26-19.
Creasey caught a 49-yard touchdown throw from Ramos at the 11:08 mark of the final frame and Creasey also grabbed Ramos' conversion throw to make the score 34-19.
Less than a minute later Mays stepped in front of a Prague throw and returned the interception 50 yards for the final points of the contest.
Ramos completed 9-of-21 passes for 223 yards and four touchdowns in the game and Mays (2 catches for 75 yards and 2 touchdowns), Creasey (1 for 57 and a TD), Brannick (1 for 55 and a touchdown) and Wright (3 for 37) made the receptions.
Mays (8 carries for 26 yards) and Wright (12 for 22) ran for positive yardage in the contest.
Auld completed 1-of-4 passes for 21 yards and Rex Gleser was 0-of-1. Fixico made the reception for the Red Devils.
Prague's top three rushers were Auld (17 carries for 117 yards and a touchdown), Trevor McGinnis (22 for 112 and a TD) and Grant McGinnis (4 for 11).
Vian totaled 258 yards (223 passing and 35 rushing) of total offense and Prague registered 261 (21 passing and 240 rushing).