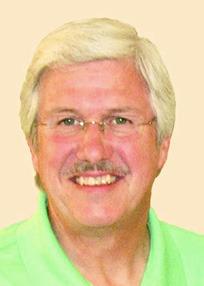 Columns & Opinions
November 4, 2022
My favorite 4-letter word
OK, I'll admit that from time to time, I use a four-letter word. Admittedly, a lot of people do. Some are embarrassed by such a vocabulary choice, while others utter such words as a normal course of conversation.
But there's one four-letter word that millions have used in the past couple of weeks, and will hopefully use before next Wednesday. It's a four-letter word of which no American should be ashamed. It's a four-letter word that should be held in highest esteem, although too many choose not to make it part of their lives. Yet, when they shun it, they're among the first to complain when others make it a priority and responsibility.
It's a four-letter word that's been at the heart of our democracy for almost 250 years. It's a fourletter word that rolls nicely off the tongue. It's a four-letter word that does hurt anyone, yet it is a hot-button word as of late. It's a powerful fourletter word that can quite literally change America and the way we are viewed by the rest of the world.
It's a four-letter word I'm proud to say, and one I encourage — even implore — you to raise your voice to make sure even more people use it. It's a four-letter word that should be uppermost in our vocabulary whenever we can use it.
Vote. Has that four-letter word been part of your vocabulary during the early voting and absentee ballot period? Will you ensure that you don't squander that American privilege before polls close Tuesday?
Voting is the bedrock of our democracy. We are given the opportunity to cast our vote every few years for those we trust to represent us in local offices, in the statehouse and in Washington, D.C. We may not always be happy with the outcome of an election, but if we choose not to vote, not to be part of the process, we have no one to blame but ourselves. Protesting the outcome without being part of the process is hypocritical. Protesting the outcome after casting your ballot is just bad sportsmanship, if not unAmerican. Mounting an insurrection and decrying the outcome as illegitimate or stolen is, to be sure, unAmerican, at the very least, as well as being treasonous. And if you're an election denier who refuses to participate in what you see as a fraudulent election, the rest of us who cherish our democracy thank you. It's unfortunate that you view our Constitutional right with such disdain just because your candidate of choice didn't win, but the outcome doesn't mean voting machines were rigged or that mysterious ballots were harvested or that an illegitimate winner was declared. It just means that someone won and someone lost. I haven't always been happy with election results, but a peaceful and respectful transfer of power is the American Way, and has been since our Founding Fathers gave birth to this republic. Because I voted, if my candidate doesn't win, at least I can be unhappy with a clear conscience knowing I took the steps afforded me to make my choice and cast my ballot.
Wednesday night's televised presidential address to the nation warned Americans that the future of our democracy could rest of this year's midterm elections. And when a preponderance of candidates for office at every level of government deny the results of the 2020 presidential contest, cultivating a lie that has metastasized into a web of conspiracies that has already resulted in targeted violence, it's a red-flashing warning signal for the country.
Don't miss the opportunity for your voice of reason to be heard. Use the most important four-letter word in our vocabulary. Vote.
The longest day
Ask someone what the longest day of the year is, and they'll probably tell you the summer solstice on June 21. Admittedly, on that day in Oklahoma, we'll have more than 14 and a half hours of sunlight. So you'll get at least partial credit.
But the longest day of the year occurs Sunday. It'll be Sunday for 25 hours, because this is the weekend we turn our clocks back — fall back — when daylight saving time ends for the year. (DST officially ends at 2 a.m. Sunday, but most people turn their clocks back on Saturday before they go to bed. So for them, Saturday's the longest day. But that's a longer day of their own making. No partial credit for that.)
While you'd think Oklahomans should be used to the time changes in the spring and fall after more than 50 years of the twice-a-year ritual, there are those who are quick to point out that the early evening darkness when DST ends is linked to an increase in depression. Additionally, after we fall back, car crashes reputedly increase and children waiting at the school bus stop in the darkness are at greater risk.
But for those who prefer to see the benefit of standard time, here's that argument.
When DST was introduced a century ago, more daylight was a good thing because it meant less use of artificial light and more energy savings. But modern society, with its computers, TV screens and air conditioning units, uses more energy no matter if the sun is up or not. So by today's standards, the amount of energy saved from DST is negligible.
Also, the risk of suffering a heart attack is increased when DST begins. Therefore, the extra hour of sleep when DST ends is linked to fewer heart attacks.
Medical and sleep experts argue that DST is disruptive to your body's natural circadian rhythm, which is influenced to a great extent by the daily cycle of daylight and darkness. Therefore, they claim standard time is best suited to our physical and mental health.
As for me, I'm planning to reclaim that extra hour of sleep I lost out on in March when we set the clocks ahead. (By the way, that was a clue for when someone asks what the shortest day of the year is. It's not the winter solstice on Dec. 21 with the fewest hours of sunlight. It's the 23 hours on the second Sunday of March when DST starts and we spring forward.)