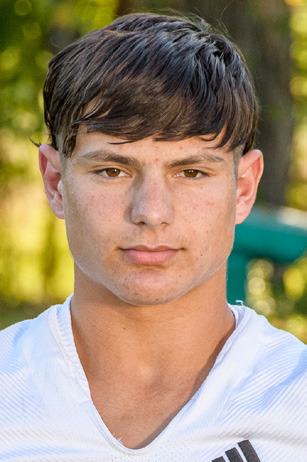 Gore tunes up for playoffs with senior night win over Porter
GORE HIGH SCHOOL FOOTBALL
The unbeaten Class A second-ranked Pirates tuned up for the postseason Friday night in the rain with a 55-0 victory over Porter Consolidated after honoring their 21 seniors.
Gore (10-0 for the season) hosts Fairland (6-4) in its playoff opener Friday night.
"Being Senior Night and with the weather conditions I thought we came out and played pretty good," Gore head coach Brandon Tyler said. "We scored on every one of our drives and with the weather conditions I was pretty pleased that we didn't turn the ball over any in that rain and all that. I thought we threw the ball well in the rain and the defense got another shutout so I thought we played pretty well all around."
The Pirates' defense registered eight shutouts this season.
"Hunter McGee returned another punt for a touchdown so that's three games in a row that he's returned a punt for a touchdown so that's really helped our special teams and field position with him being able to do that," Tyler said. "I thought Jackson (Duke) did a good job stepping in for Gunner (Dozier) Friday night running the football and just pleased to get out injury-free this week and get ready for the playoffs."
Dozier was kept out of Friday's contest because of an injured forearm.
"He's coming along good and I think he'll get some reps this week and probably get in the game Friday night," said Tyler. "We'll pad up that cast and just see what he can do. He'll get some work in this week and should be good by Friday."
In Friday's contest the Pirates led 27 after the first 12 minutes and 48-0 at the intermission.
Early in the first period Gore's offense took over at the Porter 1 following an errant snap from center on a punt attempt and Jackson Duke's 1-yard touchdown run with 9:51 left put the Pirates in front before Christian O'Connor kicked the point-after.
Later in the quarter wide receiver Hunter McGee caught a 24-yard touchdown pass from quarterback Noah Cooper and with 4:35 remaining Cooper completed a 35-yard TD throw to wide receiver Ben Kirkpatrick.
McGee's 57-yard punt-return for a touchdown and O'Connor's third point-after kick ended the first-period scoring at the 2:32 mark.
Twenty seconds into the second stanza Duke ran for a 10-yard touchdown and almost midway through the quarter Cooper crossed the goal line following a 5-yard carry.
Gore wide receiver Liam Edwards caught a 2-yard touchdown throw from Cooper with 5:32 to go before the half and the Pirates led 48-0 after O'Connor's PAT.
With 6:35 remaining in the third frame running back Alex Hallum ran for a 3-yard touchdown before O'Connor's kick split the uprights to end the scoring.
O'Connor made seven of his eight PAT attempts Friday night.
"I thought he kicked pretty good considering the conditions and he also had a big interception the other night and returned it back down inside the 20," Tyler said.
Cooper recovered a fumble in the game.
Gore's leading tacklers were Hallum (9 total tackles), Dayne Perryman and Edwards (8 each), Blane Barnes and Duke (6 apiece), Gabe Dozier, Wyatt Marrel, Layne Ward and Tate Brooksher (4 each) and Cooper (3).
Cooper completed 7-of-9 passes for 112 yards and three touchdowns and Gore's leading receivers were Perryman (1 catch for 55 yards), Kirkpatrick (1 for 35 and a touchdown) and McGee (1 for 24 and a TD).
Duke was the Pirates' leading rusher with 89 yards and two TDs on six carries and Gore's other ball carriers were Cooper (4 runs for 37 yards and a TD), Hallum (5 for 32 and a TD), Bladin McCartney (3 for 17), Tyler Lane (6 for 15) and Brooksher (1 for 15).