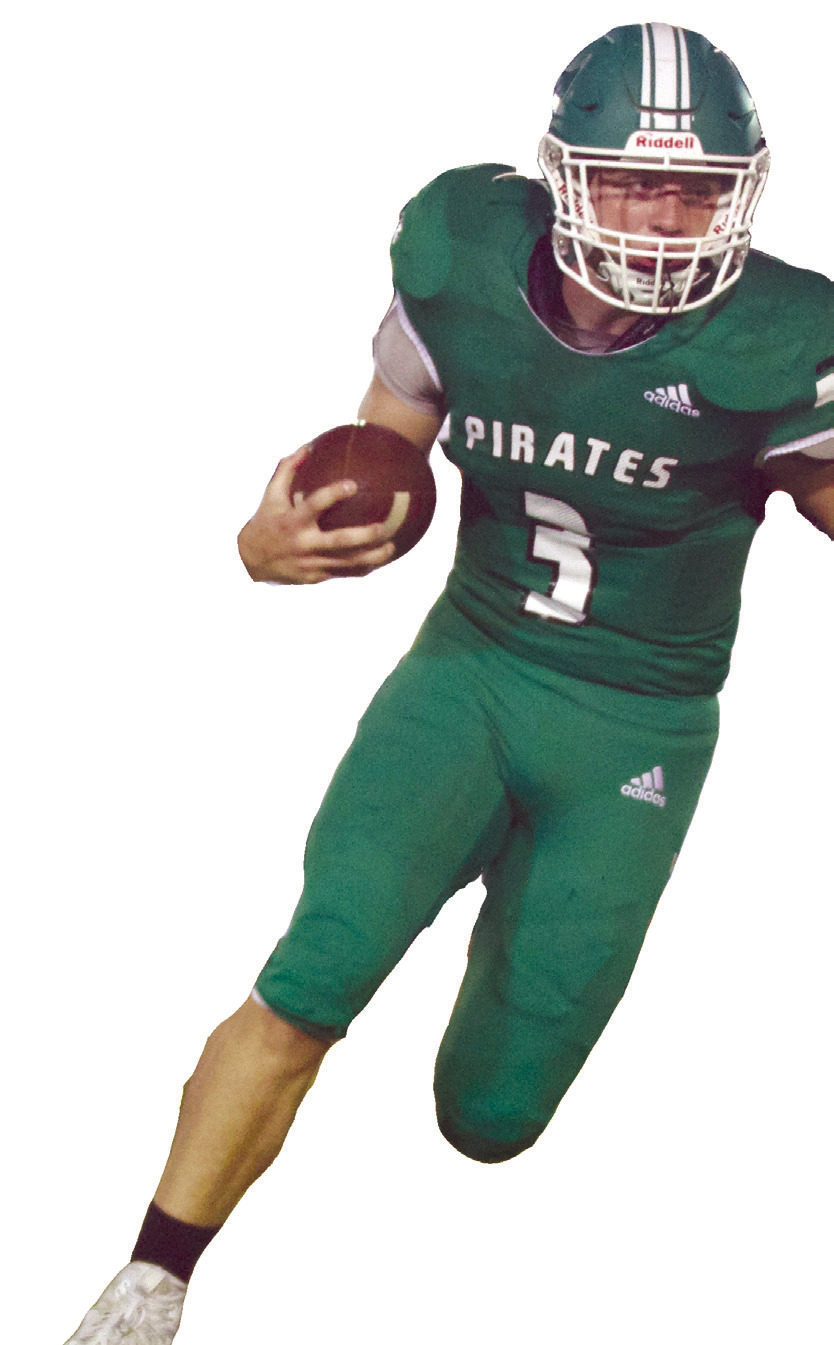 Pirates take on Fairland
Pirates start postseason play Friday night when unbeaten Gore hosts Fairland in a first-round playoff contest.
Kickoff inside K.G. Horn Stadium is slated for 7 p.m.
Last week Gore (10-0 overall) capped its unbeaten regular season with a 55-0 home victory over Porter Consolidated while Fairland (6-4) won 24-18 at Ketchum.
Fairland, which is located about 11 miles south of Miami, finished fourth in the District A-7 standings. In district play the Owls lost to Colcord (50-6), Quapaw (44-21) and Commerce (42-0) and also defeated Wyandotte (28-12), Hulbert (43-14) and Afton (44-15). In non-district action Fairland beat Afton (49-21) and Liberty (30-29) and lost to Kansas (49-6).
"They're the fourth-place team up there, 6-4," Gore head coach Brandon Tyler said. "They throw the ball extremely well. They've got a really good quarterback that's a freshman. No. 9 (Carson Schertz), their quarterback does a great job of throwing the football and he's really elusive when he gets out of the pocket.
He's young but he does a great job of running their offense. "They've got three pretty goodsized receivers out there. No. 33 (Witton Amos) is another freshman and he'll play some tight end and they'll flex
Gore quarterback Noah Cooper tries to get to the edge during a high school football game against Central earlier this season. The unbeaten Class A No. 2 Pirates host Fairland in their playoff opener Friday night.
LEA LESSLEY • TIMES him out a little bit. No. 28 (Blake Murray) is one, No. 2 (Logan Sparks) is another one and he's another freshman they like to throw it to. So they're pretty young. No. 6 (Cason Rentfrow) is another one of his main targets.
"They've kind of had the injury-bug at running back. They got a running back back last week against Ketchum Friday night. He was returning from a broken collar bone and I heard he re-broke it against Ketchum."
Some of Fairland's other key players on offense are linemen Jalen Riggs (No. 78), Kacen Giles (72), Hunter Kosted (65), J.J. Sohar (74) and Caden Reynolds (66) and running back Xavier Gaston (5).
"On offense they're going to be spread, they're going to be trips, they're going to be doubles and they're going to throw the ball probably 80 percent of the time. They like to throw the football.
"Keys for our defense this week are just getting lined up in the secondary and getting some turnovers. Christian O'Connor had a big interception the other night and returned it back down inside the 20. We've just got to continue to get better in the backend. Those guys are going to get tested this week so they've just got to make sure they get lined up so we can kind of slow them down a little bit."
Some of the Owls' key players on defense are defensive tackle Jalen Riggs, Hunter Kosted and Toby Snell (No. 70) and defensive backs Carson Schertz and Logan Sparks (2).
"They're going to be a 4-4 on defense," Tyler remarked. "Just getting the running game established again and being able to throw the ball are keys for our offense. Noah (Cooper) was 7 of 9 for 112 yards and three touchdowns the other night so we threw the ball pretty well in the rain. It was good and we've just got to continue to stay balanced on what we're doing and try to stretch the field."