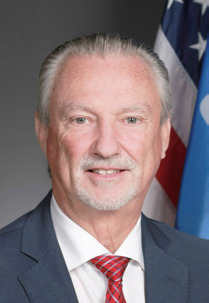 Columns & Opinions
November 15, 2022
Dedication Ceremonies Thank Local Veterans
Tuesday was a big day in Oklahoma as more than a million people turned out to vote in the general election. I hope that everyone who voted researched the candidates and expressed their own thoughts and feelings in their votes.
Voting is a fundamental right in our nation, and in honor of Veterans Day, I want to recognize the sacrifices made to keep our country free and safe.
Last week, I had the honor of attending two very special ceremonies to dedicate portions of roads and bridges to two local veterans.
On Nov. 1, a section of State Highway 71 in Haskell County was named the Harold Haltom Memorial Highway. Master Sgt. Harold Haltom enlisted in the Army in 1948 at the age of 17. After training as a cavalryman, he later joined "C" Company, 1st Battalion, 5th Regiment, 1st Cavalry Division in the Korean War.
In 1950, his squad was under enemy fire on numerous occasions, during which Master Sgt. Haltom sustained multiple injuries. After recovering, he continued his service in France, Germany, and Fort Riley, Kansas, before retiring at Fort Sill after 24 years.
He received numerous recognitions throughout his military career, including the Bronze Star with a V "valor" device and two Purple Hearts with Oak Leaf Cluster. He also received a state award for most veterans recruited for the Veterans of Foreign Wars (VFW) while serving as Commander of VFW Post 8798 in Eufaula.
I'm very glad Master Sgt. Haltom was able to attend the dedication ceremony along with many of his family members so we could publicly honor him. Thank you to the members of VFW Post 8798 and members of the Shriners and Masonic Lodge who attended as well to recognize Master Sgt. Haltom's service. On Nov. 4, I attended the dedication ceremony for the Sgt. Billy Rodgers Memorial Bridge, which crosses Coal Creek on U.S. Highway 50 in Panama, Oklahoma.
Sgt. Rodgers was from Panama and was killed during the Korean War at the age of 19. He was a member of Company A, 1st Battalion, 32nd Infantry Regiment, 31st Regimental Combat Team, 7th Infantry Division.
On Dec. 2, 1950, his unit was attacked by enemy forces near the Chosin Reservoir, North Korea, and Sgt. Rodgers was reported missing in action. His remains were identified on April 9, 2020, and he was buried at Arlington National Cemetery in September 2021.
I was honored to meet two members of Sgt. Rodgers' family who attended the ceremony as we remembered this young man's bravery and willingness to serve his country. I also want to thank Panama City Councilman Kenny Morgan for spearheading this memorial dedication.
As always, please don't hesitate to reach out to me with any concerns at 405-557-7375 or randy. [email protected] Thank you for the honor of representing House District 15!
Rep. Randy Randleman, a Republican, serves District 15 in the Oklahoma House of Representatives, which covers Haskell County and portions of Muskogee, Sequoyah, LeFlore, Pittsburg and McIntosh counties.