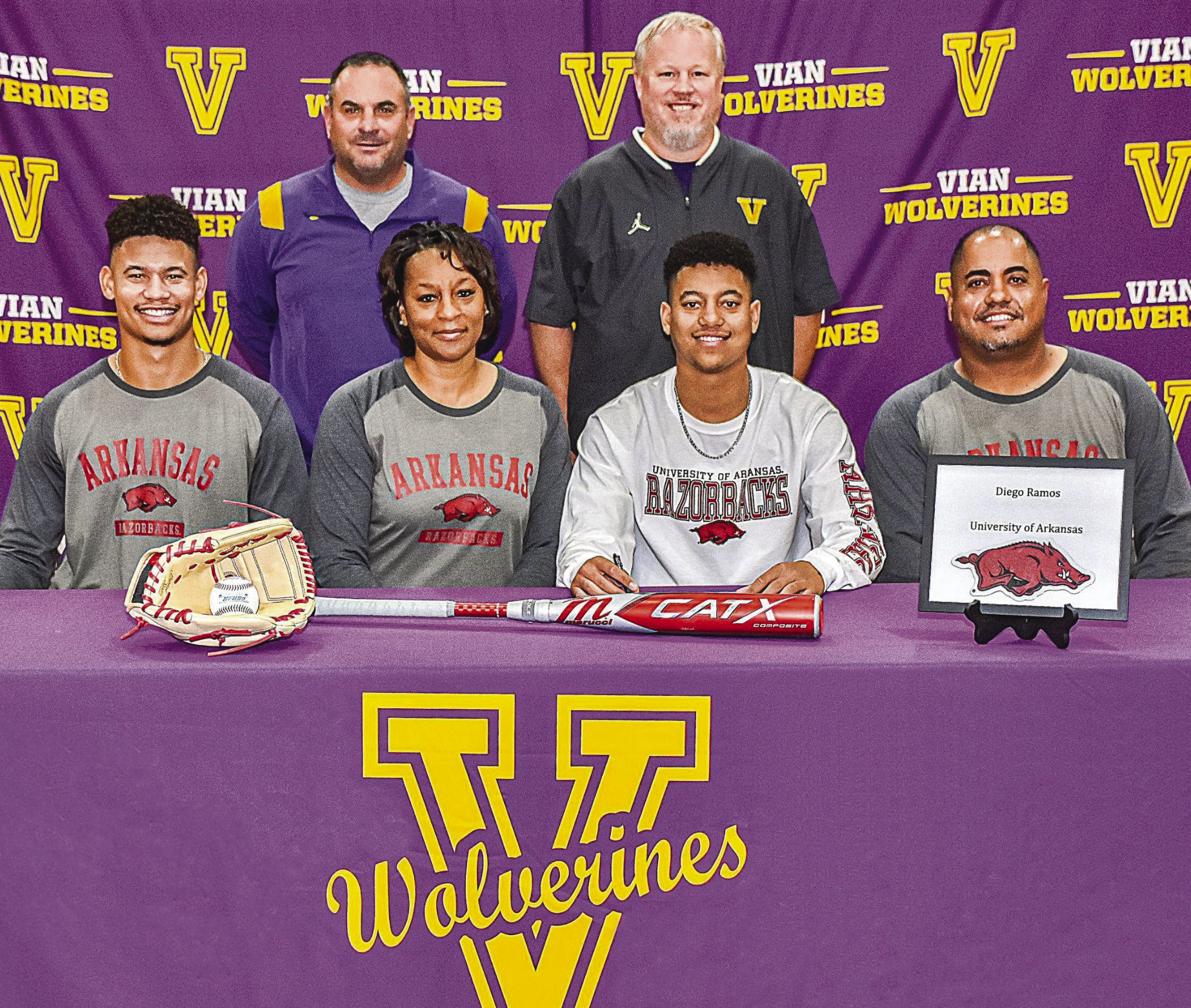 B: Sports
November 15, 2022
Diego Ramos signs letter of intent with Razorbacks
VIAN HIGH SCHOOL BASEBALL
During last week's early signing day, Vian's gifted right-handed pitcher Diego Ramos (6'-3", 190 lbs.) committed to the University of Arkansas, where he plans to continue his education with the help of a full baseball scholarship as a NCAA Division I Razorback.
Ramos' dedication and focus while working through this undertaking received a tremendous amount of support from his experienced athletic family. The Ramos family's love and guidance over the years played a huge role that ultimately led Diego down the narrow path resulting in this highly sought-after accomplishment.
Diego's parents, Albis and Tina Ramos, are coaches at Vian as well as past Division I athletes, and older sister Leiloni Smith and brother Javier Ramos were D-I recruits as well, with Javier getting a nod from the Colorado Rockies this past July, becoming part of their organization after playing at OU.
"He played the Sandlot more in the summer and on his regular high school team in the spring, and when summer ended, of course, they would go play in the big high-profile baseball tournaments like Perfect Game," Tina explained. "So a lot of traveling and a lot of baseball at the expense of almost everything else. He just wanted to play."
With that in mind, one might think Diego's success was a given, but nothing could be further from the truth. Diego has invested a tremendous amount of hard work required by training and traveling constantly. His dedication has helped him improve his natural gifts to a level where he received the attention of multiple NCAA Division I recruiters.
"I just work hard," Diego said. "When I got the offers, I committed to Arkansas because I just felt like that was the perfect fit. The coaches were interested in me when we talked. It's perfect when I look at the history behind Arkansas and their great program. They win a lot, and they're probably the best team in the NCAA right now, so it's going to be a great fit for me.
"I've got to keep working hard, keep my head up and handle my business when I get there. The fact that they're close to home and have great coaches and a great program with amazing energy all came together to make it a perfect fit for me."
Vian baseball head coach John Brockman coaches Diego, and he coached Diego's older brother Javier and is impressed with the Ramos family's dedication to their training, team and work ethic, as well as their focus on academics, all of which have to come together in order to get the attention Diego is getting now.
"Diego is a very special player, not just pitching, but offensively," Brockman recalls. "A very hard worker, he wants to win, has a very strong desire to win and will do just about whatever it takes to win. He's a team-oriented guy, he's worried about the team's success.
"Anytime you have that kind of talent, it's fun to coach, watching what he can do. I expect he will go and have a great career and succeed."
Diego's brother, Javier, has been a confidant and mentor for Diego over the years, and he helps when he can to encourage him when he needs it and sets a good example by doing all the little things that add up over time.
"I just try to set a good example, show him the little things that mean a lot at the end," Javier explains. "I try to make sure that he knows that it's important to take care of things ahead of time, hold yourself accountable and keep in line while having fun in the moment.
"Continue to have a strong work ethic and get into good routines, which are an important part of being successful. Remember to be grateful for the opportunities you have."
The Ramos family has a tradition of greatness and it runs deep, because success breeds success with the right attitudes and approach to life and adversity. Diego's father is proud of the accomplishments his son is receiving.
"He's a good student, he's been a great kid," Albis said as he complimented Diego's work. "I mean, he's my youngest and we both love him, but he has worked hard for what he has done. A lot of great people have been around him and encouraged him.
"He's very level-headed, very humble, but he works hard, and as a dad and a coach, you want a kid that sees hard work pays off and you see the results. The harder he works, the more success he is seeing, better results."