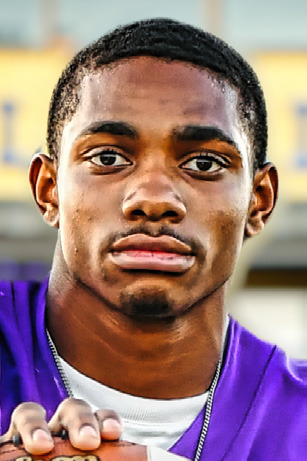 B: Sports
November 15, 2022
Wolverines start postseason with win over Spiro
VIAN HIGH SCHOOL FOOTBALL
The Class 2A fourth-ranked Wolverines improved to 9-2 for the season Friday night with their 52-7 win over Spiro (6-5) in the snow and cold inside St. John Stadium in the first round of the postseason.
Vian hosts seventh-ranked Kiefer (10-1) Friday night in its secondround playoff game. "Came out and played well in the first quarter," Vian head coach Gary Willis said. "In the second quarter we kind of went into a lull there and I thought we got kind of flat but we were able to get in at halftime and kind of regroup and come out and have a big third quarter. But it was a good win for us. We'll take it anytime in the playoffs when you move on. I thought coach (Kyle) Fowler had a pretty good scheme on defense against us and we just had a little more speed than they did."
A 57-yard touchdown pass from Vian quarterback Diego Ramos to receiver Desean Mays with 7:55 left in the opening period put the Wolverines in front 6-0.
Five minutes later Masyn Wright raced 78 yards for Vian's second touchdown of the night to make the score 12-0.
With 38 seconds remaining in the first Wright caught an 18-yard touchdown throw from Ramos before Ramos passed to Wright for the two-point conversion to give the Wolverines a 20-0 advantage.
In the second stanza Mays ran for a 35-yard touchdown.
Spiro's Tyson Covey returned a fumble 15 yards for a touchdown with 3:35 to go before the intermission to put the Bulldogs on the board and Hunter Sparks kicked the extra point.
Vian led 26-7 at the half. The Wolverines scored three unanswered touchdowns in the third stanza. Fifty-five seconds into the period wide receiver Jacob Brannick scored on a 60-yard touchdown pass from Ramos before Cash Collins added the point-after kick, and at the 5:39 mark Brannick and Ramos teamed up for a 49yard touchdown to give Vian a 39-7 lead.
With 56 seconds to go in the third Wright ran for a 95-yard touchdown and the Wolverines took a 46-7 advantage to the fourth quarter.
Riley Ellis' 31-yard touchdown run and Collins' PAT with 3:56 remaining in the contest ended the scoring. Ramos completed 6-of-8 passes for 242 yards and four touchdowns in the game and making the receptions were Brannick (3 catches for 119 yards and 2 TDs), Mays (1 for 57 and a TD), Nathan Creasey (1 for 48) and Wright (1 for 18 and a TD).
Wright was the game's leading rusher with 212 yards and two touchdowns on nine carries and Vian's other ball carriers were Mays (6 carries for 99 yards and a TD), Gage Carlton (13 for 46), Ellis (3 for 46 and a TD), Ramos (1 for minus 2) and Creasey (3 for minus 1).
Brycen Graham completed 11-of-25 passes for 83 yards for the Bulldogs and Spiro's leading receivers were Jordan Johnson (5 catches for 64 yards) and Sparks (1 for 19).
Spiro's top rushers were Johnson (17 carries for 77 yards), Kadon Carter (7 for 54), Graham (10 for 34), Michael Rouell (3 for 22) and Hayden Reed (4 for 13).
"Masyn had a big night running the ball and Desean and Brannick had some big catches," said Willis. "I think we threw for 240 or so and Diego threw the ball well and was 6-of-8."