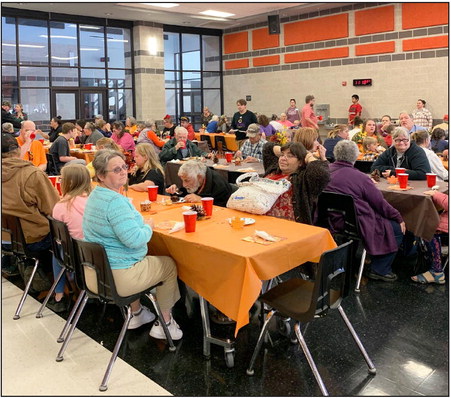 A: Main
November 17, 2022
Organizers 'expecting a good turnout'
for Community Thanksgiving dinner
If this year's back-toschool giveaway event is any indication, the eighth annual Community Thanksgiving dinner scheduled for Wednesday may see a record turnout.
KiBois Community Action Foundation each year hosts a back-to-school bash that provides free backpacks, school supplies, etc. But in the second year of the pandemic in 2021, participation was down.
And as the back-toschool event goes, it seems so goes the free holiday meal.
"With COVID going on, our numbers dropped [for the dinner]," says Melissa Lowe, Sequoyah County coordinator/director for KiBois Community Action Foundation. "Last year wasn't a good turnout at all."
However, "now things are getting back to normal," Lowe says in anticipation. "We had a tremendous turnout at the backpack giveaway — golly, there were 800 people there. So we're expecting a good turnout for the Thanksgiving dinner, also."
Since the community dinner was launched in 2015, about 600 people have shown up each year at the Sallisaw Middle School cafeteria for a traditional Thanksgiving dinner of "turkey, dressing, rolls, green beans, sweet potatoes, mashed potatoes, gravy and then dessert."
Held at The Shed the first year before the partnership with Sallisaw schools began, the holiday dinner from 11 a.m. to 1 p.m. the Wednesday before Thanksgiving has enjoyed increasing success.
"We've gone up [in attendance] through the years," Lowe says. "We had done a drivethrough the actual year of COVID [in 2020], and we served 900 that year and ran out of food. But last year it wasn't as good."
The annual free dinner is open to everyone, not just for those in need. "It's not necessarily a lowincome thing," Lowe points out. "Some people aren't necessarily in need of food, they just want to go socialize. A lot of people are alone on Thanksgiving, so everybody's welcome. If you wanna come for the camaraderie of sitting around and eating, it's open to anybody. The food's always good."
Lowe is quick to give credit where credit's due. "The middle school's cafeteria cooks are actually the ones who cook and prepare the meal, so it's all made there at the school. We still need donations to make it possible, but the cooks prepare the meals."
Except for desserts. For the desserts, organizers ask for donations from the community. Those wanting to do their part by donating desserts should contact Lowe at 776-0848 for more information. "I try to keep a total of who is donating, because if I don't feel like we're gonna get enough donations, I have to go buy pies to make sure we have enough."
Donations are rarely a concern, however.
"We've always had a huge response," Lowe says. "We've always had lots of generous donors, lots of generous individual bakers that always pitch in. Lots of people come to help. It's been a great project."
The Community Thanksgiving dinner is supported entirely by donations. "It is still all donations. We get money to buy the food and we have to buy all the paper goods, and then we give the cooks, who are working on their off time, a gift card."
While thinking of others is heightened with the onset of the holiday season, donations for the community dinner are accepted year-round. Checks should be made payable to Ki-Bois Community Action, and Lowe can provide donors with a receipt. She says people attending the dinner sometimes also donate cash.
The pre-Thanksgiving event is sponsored by several community partners: KiBois Community Action Foundation, People Inc., Sallisaw NOW Coalition, Sallisaw Health and Wellness Center, and the Boys & Girls Club.
"It's not just a KiBois thing," Lowe stipulates. "I'm just the one that takes control, and everybody just pitches in."
What has grown into an annual highlight not only for the holidays but for the year, began as happenstance.
"It started out when a friend of mine (Debbie Stiles) who used to run a homeless shelter came into my office just looking for resources for a Thanksgiving dinner — who was doing anything?" Lowe recalls. "At the time, nobody was. So that kinda got the idea spurrin' in my head. It was in November when she approached me, so we only had about two and a half weeks to pull this off. I just called some of my friends that worked at different agencies, and I spearheaded it and got it going, and we served 600 people that first year at The Shed in Sallisaw."
The reliance on the generosity of the community has continued.
"It's all donations. There's no money from KiBois or anything for this project. It's completely donations," Lowe says as she pauses to offer special thanks to those who make the event possible.
And as long as the donations continue and people continue to show up not only to volunteer but also to enjoy a Thanksgiving meal and fellowship, "we plan on doing it as many years as we can."