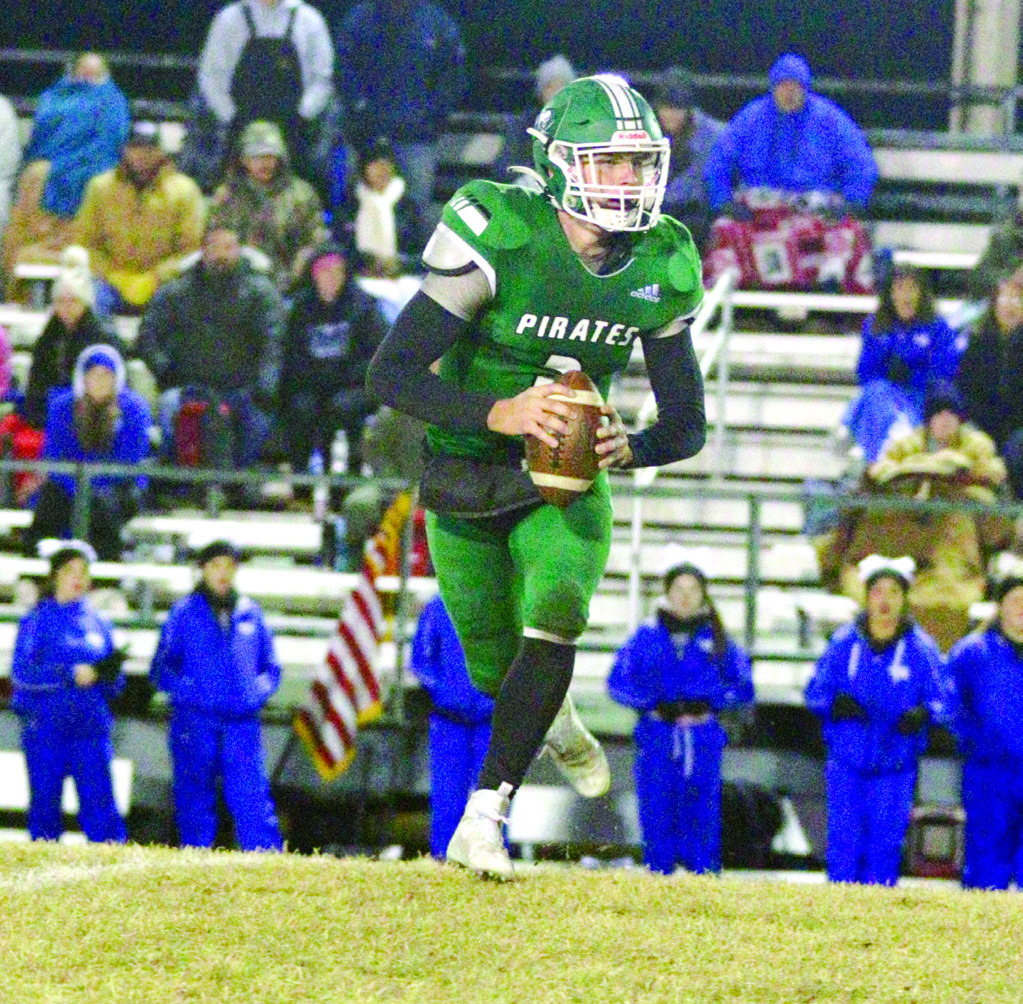 B: Sports
November 21, 2022
Decisive win over Woodland sends Pirates to quarterfinals
GORE HIGH SCHOOL FOOTBALL
GORE–Woodland had ended Gore's unbeaten seasons the last two years in the second round of the Class A playoffs but on Friday night the second-ranked Pirates' 21 seniors and their teammates made sure that didn't happen again as Gore registered a decisive 56-20 victory over the Cougars to advance to the third round of the postseason.
The Pirates, 12-0 overall for the first time in school history, will take on fifth-ranked Crescent (10-1) at Harrah High School's Evans Field Friday night at 7 p.m. in their quarterfinal contest.
"It was a great win and it's been a long time coming for this program," Gore head coach Brandon Tyler said after the game. "We kind of fell short the last two years. We felt like last year we let one slip away with these guys there towards the end of the game but our seniors weren't going to let that happen again.
"Proud of the senior leadership we had. I thought they stepped up tonight. I thought we kind of got sloppy there in the third quarter a little bit. You take that eight or nine minutes away in that third quarter right there and I think we play a really, really good football game. Proud of the kids, proud of the way they stepped up tonight and got another win."
Woodland (7-5 for the season) received the game's opening kickoff and registered two first downs before punting from the Gore 40 almost midway through the first period.
The Pirates registered the first points of the night with 1:32 left in the first on quarterback Noah Cooper's 4-yard touchdown run before Christian O'Connor kicked the first of his eight successful extra points. Key plays in the 10-play, 91-yard scoring drive were runs of 18, 12 and 8 yards by running back Jackson Duke, a 34-yard pass completion to wide receiver Blue Steward from Cooper following a block from wide receiver Liam Edwards and a 9-yard rush by running back Gunner Dozier.
Cougars' quarterback Aidan Rhodes ran for a 4-yard touchdown early in the second stanza but Gore's defense kept Rhodes out of the end zone on his conversion run to keep the score at 7-6. A 62-yard reception by wide receiver Jackson Rhodes was a key play in the nine-play, 75-yard scoring drive.
After the ensuing kickoff Cooper's 45-yard scamper and Dozier's 17-yard run helped the Pirates drive to the Woodland 2 and after a 1-yard penalty Cooper crossed the goal line at the 5:33 mark.
Following the Cougars' second punt of the half Cooper raced 33 yards into the end zone before O'Connor's point-after kick with 2:54 left before the intermission gave the Pirates a 21-6 advantage. Gore overcame two penalties during the scoring drive.
Moments later Pirates' defensive lineman Gabe Dozier caused a fumble that was recovered by Garrett Douthit, another defensive lineman, at the Gore 48. Four plays later Cooper ran for a 34-yard touchdown and O'Connor's PAT put the Pirates in front 28-6 with 35 seconds to go before the half.
Gore received the second-half kickoff. A 29yard pass to Steward from Cooper took the Pirates to the Woodland 28 but penalties pushed the Pirates past midfield and Dayne Perryman punted 40 yards to the Cougars' 15.
Following Woodland's incomplete pass on fourth down the Pirates took over at the Cougars' 35 and after three penalties sent the Pirates to the 49 Cooper and Steward teamed up for a 49-yard touchdown pass at the 4:08 mark.
With just over a minute remaining Aidan Rhodes threw to wide receiver/ quarterback Trey Bennett for a 23-yard touchdown before the two-point conversion pass from Bennett made the score 35-14. Earlier in the series Bennett completed a 34yard pass to wide receiver Chase Bowman.
At the start of the final quarter Cooper's 30-yard run and Gunner Dozier's 9-yard carry moved the Pirates to the Woodland 14 and on the next snap Cooper ran for a 14-yard touchdown, his fifth of the contest.
Completions of 14 and 19 yards from Rhodes to Bennett helped set up Woodland's final touchdown of the game with 3:46 left, a 29yard touchdown throw from Bennett to Jackson Rhodes.
Nine seconds later the Cougars' onside kick was picked up by Perryman and returned 50 yards for a touchdown. The Pirates led 49-20 following O'Connor's point-after kick.
An incomplete pass ended the Cougars' next offensive series at the Woodland 39 and on first down Gunner Dozier sprinted to his left and into the east end zone with 1:52 to go in the contest. O'Connor's PAT of the game ended the scoring.
Gore's leading tacklers in the game were Douthit (15 total tackles), Gabe Dozier, Perryman and Edwards (13 each), Wyatt Marrel and Duke (9 apiece), Tyler Lane and Cooper (8 each), O'Connor (7), Steward (6) and Hunter McGee (5).
Registering tackles for loss for Gore were Dozier (6), Douthit (4), Marrel (3), Perryman (2) and Edwards and Cooper (1 each) and recording sacks for the Pirates were Dozier (3), Douthit and Marrel (2 apiece) and Perryman and Steward (1 each).
Dozier caused a fumble that was recovered by Douthit.
Cooper led all rushers with 226 yards and five touchdowns on 20 carries, Gunner Dozier added 95 yards and a touchdown on 14 attempts and Duke totaled 31 yards on six carries.
Cooper completed 6-of-7 passes for 140 yards and a touchdown to Steward (3 catches for 112 yards and a TD), Dozier (1 for 17) and Edwards (2 for 11).
Aidan Rhodes (17 carries for 69 yards and a TD) was the Cougars' leading rusher and Rhodes (4-of-8) and Bennett (3-of-7) passed for a combined 226 yards and two TDs. Jackson Rhodes (2 catches for 91 yards and a TD) and Bennett (3 for 52 and a TD) were Woodland's leading receivers.