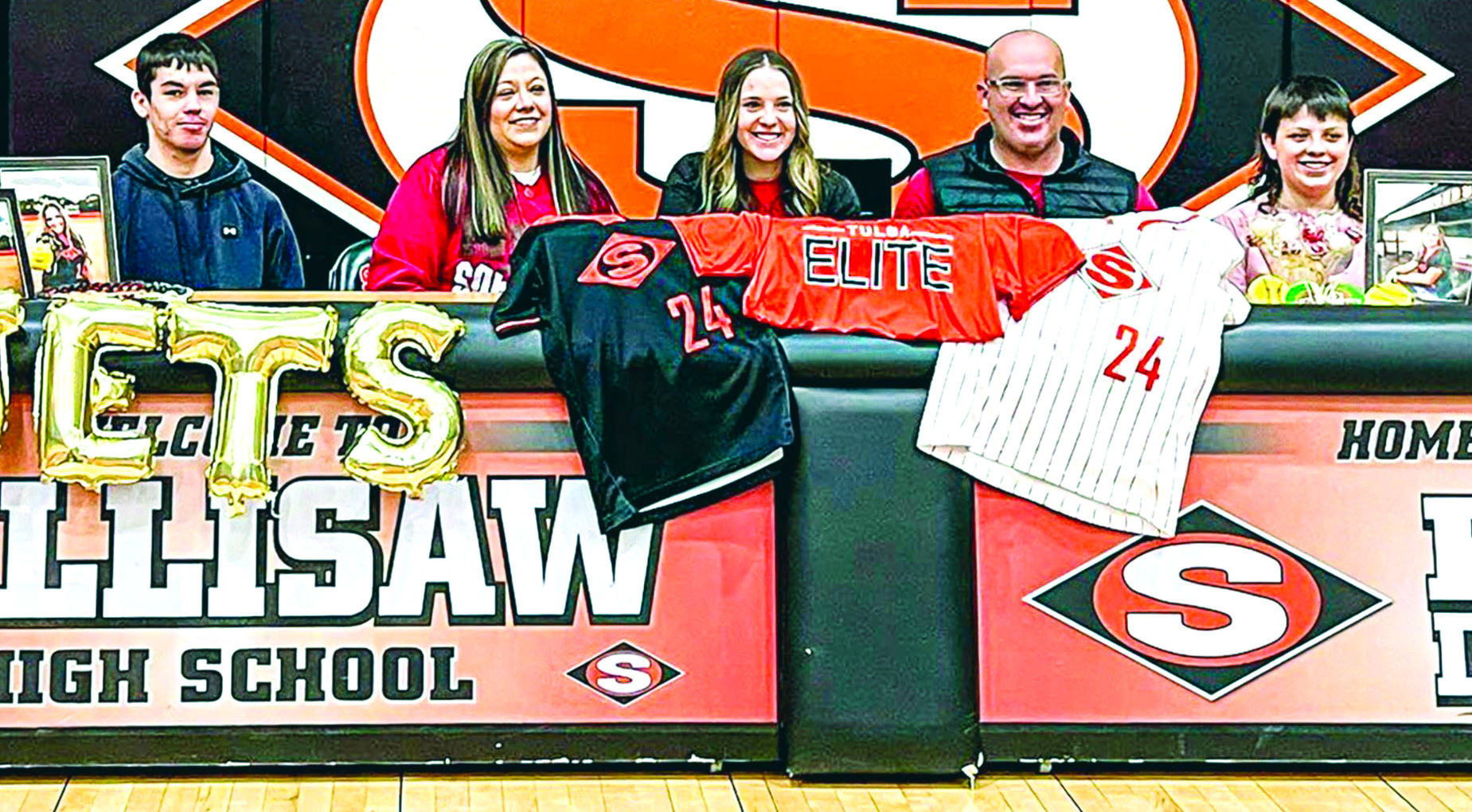 B: Sports
November 21, 2022
Sallisaw softball star gets scholarship to play at Northern Oklahoma College
SALLISAW HIGH SCHOOL SOFTBALL
Sallisaw's Emily Gregory was a standout softball player on and off the field, helping the Lady Diamonds get to the postseason as a pitcher this year.
Sallisaw head softball coach Hillary Gehrke enjoyed having the talented player amongst her charges, where Gregory was a big part of the Lady Black Diamonds' success as a threeyear starter.
" Emily is great, she's a great young lady besides just a ball player," Gehrke explained. " She has her head on straight, and I'm excited for her to get to go play at the next level, because I think she is going to do a great job there.
" She has a great work ethic, and college is a whole different ballgame. Some kids don't realize that, but I think she is going to go there and do great, because her work ethic is outstanding.
" She is very coach- able, so I feel like no matter where she goes, she is going to do great, because she is just a great kid, very coach- able, works hard, and that's all you can ask for these days," Gehrke said.
Gregory has her sights set on a double major in psychology and criminal justice to pursue a career as a criminal psychologist. She is on track to finish the year as an honor student, as well as completing her first year of college.
" I started my recruiting process in the middle of my sophomore year, and then I went on my visit in December of last year and it felt like home," Gregory said concerning her approach to finding the perfect college to attend. " I felt very welcome. All the players were welcoming, and I made my decision December 7th.
" My advice for anyone looking to get a scholarship: emails, go to camps, keep in touch with the coaches that you are interested in, because if you keep in touch, they will want to come watch you if you look really interested.
" It takes a lot of hard work, honestly. Being a student- athlete is not easy, especially in college where you have to do weights and practice on top of being a student."
" I am very excited for her," said Emily's mother, Sasha, about her daughter's opportunity. " She has worked really hard since she was like 6 years old to do this, and I just cannot wait to watch her play. She is an honor student, and she has worked her tail off in the classroom, outside of the classroom, on her own. We're just extremely proud."