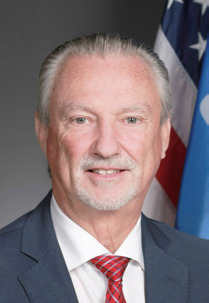 Columns & Opinions
November 22, 2022
Thankful
We have had a busy week at the State Capitol! On Wednesday, I returned to Oklahoma City to take the oath of office along with my fellow House members.
The oath was administered by Oklahoma Supreme Court Chief Justice Richard Darby.
This year, the House has 81 Republicans and 20 Democrats, along with 16 new members. I look forward to continuing to work with my colleagues and getting to know our new legislators.
I was very grateful to have my wife Jennifer in the House gallery during the swearing-in ceremony. Serving as a legislator means I spend a lot of time traveling back and forth between my district and Oklahoma City, but I'm thankful to have a wonderful support system of family and friends as I serve my community in this role.
Following the oath of office, the House Republican Caucus held our caucus retreat in Sulphur to establish our priorities for the next two years.
The House and Senate members will be formally seated and officially elect leadership for the coming two years on Organizational Day, which will be held Jan. 3. Members will also adopt House rules to govern how we conduct business in our chamber for the next two sessions of the Legislature.
All members have until Dec. 9 to request drafting of bills and joint resolutions. Members then work with legal staff throughout the month of December to draft substantive language for each piece of legislation, which must be formally filed by Jan. 19. The first day of session is Feb. 6.
I am thankful to serve House District 15 for another two years!
As many of us prepare to celebrate Thanksgiving, I thought it was important to remember the history of the holiday and the value in taking time to appreciate our blessings.
Ever since the first Thanksgiving, the holiday has united Americans from all backgrounds around the dinner table as we practice gratitude surrounded by friends and family we hold dear.
We have ample reasons to be thankful. We are blessed to live in a country where we can worship without fear of persecution and where the American dream isn't hindered by oppressive bureaucratic controls or an authoritarian regime. Our latest election proves we still live in a free, democratic country.
Unfortunately, there are many across the world who are not so fortunate and face daily challenges that we do not. I hope we can use this holiday as an opportunity to give thanks for our many blessings and spend time with our loved ones.
It's truly an honor and privilege to represent you at the State Capitol. As always, please don't hesitate to reach out to me with any concerns at 405-557-7375 or [email protected] Thank you for the honor of representing House District 15!
Rep. Randy Randleman, a Republican, serves District 15 in the Oklahoma House of Representatives, which covers Haskell County and portions of Muskogee, Sequoyah, LeFlore, Pittsburg and McIntosh counties.