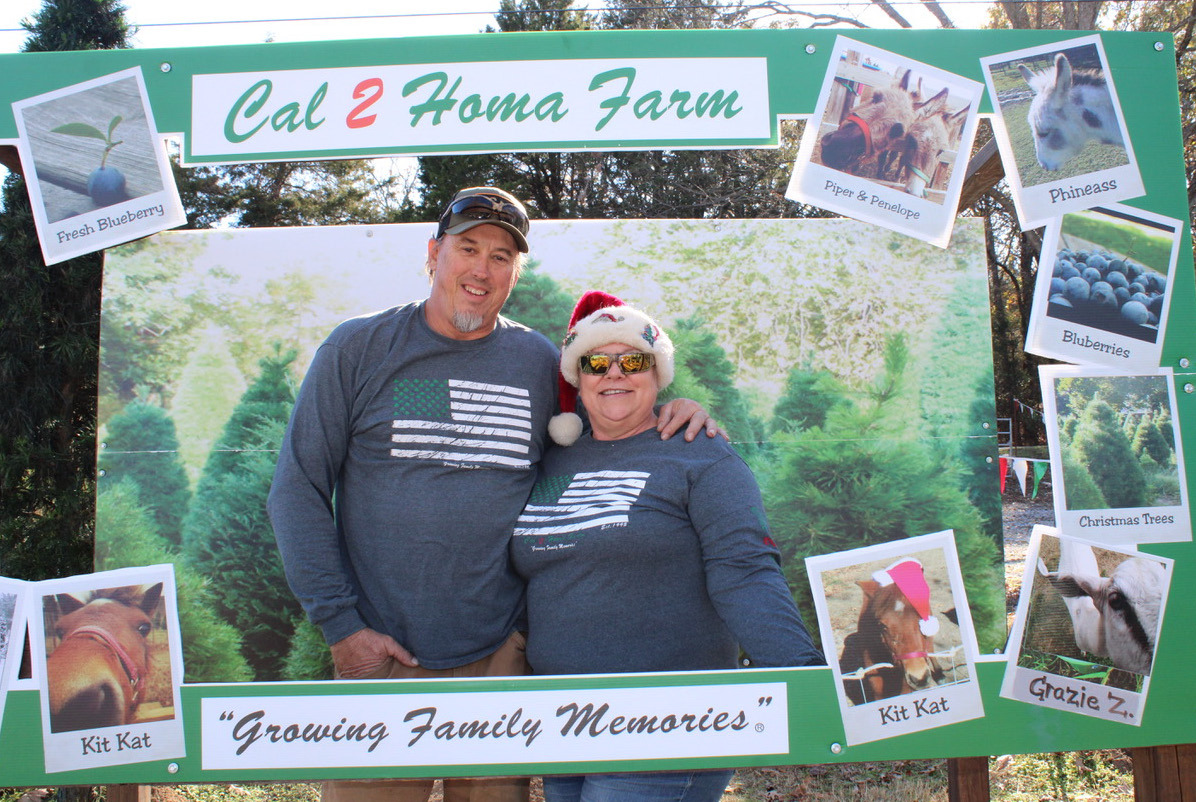 A: Main
November 24, 2022
O Christmas tree
Christmas trees began selling today at Cal2Homa Farm, located north of Gore. Last year, all the trees sold out by Dec. 23, according to owners Brian and Rachelle Batesole.
The tree farm, which has been in the business of selling Christmas trees for the past 20 years, will be open until Dec. 23. The hours of operation are 4 to 7 p.m. Monday through Friday and from 9 a.m. to 7 p.m. on weekends.
"We sell about 300 trees in all varieties throughout the Christmas season," Brian says.
"We usually sell out every year. I think more people are getting back to getting live Christmas trees for their family, and they're pretty much in demand," he says.
Although the Batesoles grow their own trees, they still provide about 300 pre-cut pines in all varieties they pick up annually from other tree farms.
"We sell all kinds, including Virginia pines, Frazier firs, Douglas firs, Blue Spruce, Scotts pines, cedars, just different varieties in different shapes and sizes," he says.
In addition to the trees, the Christmas tree farm also sells Christmas wreaths and tree stands, and provides a petting zoo, hot chocolate and candy canes along with activities for the children. The farm also has photo backdrops for anyone wanting to take pictures.
"We also have a netting machine, so all trees are wrapped in netting af- ter they're purchased," Brian says.
The trees and the name of the farm originated from California, which is where the couple lived before moving to Sequoyah County more than 20 years ago.
Brian says Cal2Homa Christmas Tree Farm was the idea his wife had when they first began the operation.
"I've wanted to do this my whole life," Rachelle says.
"I grew up in California, and they used to have small Christmas tree lots in my town. But in California, only certain trees can grow. I always wanted to have a lot out in the country. We have eight acres here, but we've designated three acres to grow some improved Virginia pines. We've sold some, but the ones we picked up come in all varieties, shapes and sizes," she says. Rachelle notes it takes five to six years to grow a five-foot-tall tree, which can grow anywhere from 12 to 18 inches each year.
Rachelle says she teaches botany at Vian High School, and is familiar with plants, which is the main reason why she wanted to have a Christmas tree farm. The couple also grows blueberries during the spring and summer months, which can be picked by customers or can be picked by the Batesoles or one of their helpers.
"We belong to the Oklahoma Christmas Tree Association, so we all work together picking up our trees in Hanna, which is about two hours from here," Rachelle says. " There were four of us who were able to share a truck, which helps with the costs. This year, shipping was a little less than what we anticipated, and we like to pass our savings down to our customers.
"Through the association, we are all here to help one another grow trees. We meet once a month, and we all work together to help one another. We have to put our orders in for trees in February," she says.
Rachelle says trees are graded from Premium 1s, 2s or 3s on up, with 1 being the best. The grade is determined by the type of tree, the size and shape. The ones that don't make the grade are sold by the bundle to stores, and are usually sold at a lower cost.
"We try to sell all quality grade trees here," she says.
Rachelle says the trees they received this year came from Michigan, which provides Frazier trees. "We ordered over 200 this year," she says.
The trees are kept in water until they're sold. The trees that were brought in this week from Michigan were still snow covered when they arrived, Rachelle noted.
"I hear a lot of people say they don't want a live tree because they can catch fire and burn too easily. I can hold a match to any of these trees on the lot and they won't burn. But an artificial tree can burn pretty quickly — much faster than these trees," she points out.
The Batesoles say the cost to purchase one of their field trees ranges from $7 to $9 per foot. The others that are shipped to the farm differ in prices.
Cal2Homa Farm is located at 13822 S. Highway 10 in Gore. Call 918-489-2876.