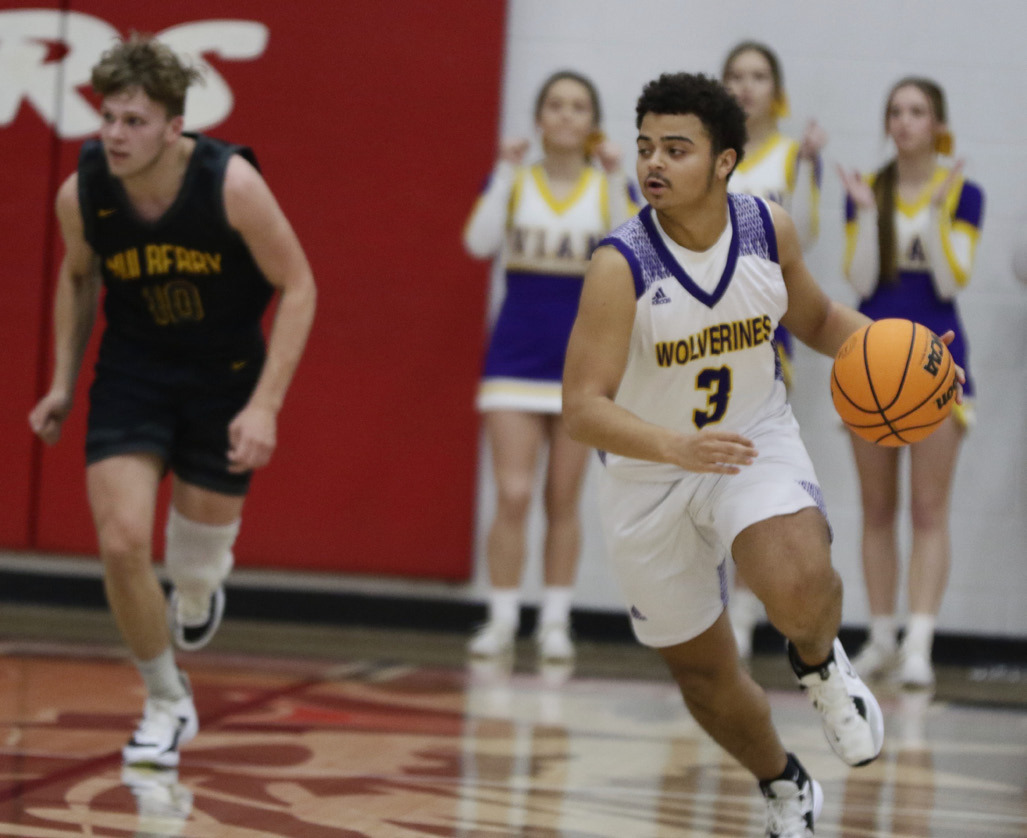 B: Sports
January 3, 2023
Wolverines fall to Waldron in Bill Frye Invitational final
VIAN HIGH SCHOOL BOYS BASKETBALL
The Vian boys lost 53-45 in double overtime to Waldron Friday night at Mansfield, Ark., in the title game of the Bill Frye Invitational Tournament.
"We had our opportunities to win but some of our free throws just didn't go in," Vian head coach John Mays said. "We're playing better though."
In the opening period Yonsi Grass hit a 3-pointer and scored eight of Vian's 10 points but the Bulldogs went in front 11-10.
The Wolverines led 20-18 at the half after outscoring Waldron 10-7 in the second stanza and Grass registered six of his team-high 17 points.
Vian's Diego Ramos knocked down a pair of 3-pointers and K'den Richardson (3-pointer) and Grass added three points apiece in the third period as the Wolverines increased its advantage (16-12).
The Wolverines' Masyn Wright made a 3-pointer and totaled five points in the fourth quarter but the Bulldogs forced the extra periods by erasing (13-7) the deficit.
Richardson and Desean Mays made a foul shot apiece in each of the overtime periods but Waldron outscored Vian 9-1 in the second overtime. Ramos, Richardson, Grass and Wright fouled out in the second overtime.
Trailing Grass in scoring for Vian in the contest were Richardson (10 points), Ramos (8) Wright (7) and Mays (3).
VIAN BOYS 55, MANSFIELD 43 (THURSDAY)
The Wolverines limited the Tigers to 12 secondhalf points and four players scored in double figures as Vian topped Mansfield in a tournament semifinal contest Thursday night.
In the first stanza Vian's Diego Ramos (two 3-pointers) and Masyn Wright recorded six points apiece but the Tigers went in front 18-17.
Mansfield added a point (13-12) to its advantage in the second quarter and K'Den Richardson (4 points) and Yonsi Grass and Wright (3 each) were the Wolverines' leading scorers.
The Tigers led 31-29 at the half.
Grass and Richardson registered six and four points, respectively, in the third period to help the Wolverines erase the deficit (12-6) and take a 41-37 advantage to the fourth.
The Wolverines outscored the Tigers 14-6 in the final quarter and Wright (6 points) and Ramos and Richardson (3 each) were Vian's top scorers in the period.
Wright was the game's leading scorer with 15 points and also reaching double figures for Vian were Grass (13), Richardson (12) and Ramos (11), and Desean Mays added four.
The Wolverines meet the Muldrow-Central winner at 5:30 p.m. Thursday at Muldrow in an Armstrong Bank Sequoyah County Area Classic semifinal game.