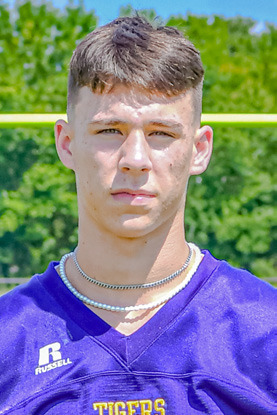 B: Sports
January 5, 2023
Nine Central players garner All-District first-team awards
CENTRAL HIGH SCHOOL FOOTBALL
At the start of a new year, it's become a tradition to take time to recognize each football team's outstanding players for the previous season. With the football season at an end until l a t e r this year, it's time to bestow individual awards to the best players at each school in 2022 as decided by the coaches of each district. The Central Tigers had a winning season, not giving up a single loss at home. Head coach Jeremy Thompson will return a lot of great players from a young and talented squad. Several of Thompson's players were recognized for their impressive performances with A-8 All-District awards.
The Defensive Back of the Year award went to Joseph Lee, who had a standout season for the Tigers. Lee's speed and agility are typically recognized from his performance at quarterback, but the junior rarely came off the field, playing on both sides of the ball. The Tigers' defense was tougher when Lee was on the field because of his ability to make big stops for the Tigers last year, earning him a top honor in the All District awards. The Tigers also had two players named First Team All-District Linebacker: Juniors Cory Blackburn and Hunter Pack. Blackburn and Pack were both leaders on defense, with Pack and Blackburn coming up with several key interceptions and plenty of game-saving tackles.
Tyler "Chooch" Busch was named to the All-District first team as offensive lineman after anchoring the Tigers' offensive line all season. His strength and determination helped open up holes for the running backs, and he was instrumental at protecting the quarterback.
Josh Marino was named to the All-District first team as a defensive lineman after a breakout season in which he recorded several sacks a n d disrupted countless plays. Marino's quickness and power made him a force with which to be reckoned on the field. First Team All-District tight end Issac Rogers hauled in several key catches for the Tigers. Rogers' size, speed and athleticism made him a tough matchup for opposing defenses.
Connor Green was awarded a First Team All-District defensive back spot after a season in which he recorded several interceptions and helped shut down opposing receivers. Green's quickness and ball skills made him a valuable member of the defense.
Cade Tucker was named First Team All-District wide receiver after a season in which he set personal bests in both receiving yards and touchdowns. Tucker's speed and sure hands made him a go-to target for Lee, and that's just going to get stronger when they both return n e x t year. Sophomore Cole Holcomb rounded out the list of award winners for Central, being named to the First Team All District offensive line. Holcomb was a key member of the Tigers' offensive line, using his strength and technique to open up holes for the running backs, and consistently gave the quarterback the time needed to deliver passes.
Overall, it was a successful season for the Tigers, with several players being recognized for their outstanding performances. These players will no doubt be key contributors for the team in the future, as most look to return and continue their success on the field.