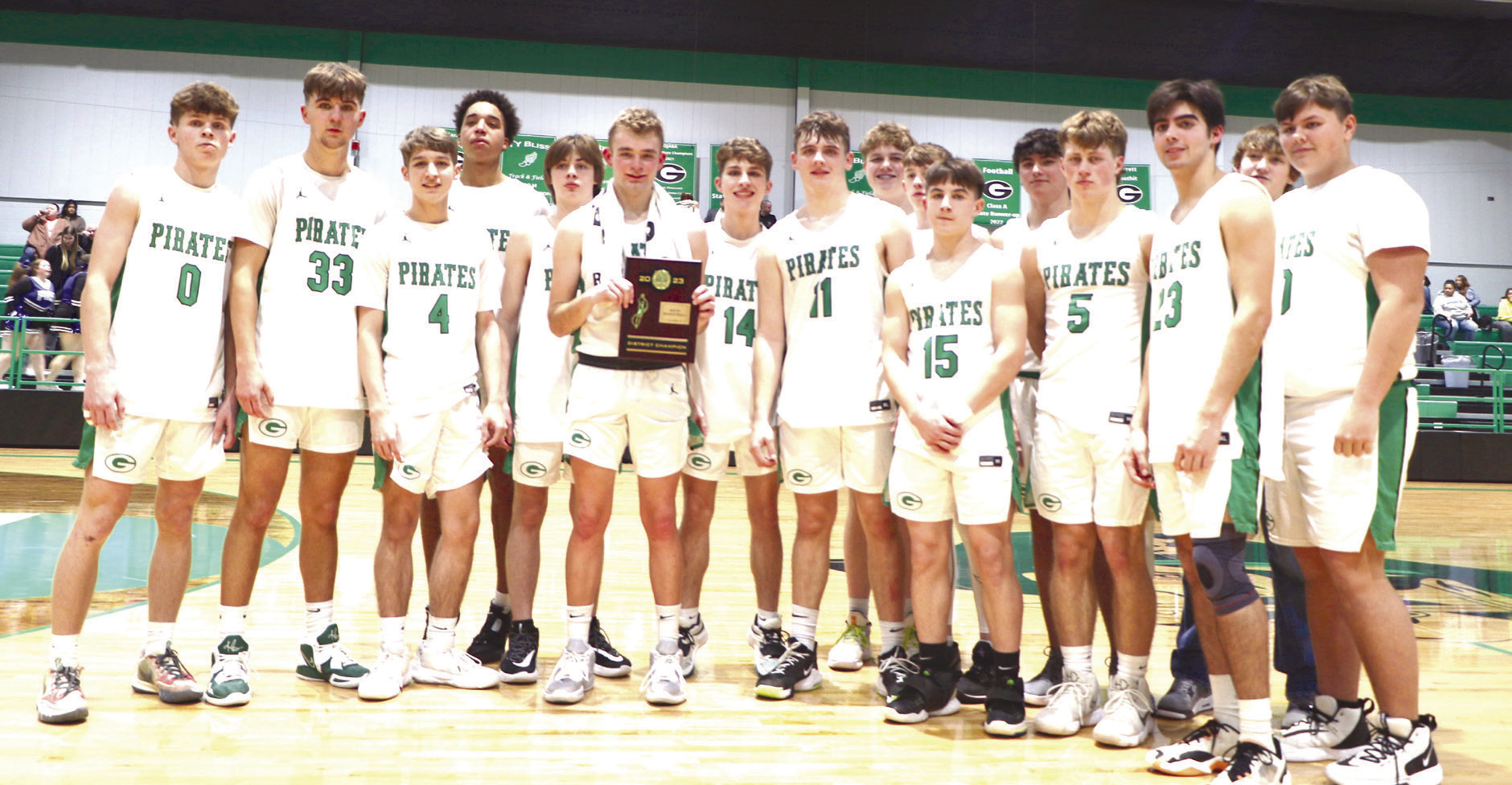 B: Sports
February 14, 2023
Gore boys top Porter to win district tourney title
GORE HIGH SCHOOL BOYS BASKETBALL
Pirates host Liberty in regional opener Thursday
Gore's Pirates overcame a sluggish offensive start to down Porter Consolidated 44-34 in the Class A, Area III, District 8 tournament championship game Saturday night inside the Gore Event Center.
The Pirates (16-3 overall) play No. 18 Liberty (18-5), which beat Regent Prep 44-32 in the District 5 title game, in their first regional contest at 7:30 p.m. Thursday in Gore.
Porter, which lost 60-49 at home to Gore on Jan. 17 in a regular-season game, led 7-5 at the end of the first quarter Saturday and Mason Plunk registered five points for the Pirates from Wagoner County. Noah Cooper's 3-pointer from the wing with 5:07 remaining put Gore in front (3-2) and Aidan Dickerson's inside basket following an inbound pass from Cooper at the 1:25 mark ended the scoring in the period.
In the second stanza Cooper went 4-for-6 at the foul line and Ben Kirkpatrick hit a 3-pointer as Gore trimmed a point (9-8) off the deficit. Plunk scored six points for Porter, which led 1514 at the half.
Cooper's traditional 3-point play at the beginning of the third frame started a 9-0 Gore run. An inside basket following an offensive rebound by Keigan Reid and Jackson Duke's pair of shots in the paint completed the run to make the score 23-15 but Plunk's 3-pointer with 2:17 to go tied the score at 23-all. Following inside baskets by Journey Shells and Duke, Kirkpatrick hit a 3-pointer with seven seconds left to give Gore a 30-23 advantage.
Kirkpatrick's 3-pointer from the right corner started the fourth-period scoring and Gore went in front 44-31 with 1:16 remaining after Cooper made a pair of foul shots. Kirkpatrick (5 points), Shells (4) and Dickerson (3) were Gore's top scorers in the final eight minutes.
First-year Gore head coach T.W. Estes was pleased with his team's performance Saturday night.
"It was huge for those boys and I was really proud of them," Estes said after the game. "It's the first one in a long time for those guys. You could tell we were nervous early on. They were excited and ready to go, throwing stuff off the backboard and banking in free throws. Very uncharacteristic.
"I thought they guarded phenomenally all night long. To hold a really good Porter team to 15 points at the half with three kids on their team that can fill it up, they guarded as good as you can ask them to guard.
"We finally settled down a little bit in the third quarter. Executed a lot better, were a lot more under control, patient and took what they gave us there.
"In the second half I think we finally settled in and understood we're supposed to win now. That's a big adjustment that we're battling every time, that we're supposed to win."
Cooper and Kirkpatrick led Gore in scoring with 12 and 11 points, respectively, and also recording points for the host Pirates were Duke and Shells (6 points each), Dickerson (5) and Reid (4).
Scoring for Porter were Plunk (game-high 24 points), Sam Hensley and Braydon Nelson (3 each) and Logan Faulconer and Logan Crain (2 apiece).
Porter takes on Regent Prep at 3 p.m. Thursday in Gore in a regional consolation contest.