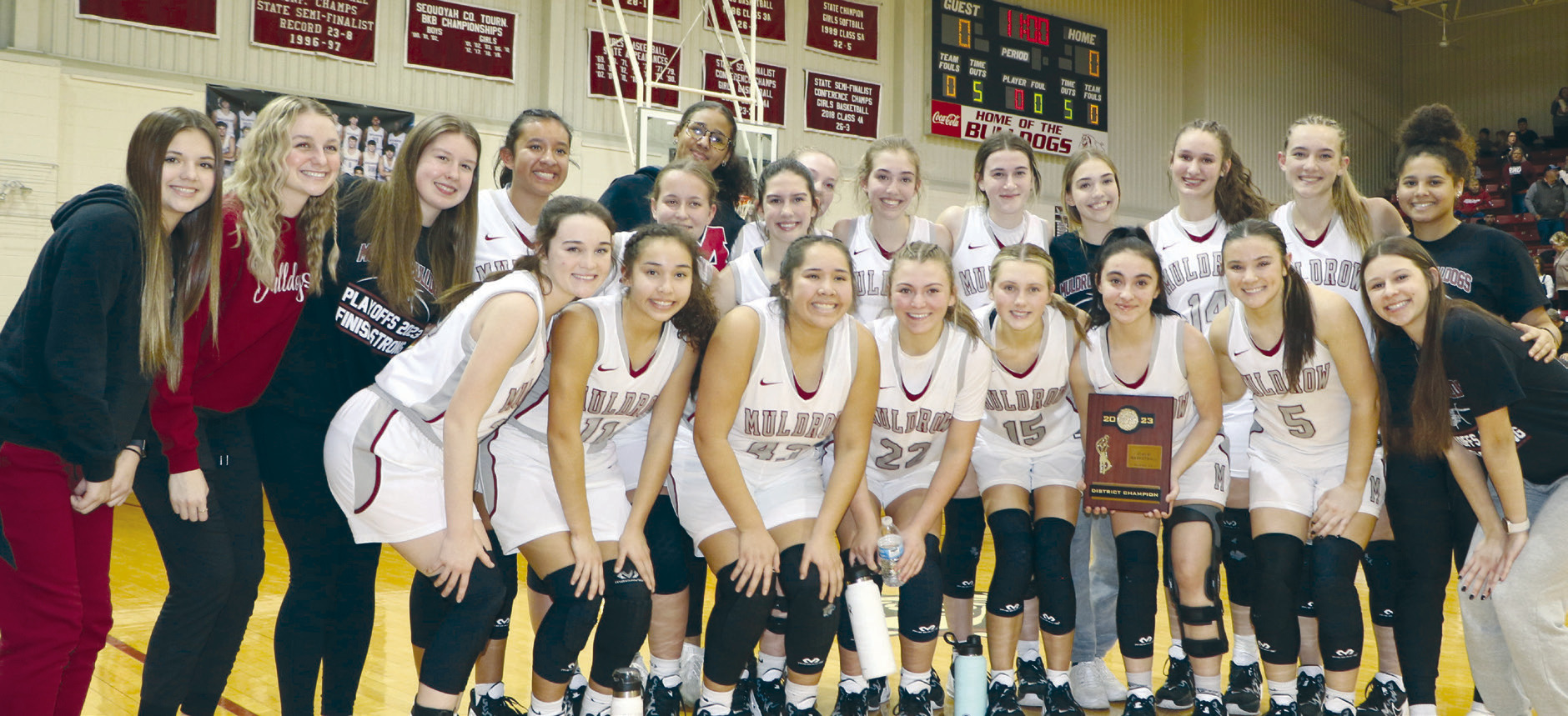 B: Sports, Newsletter
February 21, 2023
Muldrow tops Poteau in district play Friday
MULDROW HIGH SCHOOL BASKETBALL
Muldrow travels to Stilwell Thursday
The Muldrow girls' and boys' basketball teams won Class 4A, Area III, District 8 championships Friday night with victories over Poteau inside MHS' Roger Sharp Activity Center.
In regional semifinal action Thursday night inside the Stilwell Activity Center the No. 11 Lady Bulldogs play Stilwell at 6 p.m. and the Bulldogs take on No. 6 Stilwell at 7:30 p.m.
Thursday's winners advance to Saturday's regional championship games at Verdigris (6 and 7:30 p.m.) and losers will play at Verdigris Friday night (6 and 7:30 p.m.) in regional consolation semifinal games.
Muldrow girls 58, Poteau 40 The No. 11 Lady Bulldogs (203 overall) overcame a slow start by outscoring the visiting Lady Pirates (10-10) 18-3 in the second stanza as Muldrow went on to win the Class 4A, Area III, District 8 title Friday night at Muldrow.
Each team registered nine points in the first eight minutes of the contest and Kennedi Wight (two 2-point baskets) and Mason Anstine (3-pointer) were Muldrow's top scorers in the quarter.
Muldrow scored the first six and final 12 points of the second stanza to take a 27-12 lead at the half. Cailey Grinstead (9 points) and Claire Tabor (5) each hit a 3-pointer in the period to help the Lady Bulldogs add 15 points to their advantage.
Wight and Tabor registered eight points apiece in the third quarter and Muldrow took a 47-24 lead to the fourth after outscoring the Lady Pirates 2012.
In the final frame Dri Rogers and Katelynn Moore recorded four and three points, respectively, for the Lady Bulldogs, who were outscored 16-11.
"We started off pretty slow," Muldrow head coach Jana Armer said after the game. "We started off struggling a little bit, and the thing I told them is 'figure out something to get you going', and I felt like our defense definitely did that. Got a couple of steals, got a couple of easy baskets that kind of got us going and we had a 15-point lead at halftime that really felt like five or 10; it didn't feel like a 15-point lead. We definitely didn't want to take our foot off the pedal and I felt like they came out in the third quarter and just kept going.
"I'm pretty proud of my kids. I've got a really, really outstanding group of young ladies, not just on the court but off the court as well. They represent us the right way, they play hard and I'm proud to stand in front of them and say I'm their coach every day."
Scoring for the Lady Bulldogs in the contest were Wight (14 points), Grinstead and Tabor (13 each), Moore (5), Rogers (4), Anstine (3) and Lani Israel, Addison Allen and Makynlee Morton (2 apiece).
Registering points for Poteau were Emma Hackler (13), Brooklyn Garner (8), Brooke Hattabaugh and Gracyn Soehlman (5 each), Britlee Reed (3) and Camryn Zink, Kaylee May and Kennedy Cox (2 apiece).
Muldrow boys 51, Poteau 37 The Bulldogs (14-7 overall) used a productive second period to down the Pirates (714) Friday night at Muldrow in the Class 4A, Area III, District 8 championship game.
In the opening frame Trenden Collins and Kashan Buhkari recorded three points apiece as the Bulldogs went in front 8-7.
The Bulldogs scored the first 17 points of the second period and led 31-12 at the intermission after increasing their advantage (23-5). Collins (10 points and two 3-pointers), Teaguen Collins (two treys) and Buhkari (5 points and 3-pointer) registered Muldrow's points.
Trenden Collins recorded five points in the third quarter but Poteau trimmed six points (137) off the deficit to enter the fourth trailing 38-25.
The Pirates trailed 40-31 with 5:55 left in the fourth period before the Bulldogs used a 10-0 run to pull away. Trenden Collins went 4-for-4 at the foul line and Parker Sevenstar made two 2-point baskets in the quarter to help Muldrow add a point (13-12) to its lead.
"I thought the first half we came out and played with some energy and played some good solid defense and finally started seeing some shots fall in the second quarter," Muldrow head coach Terry Collins said after the game. " In the second half we kind of came out in a lull and we just had to pick up our energy and put some balls in the basket and we were able to do that."
Trenden Collins led all scorers with 22 points and also recording points for Muldrow were Buhkari (9), Teaguen Collins (8), Andrew Luttrell and Sevenstar (4 each) and Gibson Price and Jaxson Anstine (2 apiece).
Scoring for Poteau were Drew Stone and Connor Whitworth (9 each), Kord Fenton (6), Wyatt Gamble (4), Champ Downs and Walyn Waddell (3 apiece) and Hudson Burdick and Adrian Conchos (2 each).