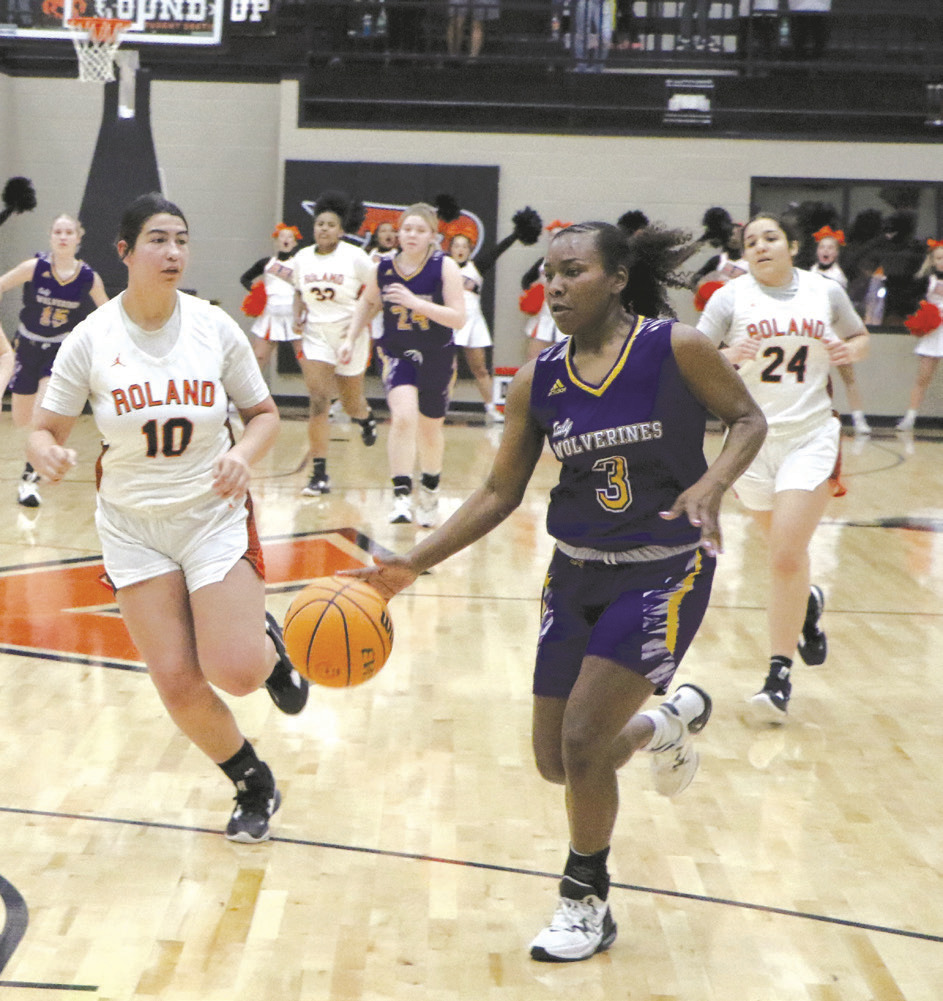 B: Sports
February 21, 2023
Roland downs Vian to win district titles Saturday
HIGH SCHOOL BASKETBALL
Regional action starts Thursday at Roland
The Roland girls' and boys' teams defeated Vian Saturday night inside the Ranger Dome to win Class 3A, Area III, District 2 Tournament titles.
Regional play begins Thursday for the four teams at Roland.
In regional consolation quarterfinal action the Vian girls play Stigler at 1:30 p.m. and the Vian boys take on Eufaula at 3 p.m.
In regional semifinal games the Roland girls meet Eufaula at 6 p.m. and the Roland boys play Stigler at 7:30 p.m.
Roland girls 51, Vian 22
The Class 3A No. 17 Lady Rangers (14-9 overall) led 11-5 at the end of the opening period before increasing their a d v a n t a g e over the Lady Wolverines (5-19) in the second and third quarters of Saturday night's Area III, District 2 title game inside the Ranger Dome.
An inside basket at the 6:52 mark by Roland's Addison Cole started the first-period scoring Saturday night and with 3:50 remaining a layup by Vian's Skyelar Locust tied the score. Later in the quarter a 3-pointer and a threepoint play by Haven Freeman helped the Lady Rangers take a six-point lead and Rebel Simon hit a 3-pointer for the Lady Wolverines.
Roland's pressure defense allowed the Lady Rangers to outscore Vian 16-4 in the second frame. Freeman (two 3-pointers), Cole (three 2-pointers) and Laikyn Conaway (trey) led Roland in scoring and Avery Wright and Rayleigh Terrill (2 points apiece) registered points for the Lady Wolverines.
In the third stanza Freeman knocked down her fourth and fifth 3-pointers of the contest, Cole added five points and Conaway hit a 3-pointer as Roland increased its advantage (15-3). Wright went 3-for-4 at the foul line in the quarter.
In the final eight minutes Kiah Richardson recorded four points and Wright made a 3-pointer as Vian trimmed a point (10-9) off the deficit. Lilly Medicine Bird scored five points for the Roland in the period.
Freeman and Cole registered 18 and 14 points, respectively, in the game and also scoring for Roland were Medicine Bird (7), Conaway (6) and Madison Jetton, Brooklyn Decker and Jazlynn Tehee (2 each).
Providing points for Vian were Wright (8), Richardson (4), Locust and Simon (3 each) and Terrill and Kalli Kennedy (2 apiece).
Roland boys 62, Vian 58 (2 OTs) The Class 3A No. 4 Rangers (21-2 overall) fought off the unranked Wolverines' (129) upset bid Saturday night to win the Area III, District 2 championship in double overtime at Roland.
With under a minute remaining in regulation a 3-pointer from the wing by Vian's K'den Richardson tied the score at 44all to send the game to the first extra four-minute period.
In the first overtime Diego Ramos' inside jumper at the 1:25 mark gave Vian a 50-48 lead but 19 seconds later Carson Wiggins made an inside basket after grabbing an offensive rebound following a missed foul shot to tie the score. A 3-point attempt by the Wolverines rimmed out with four seconds remaining to force a second overtime. Ramos and Peyton Whisenant registered four of their r e s p e c t i v e teams' six points in the first overtime. Whisenant's two foul shots with 1:30 left in the second overtime gave the Rangers a 56-52 advantage but 14 seconds later Yonsi Grass went 3-for-3 at the f r e e – t hrow line after being fouled on a 3-point a t t e m p t . Roland scored the next six points on Whisenant's inside basket, Wiggins' steal and dunk and a foul shot apiece by Kyeree Hall and Buck Triplett before a 3-pointer by Vian's Masyn Wright ended the scoring. Whisenant and Wiggins (4 points each) recorded eight of Roland's 12 points in the second overtime and Grass (5-for-5 at the foul line) and Wright accounted for Vian's eight points.
The Rangers led 11-9 after the first eight minutes of the contest and Roland's Hall (4-of-4 free throws) and Ashton Peters (3-pointers) and Vian's Ramos (4 points) and Grass (trey) led their teams in scoring.
In the second stanza Roland added two points (13-11) to its advantage. Wiggins (6 points) and Whisenant (5) were the Rangers' top scorers and Richardson (4 points) and Wright (3-pointer) paced the Wolverines, who trailed 24-20 at the break.
Roland took its largest lead (42-24) of the game with 1:07 to go in the third quarter following Wiggins' layup. Wiggins (four 2-pointers) and Peters and Davohn Hall (3-pointer apiece) helped the Rangers increase (185) their advantage (42-25) in the third.
Ramos' 3-pointer from the corner started the fourth-period scoring and after Wiggins' inside jumper the Wolverines scored the final 16 points of the stanza to force overtime. Richardson (8 points) also hit a pair of 3-pointers in the fourth for Vian and Desean Mays and Wright each made a pair of 2-point baskets.
Wiggins led all scorers with 24 points in the game and also scoring for Roland were Whisenant (15), Peters (8), Kyeree and Davohn Hall (7 each) and Triplett (1).
Registering points for Vian were Ramos (15), Wright (14), Richardson (12), Grass (11) and Mays (6).
Roland head coach Ed Lewis was grateful his team found a way to pull out the win.
"You're hoping to just win and advance," Lewis said after the game. "It doesn't matter how you do it as long as you do it.
"Vian played a really good game. I thought we played pretty good in spurts and then we'd make a turnover or maybe make a bad play. There late we fouled a 3-point shooter when were up four and then we got a technical foul late in the game and those kind of mistakes will cost you in the end and luckily we were able to get through it and survive and make it to the next round."
Vian head coach John Mays was proud of his team's effort Saturday night.
"You hate for anybody to lose that, that was just such a good game," Mays said following the contest. "When you're playing such a good team as Roland you better be on point or it could be over real quick and I thought our kids came out and competed from the word go. We got down there about 16 or 18 points in the third, came right back and weren't fazed; so awful proud of our kids against a really good Roland team. It was a good effort even though we lost."