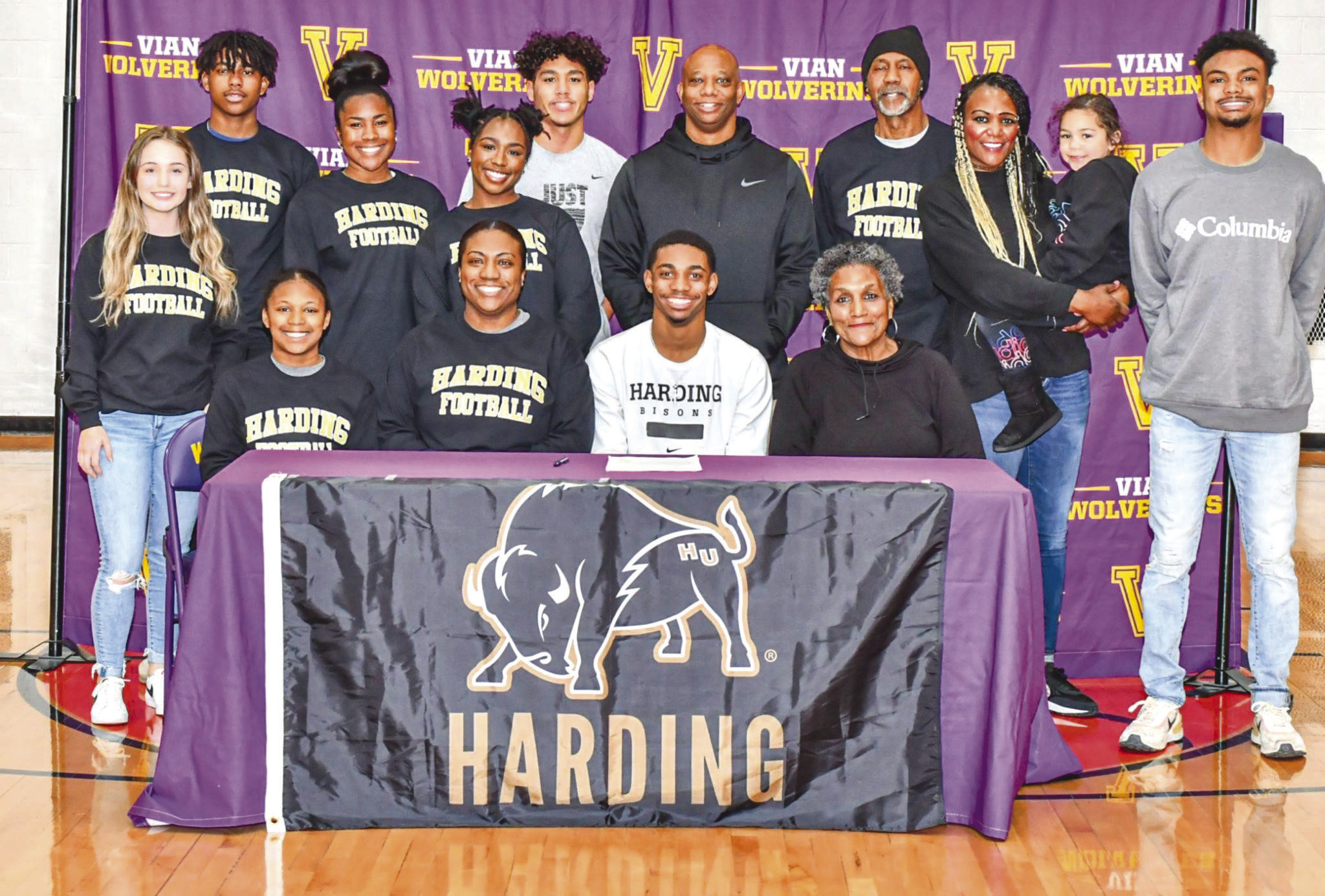 B: Sports
February 28, 2023
Star Vian football player commits to Harding
VIAN HIGH SCHOOL SPORTS
Friday at the Vian gymnasium, Desean Mays signed his commitment letter to Harding University in Searcy, Ark., where he will play football for the Division II school as a cornerback and punt returner for the Bisons while pursuing a degree in business.
"I'm super proud of him, I've watched him play ball since he was knee high, and for him to be able to play at the next level, I'm extremely proud of him; he's a good kid," said Desean's father Brian Mays about the opportunity his son is receiving. "Harding reached out to him, they really wanted him down there. I know that he had a few other schools looking at him, but he chose Harding, that was where he wanted to go. It was his decision and what he wanted to do and nobody pressured him, so I'm just happy that he's going to play at the next level."
"I'm extremely proud of him," said Phillis Wright, Desean's mother, about her son's love for football and his ability to continue to play the game. "He hasn't always really loved football, but these last few years he's really gotten it together and put his heart and soul in it. He found his niche and has grown to love football and it shows. I can't explain what that transformation's been like, but I just love to watch him play. He loves the game, and I'm happy for him." "We're gonna miss this kid a lot," said Vian head football coach Gary Willis. "I just like getting to see him every day, not just in the gym, but he's like family and I'm very proud of him. He's put in the work as a football player, and he helped us win a lot of football games. It isn't going to be the same without his leadership and the level of commitment that he put on display for the team. He's the kind of player that colleges look for. They're looking for the total package. Obviously they want athletic ability, but it's the intangibles like his commitment, positive personality, leadership and keeping up with your school work and getting good grades that are needed to get a scholarship."
"Just believe in yourself and don't let others try to talk you down," said Desean Mays about the biggest thing that he had to do to get this opportunity. "I want to thank all my coaches for pushing me to be the best that I can be, and I'm gonna miss it a lot. Harding head coach Paul Simmons met and he had me at a tryout before making an offer. It looks like they're looking to play me at the cornerback position and on special teams as a punt returner. All their coaches were super supportive, too, and Harding is close to home, which played a big part in my decision."
Through hard work and his positive outlook, Desean has earned the respect of his coaches and teachers, as well as the Vian community, because he encompasses the leadership that it takes to excel on and off the field. The culmination of all of these factors resulted in Desean getting noticed by colleges, and together they made it easy for the colleges and coaches to extend athletic scholarship offers to Desean.