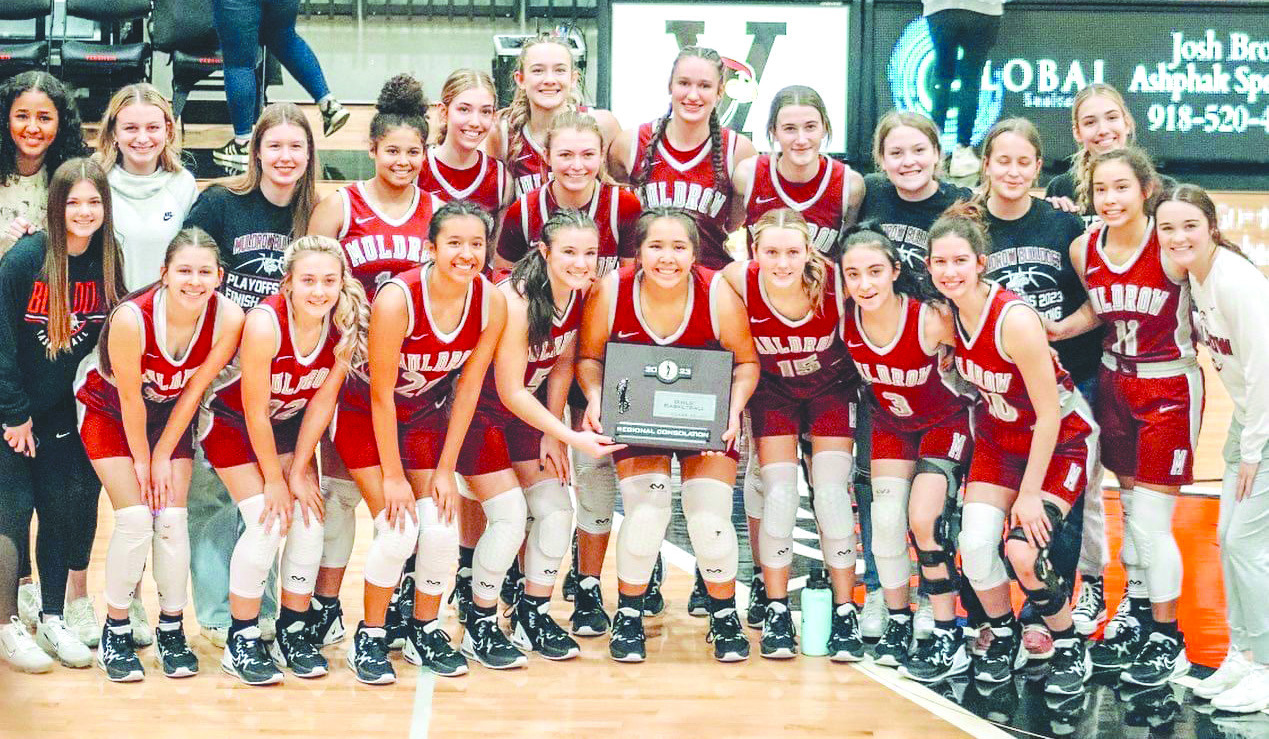 Lady Bulldogs beat Vinita in regional consolation final
MULDROW HIGH SCHOOL GIRLS BASKETBALL
The Class 4A No. 11 Lady Bulldogs topped Vinita 59-30 Saturday afternoon at Verdigris High School to advance to this week's area tournament.
Muldrow takes on No. 16 Tecumseh at 1:30 p.m. Thursday at Henryetta High School in an area consolation quarterfinal contest.
After falling at Stilwell in its regional opener Thursday (see separate story) the Lady Bulldogs defeated Miami on Friday at Verdigris.
Muldrow girls 59, Vinita 30 (Saturday) The Lady Bulldogs (22-4 overall) outscored the Lady Hornets (9-18) in every period Saturday afternoon at Verdigris High School on their way to the regional consolation final title.
In the opening quarter Kennedi Wight totaled six of her team-high 15 points and Cailey Grinstead hit a 3-pointer as Muldrow went in front 13-7.
The Lady Bulldogs led 30-19 at the break after adding five points (17-12) to its advantage in the second frame. Wight, Claire Tabor (5 points apiece) and Grinstead (3-pointer) were Muldrow's top scorers in the quarter.
Muldrow added to its advantage in the third (14-7) and fourth (15-4) periods. Tabor and Mason Anstine (5 points apiece) each made a 3-pointer in the third and in the final eight minutes Addison Allen (6 points), Maysi Fields (4) and Noa Kate Coleman (3-pointer) led the Lady Bulldogs in scoring.
T r a i l i n g Wight in scoring for Muldrow in the game were Tabor (12 points), Allen54 (8), Anstine (7), Grinstead (6), Maysi Fields (4), Coleman (3) and Katelynn Moore and Jensi Fields (2 each).
"I really thought our kids came out and played well," Muldrow head coach Jana Armer said. "It took us a little bit to kind of get started but definitely in the second half we really stepped up our defense which led to some easy shots on offense. We played some really good team basketball and moved the ball really well and got open shots. We were able to put a few baskets in and play pretty good defense and live to play another day."
Muldrow girls 60, Miami 34 (Friday) Kennedi Wight scored a gamehigh 25 points and the Lady Bulldogs outscored the Lady Wardogs 15-2 in the third period of Friday's regional consolation semifinal game as Muldrow moved on in the postseason.
Muldrow took a 19-12 advantage at the end of the first stanza before increasing (17-13) its lead in the second quarter.
The Lady Bulldogs led 36-25 at the intermission.
Muldrow added 13 points to its lead in the third frame and two (9-7) in the final eight minutes.
Trailing Wight in scoring for Muldrow in the contest were Claire Tabor (8 points), Cailey Grinstead (7), Makynlee Morton (6), Carmen and Jensi Fields (3 each) and Lani Israel, Katelynn Moore, Mason Anstine and Addison Allen (2 apiece).
Miami's top three scorers were Carly Cook and Riley Edmonson (8 points each) and Logan Chaney (7).