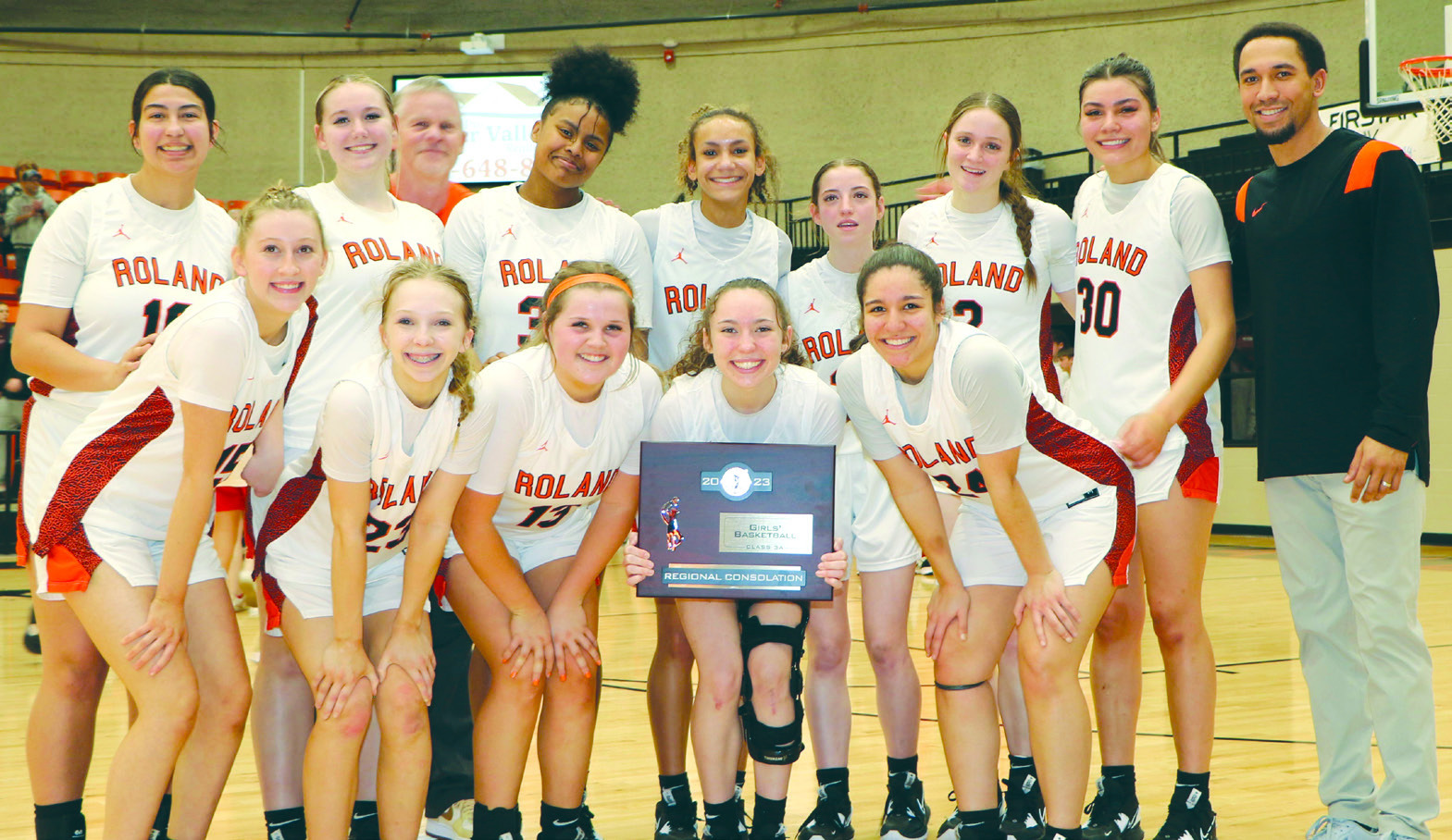 Lady Rangers advance with overtime win over Stigler
ROLAND HIGH SCHOOL GIRLS BASKETBALL
Roland's overtime win over Stigler Saturday afternoon gave the Lady Rangers the girls' regional consolation final title at Roland and sent them to the area tournament at Ada High School, which gets underway Thursday.
The No. 17 Lady Rangers, who beat Heavener on Friday and lost to Eufaula Thursday, play No. 12 Marlow at 6 p.m. Thursday at Ada in an area consolation quarterfinal contest.
Roland girls 55, Stigler 49 OT (Saturday) The Lady Rangers (16-10 overall) erased a five-point deficit in the fourth quarter to send the game to the extra period before outscoring the Lady Panthers (11-12) 10-4 in the final four minutes of the contest.
Roland led 6-4 almost midway through the first stanza before Stigler scored 11 straight points to go in front 15-6. Haven Freeman registered four of her game-high 26 points in the period for the Lady Rangers.
Freeman, Lilly Medicine Bird and Addison Cole scored four points apiece in the second quarter as Roland trimmed six points (12-6) off the deficit to trail 21-18 at the half.
In the third frame Freeman (5 points) and Cole (4) each hit a 3-pointer but the Lady Panthers increased (13-11) their advantage (34-29).
Freeman's seven points and four by Jazlynn Tehee helped the Lady Rangers outscore Stigler 16-11 in the fourth quarter to force the extra period. Tehee's inside jumper with 1:30 left tied the score at 45-all.
In overtime Freeman (6 points) and Medicine Bird (4) provided Roland's scoring.
Trailing Freeman in scoring for Roland in the game were Cole (12), Medicine Bird (10) and Tehee (7).
Scoring for Stigler were Madi Jones (19 points), Caitlin Lovett (10), Gentry Powell (8), Hiahni Howard (7), Jordan Johnson (4) and Kahrma Warren (1).
Roland head coach Greg Pratt was pleased with his team's performance Saturday.
"Really proud of the girls," Pratt said. "So many close games this season have not gone our way. We've gotten beat in two buzzer-beaters in the last month. Got down early, 11, and we weren't playing bad its just Stigler was hitting shots and making some plays. They were just doing what they needed to do and took advantage of their execution and completed it. But we just kept telling them to stick with what we're doing and keep attacking the basket, attacking the basket and didn't want to settle for a bunch of early, quick 3s and wanted to attack the basket and they kept doing it and got them in some foul trouble.
"We just had to inch our way back but it seemed like every time we'd get tied up they responded well. Stigler would respond and take the lead and we'd have to battle back, battle back, battle back. For the fans I'm sure it was a great game but for the coaches it was pretty stressful.
"I'm really proud of the girls with the toughness that they showed because there were plenty of times to where things just weren't going our way and they could have tucked their tails between their legs and we could be having a whole different conversation right now."
Roland girls 56, Heavener 31 (Friday) The Lady Rangers (15-10 overall) outscored the Lady Wolves (7-17) 4823 in the final three periods Friday afternoon at Roland to win the regional consolation semifinal game.
The teams were tied at 8-all at the end of the opening quarter but Roland led 2619 at the intermission after outscoring Heavener 18-11 in the second stanza.
The Lady Rangers increased their advantage in the third (16-6) and fourth (14-6) periods.
Scoring for Roland in the game were Haven Freeman (18), Lilly Medicine Bird (10), Jazlynn Tehee (8), Madison Jetton and Addison Cole (5 each), Riscay Campbell (4) and Laikyn Conaway and Julianna Trujillo (3 each).
Ava Cartwright led the Lady Wolves in scoring with 15 points.
Eufaula girls 38, Roland 35 (Thursday) Kambry Williams' 3-pointer at the buzzer from the right wing lifted No. 18 Eufaula (15-8) to a Class 3A regional semifinal win over the No. 17 Lady Rangers (14-10) Thursday night inside Roland's Ranger Dome.
The teams entered the final period tied at 26-all. Addison Cole's 3-pointer early in the fourth gave Roland the lead but Eufaula regained the advantage (33-29) moments later. The Lady Rangers went in front (35-33) with 1:14 remaining following Lilly Medicine Bird's inside basket, Haven Freeman's three-point play and Medicine Bird's foul shot. A baseline 2-pointer by the Lady Ironheads' Jadence Efurd tied the score with 57 seconds left and before Williams' last-second trey a shot attempt with nine seconds to go was off the mark.
In the first stanza Cole (4 points) and Jazlynn Tehee each hit a 3-pointer for Roland but the Lady Rangers trailed 1211 heading to the second. Cole left the game with 2:32 remaining after picking up her third foul.
Julianna Trujillo's field goal and a 3-pointer by Madison Jetton with 5:51 remaining in the second stanza allowed Roland to claim its first lead (16-14) of the contest. The Lady Rangers led 1918 at the break after outscoring Eufaula 8-6.
Tehee made a 3-pointer in the third quarter but the Lady Ironheads erased (8-7) the deficit (26-26).
Scoring for Roland in the game were Medicine Bird (9 points), Freeman, Tehee and Laikyn Conaway (7 each), Jetton (3) and Trujillo (2).
Providing Eufaula's points were Shyanne Madewell (8), Allie Anderson (7), Williams (6), Kate Pippenger, Madison Ballard and Efurd (4 apiece), Ava Rose Johnson (3) and Avery Williams (2).