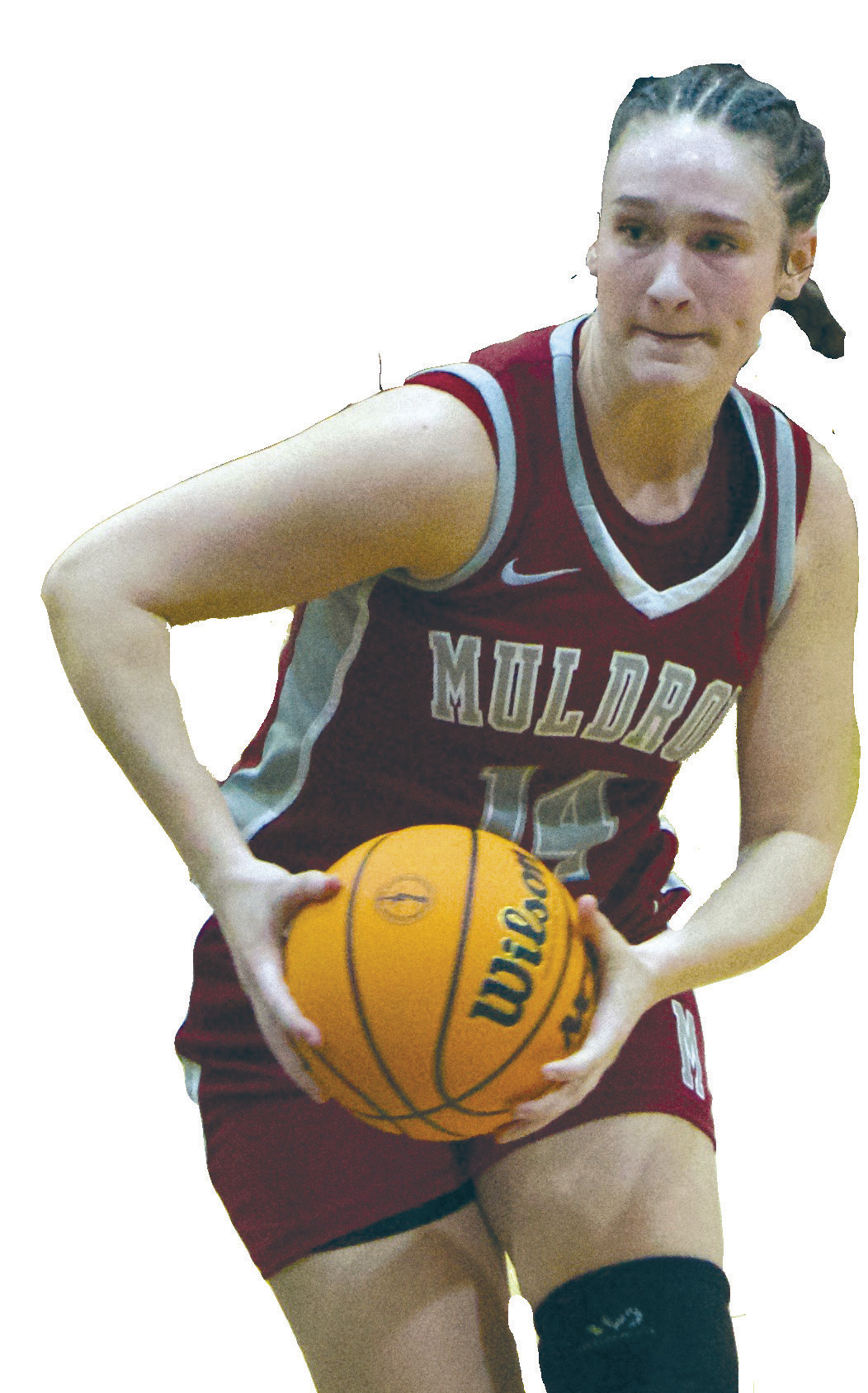 MULDROW HIGH SCHOOL GIRLS BASKETBALL
Loss to Stilwell finishes Lady Bulldogs' season
HENRYETTA – A narrow loss to Stilwell Friday afternoon in a Class 4A area consolation semifinal game ended the Lady Bulldogs' season.
The Lady Bulldogs (23-5 overall) started area play Thursday afternoon at Henryetta with a win over Tecumseh.
Stilwell 39, Muldrow 37
The three previous meetings this season between No. 11 Muldrow and unranked Stilwell were decided by five or fewer points, and Friday's contest was no exception, as the Lady Indians hung on to edge Muldrow 39-37 in the Class 4A area consolation semifinal contest.
In the first eight minutes, Claire Tabor hit a 3-pointer for the Lady Bulldogs, but Snowda Watie's three 2-point field goals helped the Lady Indians (17-9 overall) go in front 11-8.
Carmen Fields (5 points) and Jensi Fields each knocked down a 3-pointer in the second stanza, as Muldrow erased (10-5) the deficit to lead 18-16 at the break.
Kennedi Wight, Cailey Grinstead, Mason Anstine and Tabor registered two points apiece in the third period, but Stilwell outscored the Lady Bulldogs 11-8 to take a 27-26 lead to the final frame. Prairie Holmes made a pair of 3-pointers for the Lady Indians in the quarter.
Despite Wight's six points and Grinstead's 3-pointer, Stilwell increased (12-11) its lead in the final stanza. Watie recorded seven of her game-high 15 points in the period, and Windi Holmes hit a 3-pointer for Stilwell.
Wight led the Lady Bulldogs in scoring in the contest with 11 points, and also registering points for Muldrow were Tabor (7), Grinstead (6), Carmen Fields (5), Anstine (4), Jensi Fields ( 3) and Lani Israel (1).
Trailing Watie in scoring for Stilwell were Windi Holmes (7 points), Prairie Holmes (6), Shannon Catron (5), and Kaylea Benham and Katelyn Wilson (3 each).
The Lady Bulldogs topped Stilwell twice (51-46 at Stilwell and 53-49 at Muldrow) during the regular season, and the Lady Indians won 38-34 at Stilwell in a regional semifinal contest.
A 50-43 loss to No. 6 Verdigris on Saturday night in the area consolation final ended Stilwell's season.
Muldrow 46, Tecumseh 38
The Class 4A No. 11 Lady Bulldogs (23-4 overall) used a hot (four 3-pointers) start and a solid (5 for 6 at the foul line) finish to defeat No. 16 Tecumseh Thursday afternoon at Henryetta High School in an area consolation quarterfinal game.
In the first 4:19 of the opening period, Claire Tabor hit a pair of 3-pointers and Cailey Grinstead and Jensi Fields added a trey apiece to help the Lady Bulldogs build a 14-0 lead. Tecumseh closed the quarter with an 11-0 run to trail by three, and Serenity Jacoway knocked down two treys for the Lady Savages.
Tecumseh took its first lead (16-14) of the game with 6:20 remaining in the second stanza on Kenzli Warden's 2-point basket, and the Lady Savages' run grew to 19 before Katelynn Moore's 3-pointer at the 3:38 mark ended the Lady Bulldogs' eight-minute scoring drought. Muldrow started a 12-0 run following Warden's two foul shots with 3:06 to go, and Carmen Fields (7 points) and Kennedi Wight (5) provided the scoring during the run.
The Lady Bulldogs led 29-23 at the half. A 3-pointer apiece by Jensi Fields and Tabor and a pair of foul shots by Grinstead at the beginning of the third quarter gave Muldrow its second 14-point advantage (37-23) of the contest, but Tecumseh registered the final five points of the period to trail by nine (37-28).
A layup by Tecumseh's Jody Wilson with 2:06 left in the fourth stanza made the score 41-38, but Muldrow's defense and foul shots by Wight (4 for 4), Grinstead (2 for 2) and Jensi Fields (1 for 2) helped the Lady Bulldogs extend their advantage.
Scoring for Muldrow in the contest were Wight (11 points); Tabor (9); Carmen Fields, Grinstead and Jensi Fields (7 each); Moore (3) and Mason Anstine (2).
Providing Tecumseh's points were Warden (16), Reagan Berry (8), Jacoway (6), Katie Overstreet and Sami Schweighardt (3 each), and Wilson (2).