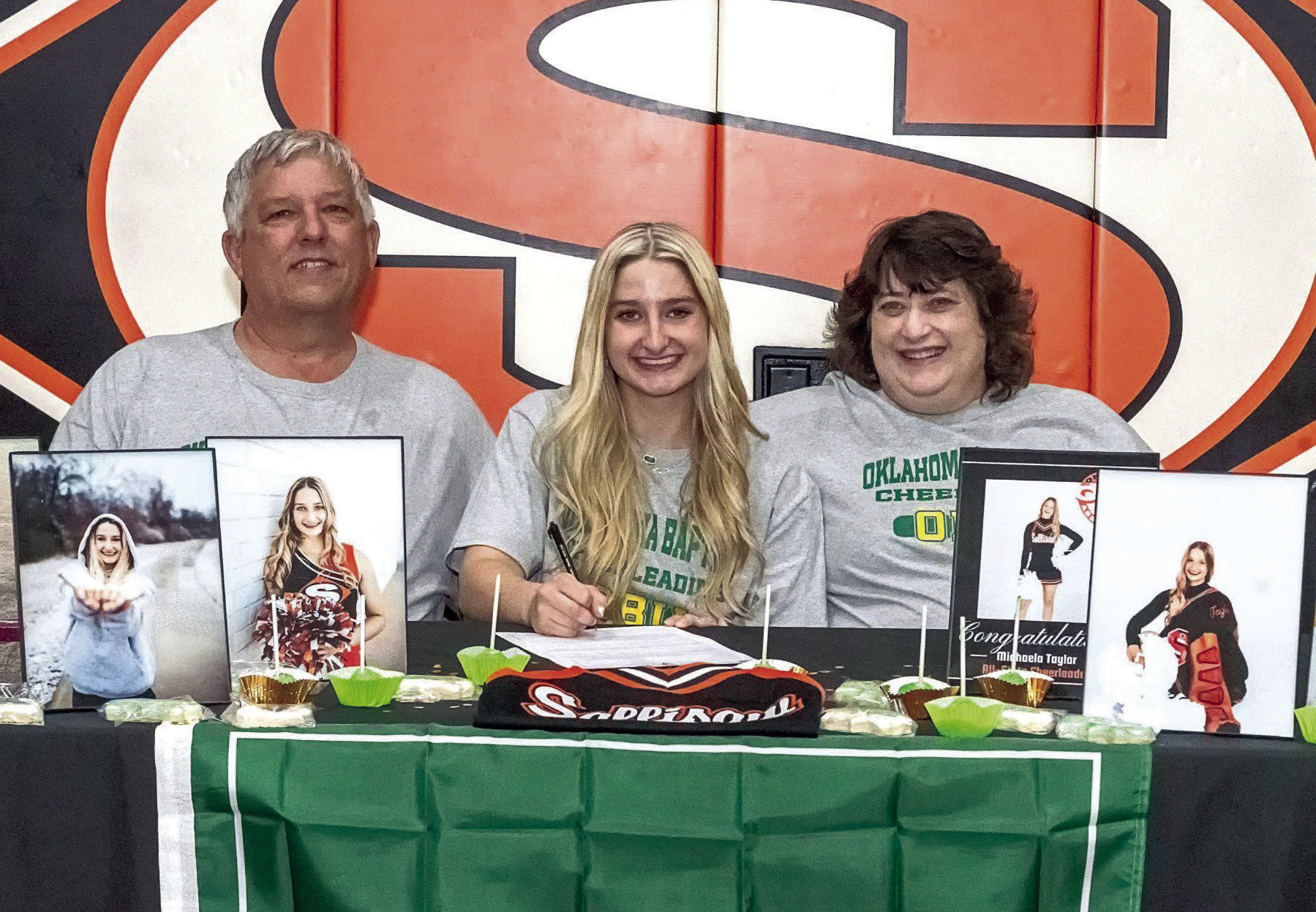 SALLISAW HIGH SCHOOL SPORTS
Sallisaw All-State cheerleader signs with OBU
Sallisaw All-State cheerleader and academic state champion Michaela Taylor signed her letter of intent Tuesday to continue her education and cheer competitively at Oklahoma Baptist University.
More than a dozen people attended Taylor's signing ceremony to show their support, namely her parents, Deborah and Ted Taylor, head cheerleading coach Robbie Martin, family, faculty and close friends.
Taylor, an accomplished athlete, lettered four years as a varsity cheerleader, and she also lettered her junior year in slow-pitch softball and her freshman year in basketball. Taylor carries a 4.0 GPA, and is a member of the National Honor Society, National Society of High School Scholars and Fellowship of Christian Athletes.
Taylor started competitive sports at an early age. When she was 4, she was introduced to gymnastics, and after nine years, she was forced to give it up because she started playing basketball and cheerleading. But the love of competition had taken hold of her by that time, and is one of the reasons Taylor wants to continue to cheer in college – the love of competition.
"I'm very excited and proud of her, it's just mind blowing," said Taylor's mother, Deborah, about all of the work it takes to earn a scholarship to attend a respected university as well as continue to cheer and compete at that level. "I can't believe that my daughter is a senior and she's graduating and getting ready to go to college. OBU is special. She's my one and only, and I've watched her grow up, and it just seems like it's gone way too fast."
"I'm just excited for her. It's a big change for all of us. She's my only daughter, and I've watched her grow up and now she's fixing to go off to college now," said her father, Ted, about the changes his daughter will be facing, and how much they plan to be there for support as she leaves to continue her education and cheer at the next level. "She's got a good church family and friends to help her, and she'll be close enough to come home, or Mom and Dad can go up to visit her in Shawnee on a weekend if she needs us and can't make it home."
"We've got a great group of seniors this year. Two of them are going to cheer at the next level," said Sallisaw cheerleading head coach Robbie Martin of the star athlete. "She made the All-State team this year, which is a really big deal. There's only 16 cheerleaders on the entire east side of the state who make it from all that tryout, in ALL classes, so she's obviously a stud. She was selected as an all-around cheerleader, too. She's got it all – a special talent. She represents the Black Diamonds so well. She's going to go on to the next level and be a fantastic representative of our school and our team, and we are super proud of her. She's had a super successful high school career, and she's just going to continue to do great things at Oklahoma Baptist University."
"This year was special because of all the challenges we went through and how we were able to work together as a team to overcome adversity. We created strong bonds that enabled us to accomplish some amazing things," Michaela said about the journey her cheerleading team took this year to accomplish the amazing things it did. "I really think that Coach Alley helped our team. Being new, she brought new ideas and a great vibe which infused the team with a fresh perspective that helped elevate our team. Robbie and Alley both pushed me hard to do my very best, and I love them both for it. They've really been there for me."
Taylor has plans to major in exercise science before getting her masters degree in occupational therapy to prepare her for a career as a physical therapist.