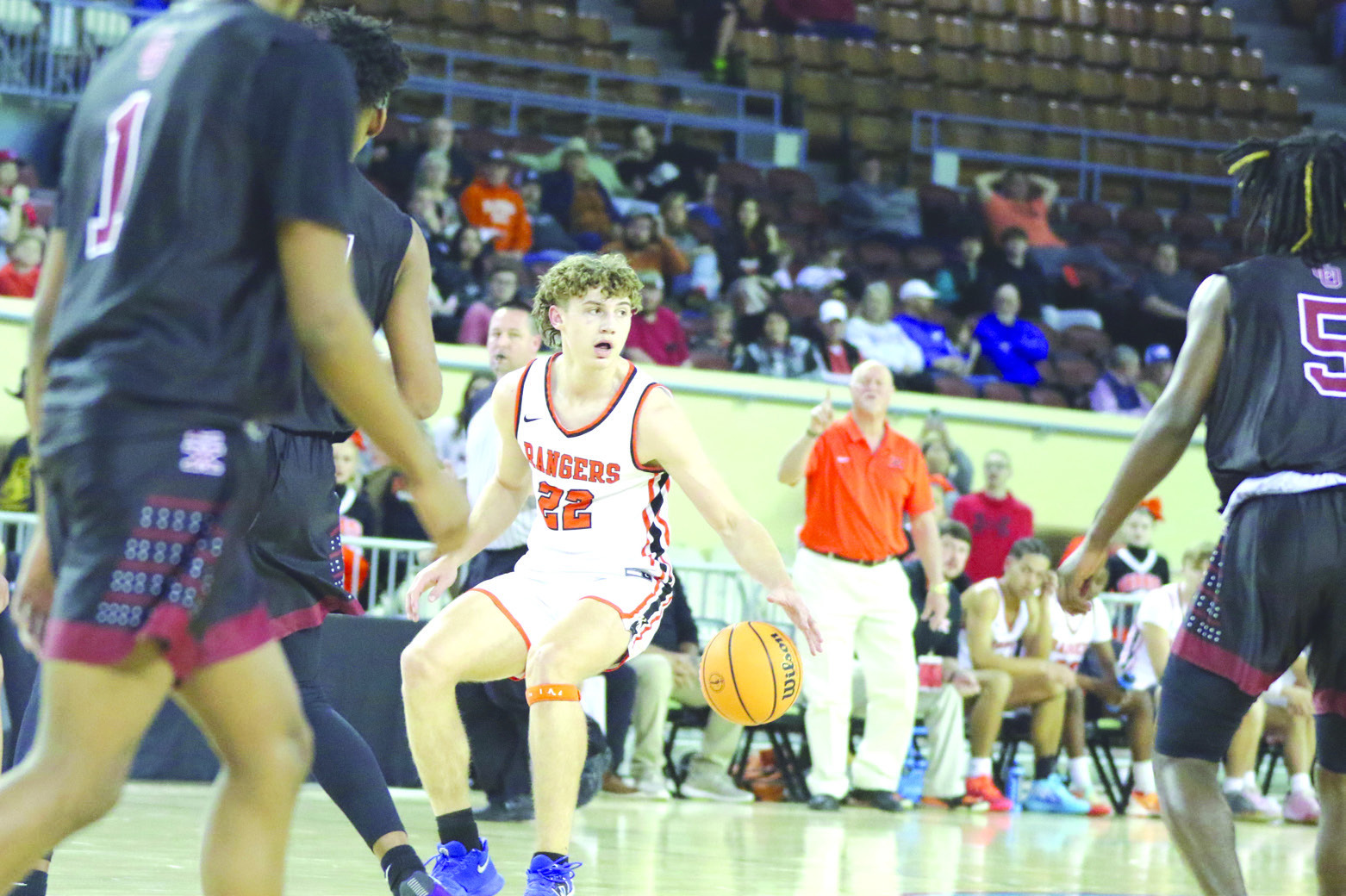 Second-half surge lifts Ruf-Nex to state tourney win
OKLAHOMA CITY – Fourth-ranked Roland led for most of the first half of its Class 3A state tournament quarterfinal game against No. 8 Crooked Oak Thursday morning inside Jim Norick Arena at the State Fairgrounds but the Ruf-Nex went in front for good with 4:20 left in the third stanza on their way to the 62-46 win over the Rangers.
In the opening period the Rangers (24-3 overall) led 6-2 at the 5:32 mark following a pair of inside baskets by Peyton Whisenant and Davohn Hall's 2-point field goal. Roland took a 10-9 advantage to the second stanza thanks to Carson Wiggins' two foul shots and Hall's basket and Daevion Hill (4 points) and Elijah Garcia (3-pointer) were the top scorers in the stanza for Crooked Oak (25-3).
Whisenant, Roland's leading scorer in the contest with 14 points, totaled 10 in the second quarter by hitting a 3-pointer, two inside baskets and 3 of 4 free throws as the Rangers outscored the Ruf-Nex 18-17 to lead 28-26 at the intermission. Ashton Peters (3-pointer) and Hall registered three points apiece for Roland and Hill (8 points), Garcia (4) and Tymier Adkins-Freeman (3) were Crooked Oak's top scorers in the period, which featured three ties.
Kedric Vick's jump shot with 6:32 to go in the third frame put the Ruf-Nex in front (30-28) for the first time since the opening stanza, but Wiggins' inside basket at the 4:34 mark tied the score at 30-all. Crooked Oak scored 12 of the next 14 points and led 42-34 after a put-back by Roland's Desean Cruse with 3.1 seconds remaining. Adkins-Freeman (7 points), Vick (5) and Hill (4) scored for the Ruf-Nex in the quarter.
Crooked Oak registered the first six points of the final period and led 48-37 with 4:56 remaining before Wiggins' traditional three-point play made the score 4837. The Ruf-Nex led 50-37 when Wiggins picked up his fifth foul with 3:57 left and 33 seconds later Whisenant exited the contest with Crooked Oak leading by 11 (53-42). Kyeree Hall (3-pointer and five points) and Wiggins (3 points) recorded eight of Roland's 12 points in the stanza and Hill and Adkins-Freeman (6 points apiece) scored 12 of Crooked Oak's 20 points.
Roland head coach Ed Lewis said his team's early fouls and the Rangers' low scoring third period were factors in the contest.
"I thought we played pretty good at first but we picked up some early fouls that kind of got us in foul trouble and we had to change our defense and when we changed our defense they kind of took advantage of that. We hit a dry spell there in the third quarter and just never could come back from that."
Adkins-Freeman, a 5-foot-9 senior who entered the game with a 28.6 scoring average, totaled 18 points in Thursday's game.
"He (Adkins-Freeman) didn't score a lot but No. 11 (6-foot-4 senior Daevion Hill) in that first half kept them in the game and we had a little bit of a breakdown there and 11 got some easy baskets just right in the middle of the zone and killed us right there and kept them in the game."
Lewis was proud of his team's season. "The boys had a great year and we had a great year and I don't want one game to tarnish the whole season and I've been really proud of them," Lewis said.
Playing their final game for the Rangers were seniors Peyton Whisenant, Kyeree Hall and Desean Cruse.
Trailing Whisenant in scoring for Roland in the game were Davohn Hall (11), Wiggins (9), Kyeree Hall (5), Peters (3) and Cruse and Paul Johnson (2 each).
Hill, who will play collegiate football at the University of Central Oklahoma, led all scorers with 22 points and also recording points for the Ruf-Nex were Adkins-Freeman (18), Garcia (13), Vick (5) and Pablo Rodriguez and Jaden McDonald (2 each).
An 83-50 loss to No. 2 Millwood Friday morning at the State Fairgrounds ended the Ruf-Nex season, and on Saturday, Millwood upended top-ranked Tulsa Metro Christian 56-53 in the 3A state title game.
Crooked Oak 62, Roland 46
Crooked Oak 9 17 16 20 62
Roland 10 18 6 12 46
CO (25-3)–Daevion Hill 22, Tymier Adkins-Freeman 18, Elijah Garcia 13, Kedric Vick 5, Pablo Rodriguez 2, Jalen McDonald 2
ROL (24-3)–Peyton Whisenant 14, Davohn Hall 11, Carson Wiggins 9, Kyeree Hall (5), Ashton Peters 3, Desean Cruse 2, Paul Johnson 2.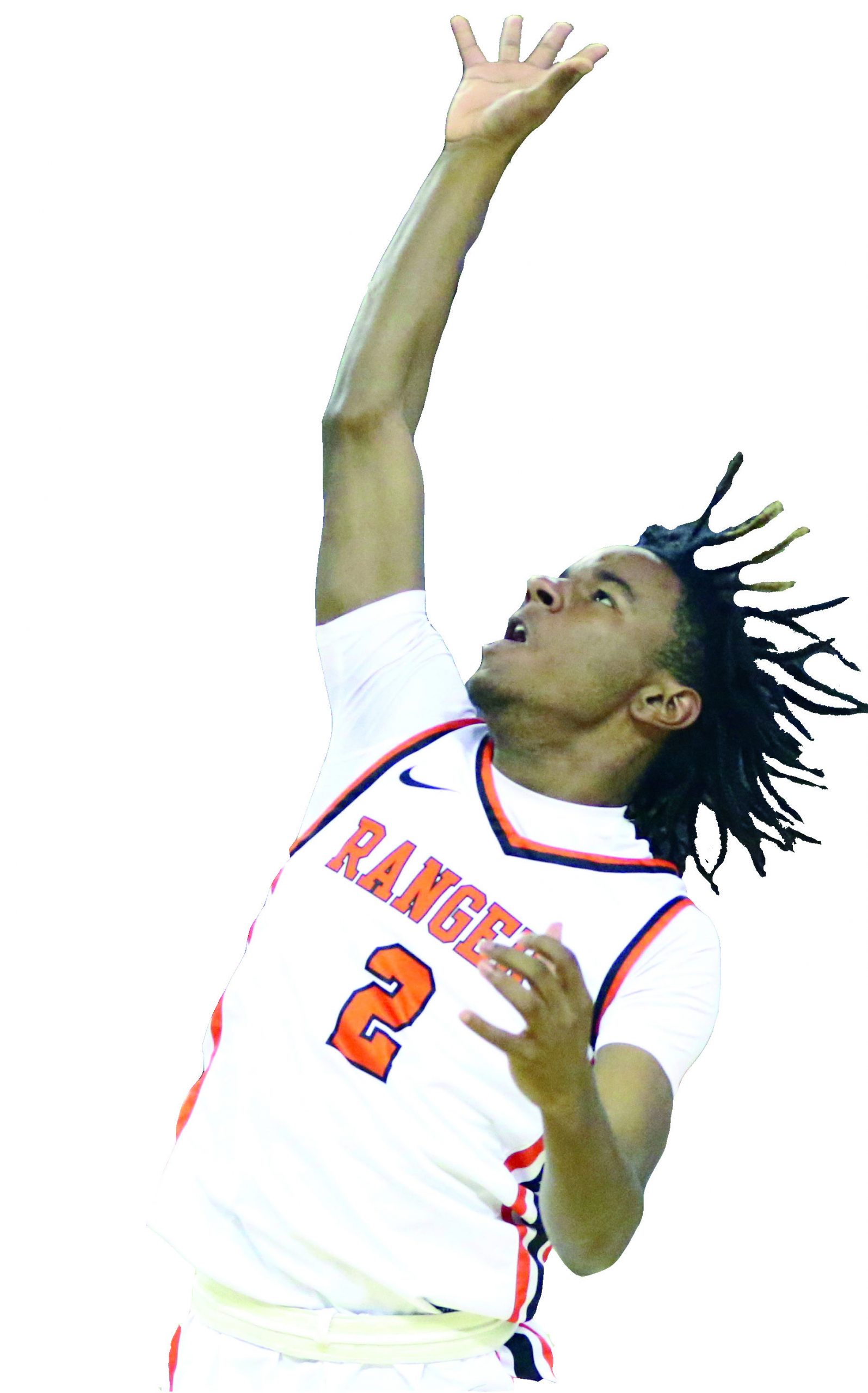 Roland senior Kyeree Hall goes up for a shot during Thursday's Class 3A state tournament quarterfinal game against Crooked Oak in Oklahoma City. The fourth-ranked Rangers lost 62-46 to the eighth-ranked Ruf-Nex.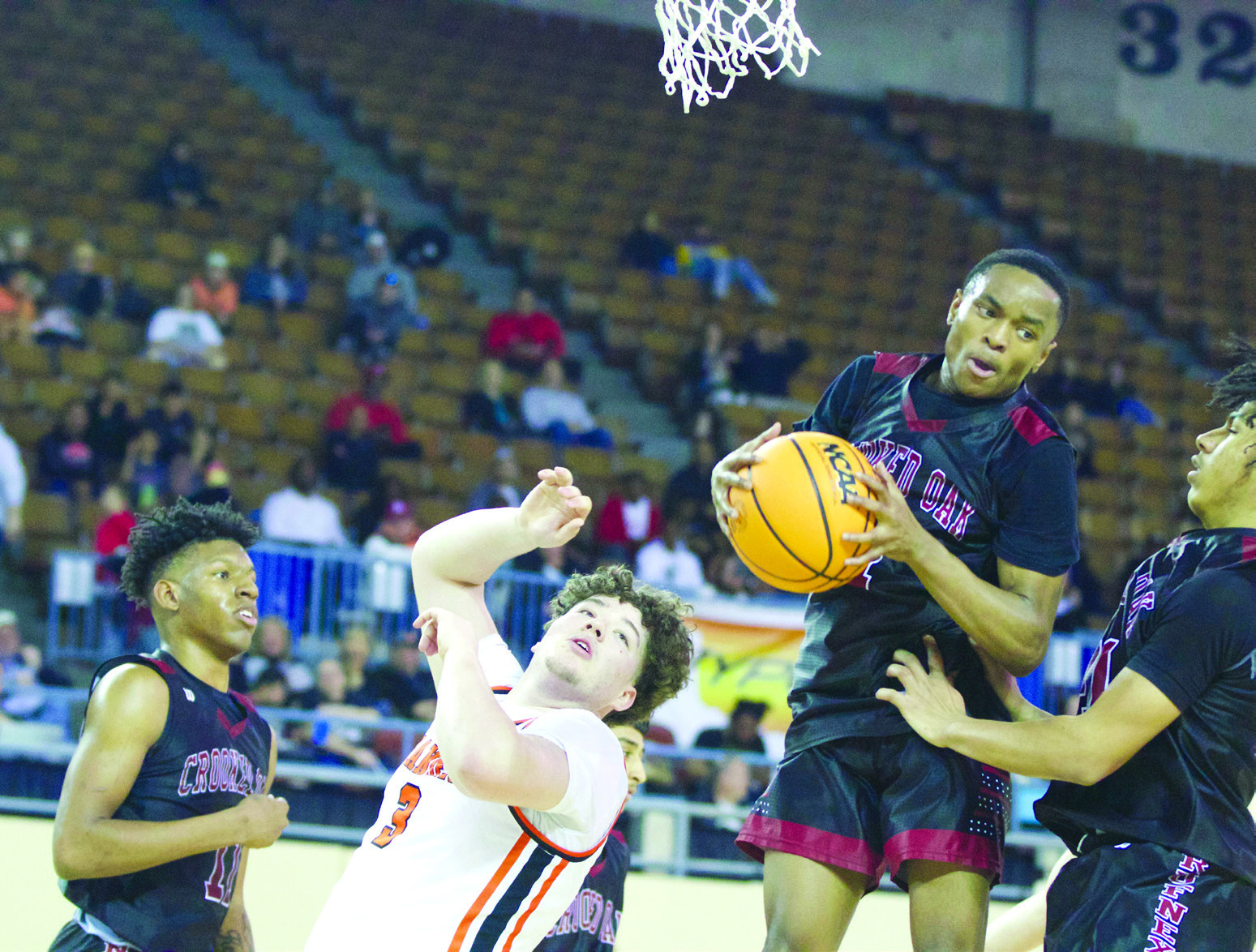 Roland senior Peyton Whisenant battles for a rebound during Thursday's 62-46 loss to Crooked Oak in the Class 3A state tournament quarterfinal contest. Whisenant scored a team-high 14 points in the game. LEA LESSLEY | TIMES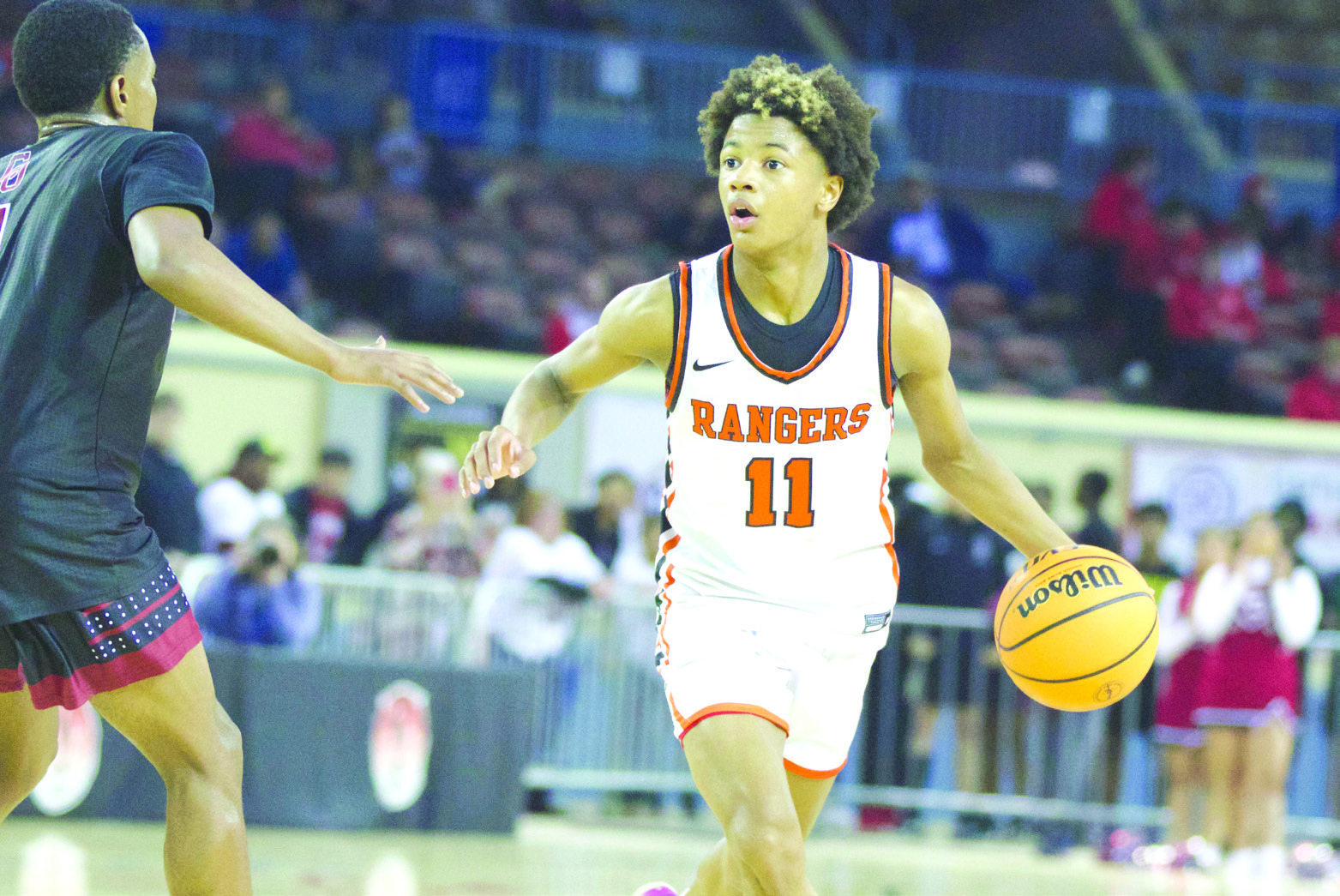 Roland freshman Davohn Hall sets up the offense during Thursday's Class 3A state tournament quarterfinal contest against Crooked Oak at the State Fairgrounds. Hall totaled 11 points in the Rangers' 62-46 loss to the Ruf-Nex. LEA LESSLEY | TIMES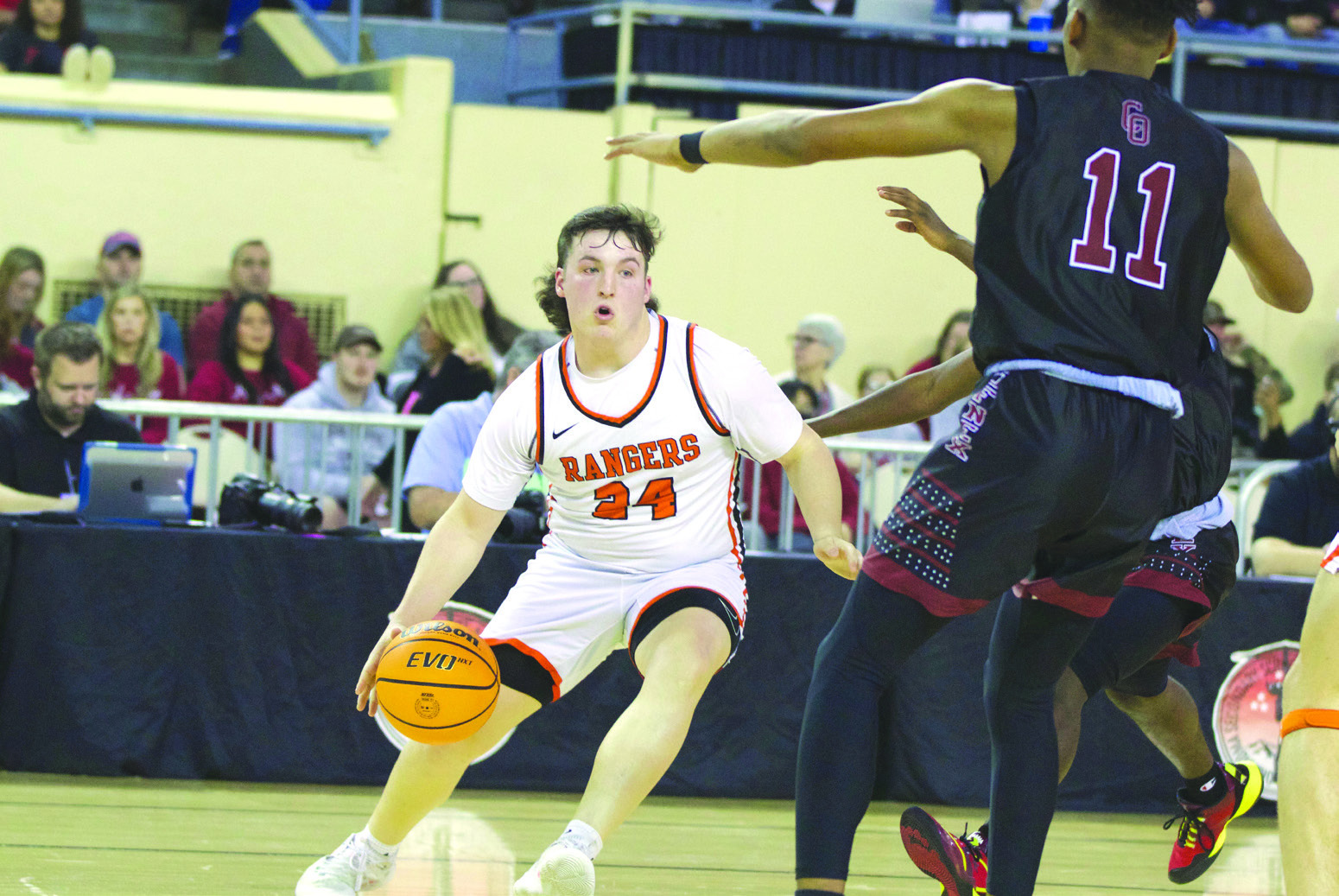 Roland junior Ashton Peters drives the baseline during Thursday's Class 3A state tournament quarterfinal game against Crooked Oak inside Jim Norick Arena in Oklahoma City. A 62-46 setback to the eighth-ranked Ruf-Nex ended the fourth-ranked Rangers' season. LEA LESSLEY | TIMES