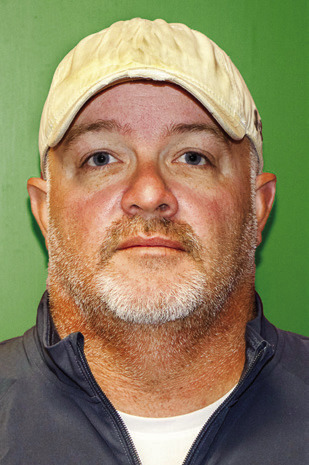 GORE FOOTBALL
Ellis returns as head football coach at alma mater
Brandon Ellis was recently named the new Pirates' head football coach by the Gore Board of Education and the veteran coach is looking forward to returning to his alma mater.
"I'm excited," said Ellis, who graduated from Gore in 1995 and was the Pirates' head coach for four seasons starting in 2007. "This is a really great opportunity for me and my family to be back. Very excited to be here and blessed to be here and this is the best situation for me and my family. It was a perfect move."
Ellis was the head coach at Muldrow the past two seasons and in 2022 led the Bulldogs to an 8-3 record and a first-round Class 3A playoff game.
"Muldrow was a great place for me," Ellis said. "They treated me right. I think we turned the program around over there, me and the staff, and I was very fortunate to work at a great place. Muldrow was awesome. Very family-oriented, very tight-knit place over there and they were great.
"Now I'm very fortunate to work at a place that I'm very, very familiar with. Gore is rich in tradition. They had a great year last year, kind of an unprecedented year last year, and we want to continue to keep building the program and keep going forward. We want to continue to keep on carrying on the tradition of being one of the powerhouses and successful programs in the county and on this side of the state." After playing collegiate football two years at Northeastern State University in Tahlequah and graduating from NSU in 1999, Ellis coached (assistant and head coach) at Webbers Falls before landing an assistant's job at Gore under longtime head coach Richard Moseley in 2004. Ellis became the Gore head coach in 2007 and his four-year record was 30-14.
Ellis succeeds Brandon Tyler, who recently became the head coach at Sallisaw, and in 2022 the Pirates were 13-1 and Class A state runner-up.
Ellis, who was also the head coach at Panama and Warner, will serve as the Pirates' offensive coordinator and former Sallisaw assistant Matt Hawkins will coordinate Gore's defense.
"I've known Matt for a while," Ellis said. "I think he's great with kids. He's a high-energy guy, I think he relates well to the kids, he has passion for it and couldn't ask for a better guy to get on-board. Actually I was trying to get him over there at Muldrow but this all happened and it worked out and I've got him here."
Ellis said summer pride activities and team camps would be a part of the Pirates' offseason program.
"We'll do summer pride and we'll go to two (team) camps, and of course we'll do our passing leagues," Ellis said. "Actually it's the exact same setup as what I had at Muldrow. It worked well for us, we had success and I don't think it hurt us and I think it helped us so why not continue to do what you were doing."
Despite the loss of 21 seniors from the 2022 state runner-up team, Ellis is optimistic about the future of Gore football.
"We do have good athletes coming back," Ellis said. "We graduated 21 I believe and we'll have 17 freshmen coming up. There's no reason why we can't win right from the get-go and start winning ball games."