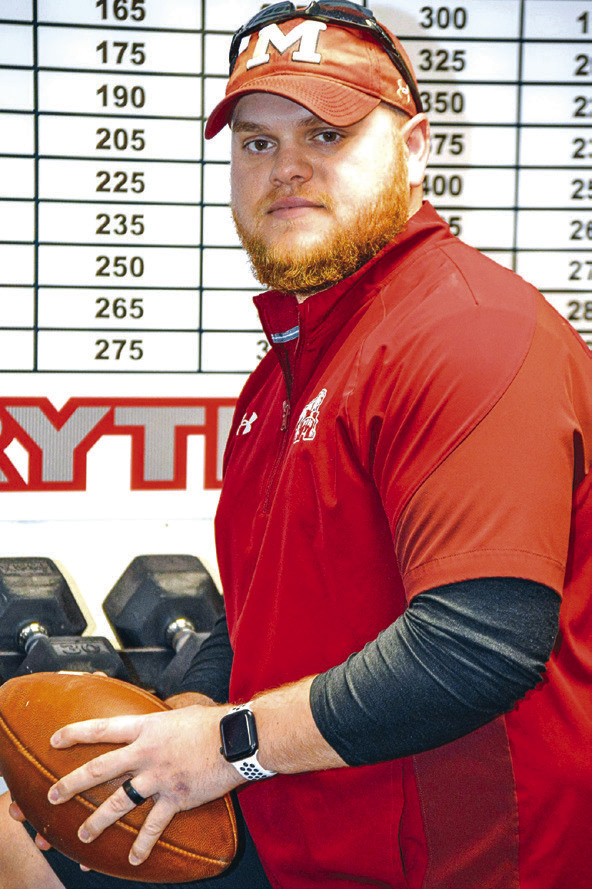 MULDROW FOOTBALL
Muldrow promotes Logan Coatney to Bulldogs' head football coach
The Muldrow school board could have hired anyone to fill the hole Brandon Ellis created when he left the Bulldogs to return to Gore as the Pirates' head football coach.
The school board had a big decision to make, finally deciding on an internal candidate. The board promoted Logan Coatney, prompted by recommendations from Ellis, administrators and his peers on the faculty.
The newly minted head coach credited the recommendations he received because of the way he had successfully proven himself in the many roles for which he was responsible as a role model, educator and an assistant coach on and off the field.
What makes Coatney tick and what are his plans for the program? Wanting answers to these questions and wanting to learn a little about the new guy, here's a few direct questions and Coatney's answers.
JC: How do you feel about taking on the role of head coach for the team?
LC: I'm extremely excited to have the opportunity to be the next head football coach here at Muldrow. This is a job/ school that I take a lot of pride in. We have started a change in the culture here, and I believe we will continue to build upon those changes and success as a program.
JC: What changes, if any, do you plan to make to the team's coaching staff?
LC: We are going to be adding one coach due to the vacancy left with Coach Ellis accepting another position. Outside of that, our staff will remain the same.
JC: What is your overall philosophy when it comes to coaching and developing players?
LC: Players and coaches achieve together. I believe that both the players and the coaches have to be working to achieve like goals in order for overall success. Growth will always take place if both parties are working together. As far as developing players, our biggest key here is the weight room. We have to get our bodies in the best physical shape possible to gain the strength needed to compete every week. Our kids over the last few years have fallen in love with the weight room, and we are seeing tremendous success from that side of our program.
JC: How do you plan to maintain the team's success and build on the foundation that has already been laid?
LC: I believe we have to continue to do what we have been doing. Success does not come to those who do not work for it. We have a group of hardworking kids. If they continue to put in the work, we will be in a position to continue having success on the field. The off-field success is just as important. The rules and procedures we have in place are going to continue to teach our students how they should carry themselves within the community. We have to be vigilant in continuing to push our kids every day to be their best. We are not only trying to have success on the field, but real success will come to fruition 5-10 years from now when we see we have helped develop good husbands, hard working employees, fathers, etc.
JC: What are your goals for the upcoming season, both for the team as a whole and for individual players?
LC: I think one of our biggest goals for this season is to be playing in the playoffs again. This is going to come by focusing on the now, one game at a time. We, as a staff, need to do a good job at developing our younger players and getting some of them ready for big reps. This will be a large part of achieving our biggest goal.
JC: How do you plan to keep the players motivated and focused throughout the season?
LC: The hardest part of keeping the kids focused is making it Monday through Thursday. The kids will always be focused in on Friday. We have to keep practice fun and engaging as the season progresses. I believe as a staff we have done a great job at this and will need to continue to do so in order for our team to continue to see success.
JC: What do you think are the team's strengths and weaknesses, and how do you plan to address them?
LC: This will be something I will be able to address and gain a better understanding of as we get through spring ball. I think right now, we are looking for that leader to step up. We have a couple guys that seem to be in and out of that role. We will need a consistent leader to step up this spring and lead from that aspect of the program.
JC: How do you plan to work with the school's administration, boosters and other stakeholders to support the team's success?
LC: Our administration here is top notch. We have already been in communication getting a few things taken care of to help our program out. The booster club is going to continue to do their part as well to help take care of our student-athletes and help give them the best experience they can in high school athletics. Our community plays a large role in what we are going to be able to do. We have had success in the past with fundraisers and donations; we are going to be calling on our community again this year to help our student/athletes raise money so we can continue to have nice things. Communication is important in all aspects of this. We have to work together in order for our student-athletes to fully benefit from their high school athletic experience.
JC: What challenges do you anticipate facing as a new head coach, and how do you plan to overcome them?
LC: There will always be challenges. In any job you have, there will be things you have to overcome. What we have to do is continue to be a tight knit group that is looking out for the success of the program and our teammates. If we continue to do this and put our teammates/team above ourselves, we will be able to face and overcome any challenges that may arise.
JC: Finally, what message do you have for the team's fans and supporters as you take on this new role?
LC: I am extremely excited for this opportunity. I'm looking forward to continuing to build upon the culture and success that we have had. I believe Muldrow is a community that deeply desires high school football and deserves the excitement Friday nights bring. We as a staff are ready to get to work to help push these young men to be the best they can in all aspects of life. We thank you for your continued support of Muldrow football.
From our interactions, it appears Coatney plans on putting everything he can into making the Muldrow Bulldogs football program a success during his tenure, and Coatney has the right attitude and energy to get that done. He's happy to have this opportunity as a Muldrow Bulldog, where he is planning on making his mark as a coach, mentor and role model for his charges.