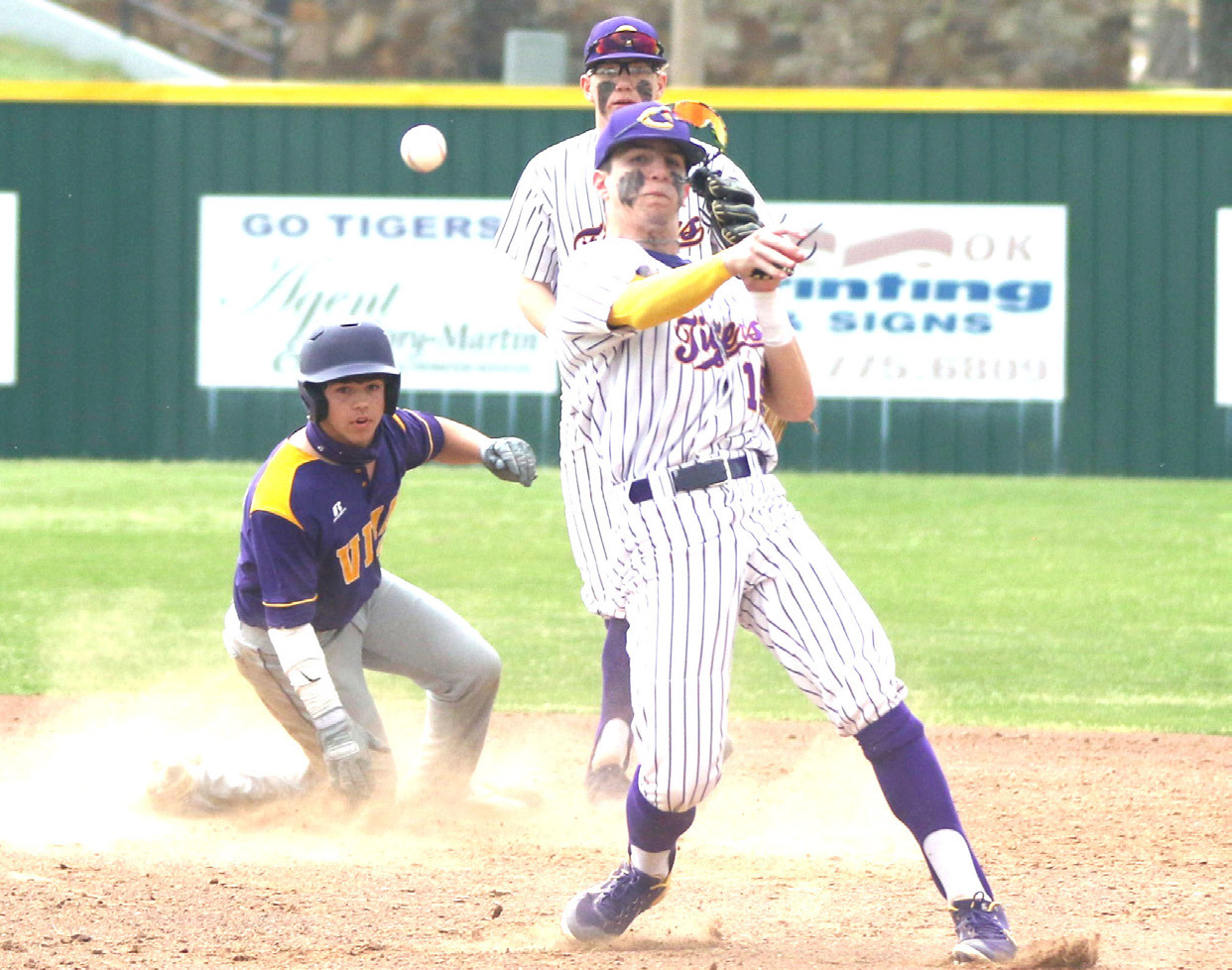 B: Sports, Newsletter
April 6, 2023
High school baseball
Central homers twice to top Vian 5-4 in 2A tilt
Central survived a bases-loaded jam in the top of the seventh inning and used a pair of two-run homers from Connor Walters and Hardy Buzzard to down the Class 2A seventh-ranked Wolverines 5-4 Tuesday at Tiger Field.
The Tigers (5-7 overall) scored their first three runs in the bottom of the first inning. After a pitch hit leadoff batter Connor Green, Walters' fly ball sailed over the left field fence to put Central in front 2-0. Another pitch hit Bo Locust, who went to third on an errant throw to the plate after stealing second, and after Hardy Buzzard walked Aiden Sainer's sacrifice fly to center field scored Locust to make the score 3-0.
Vian (10-6) started the top of the second frame with back-to-back singles by Cash and Connor Collins but a strikeout, flyout and a picked-off base runner ended the scoring threat.
With one out in the bottom of the third Locust singled to center field before Buzzard's two-run home run to left field put the Tigers in front 5-0.
The Wolverines got on the board in the top of the fourth. With one out Diego Ramos drew a walk and Cash Collins singled to right field before Connor Collins' sent a pitch over the left field fence to slice three runs (53) off the deficit.
In the top of the seventh inning the Wolverines loaded the bases with no outs following walks to Draighton Fletcher, Brandon Redburn and Ramos. Cash Collins followed with an RBI groundout while sending runners to second and third but a flyout and a strikeout ended the at-bat and the game.
Central had seven hits in the contest and Vian registered six.
Walters went 2-for-4 (two-run homer and single) at the plate for the Tigers and Green, Locust, Buzzard (two-run homer), Sainer and Waylen Campbell each had one hit.
Connor (two-run homer and single) and Cash Collins (two singles) each went 2-for-4 for the Wolverines and Redburn and Riley Ellis registered a hit apiece.
Locust (6.0 innings), Central's starting pitcher, struck out four and walked four while allowing six hits and in relief Walters (1.0) struck out one and walked one while giving up no hits.
Vian's Michael Polecat (6.0), who went the distance for the Wolverines, struck out four and walked three while allowing seven hits.