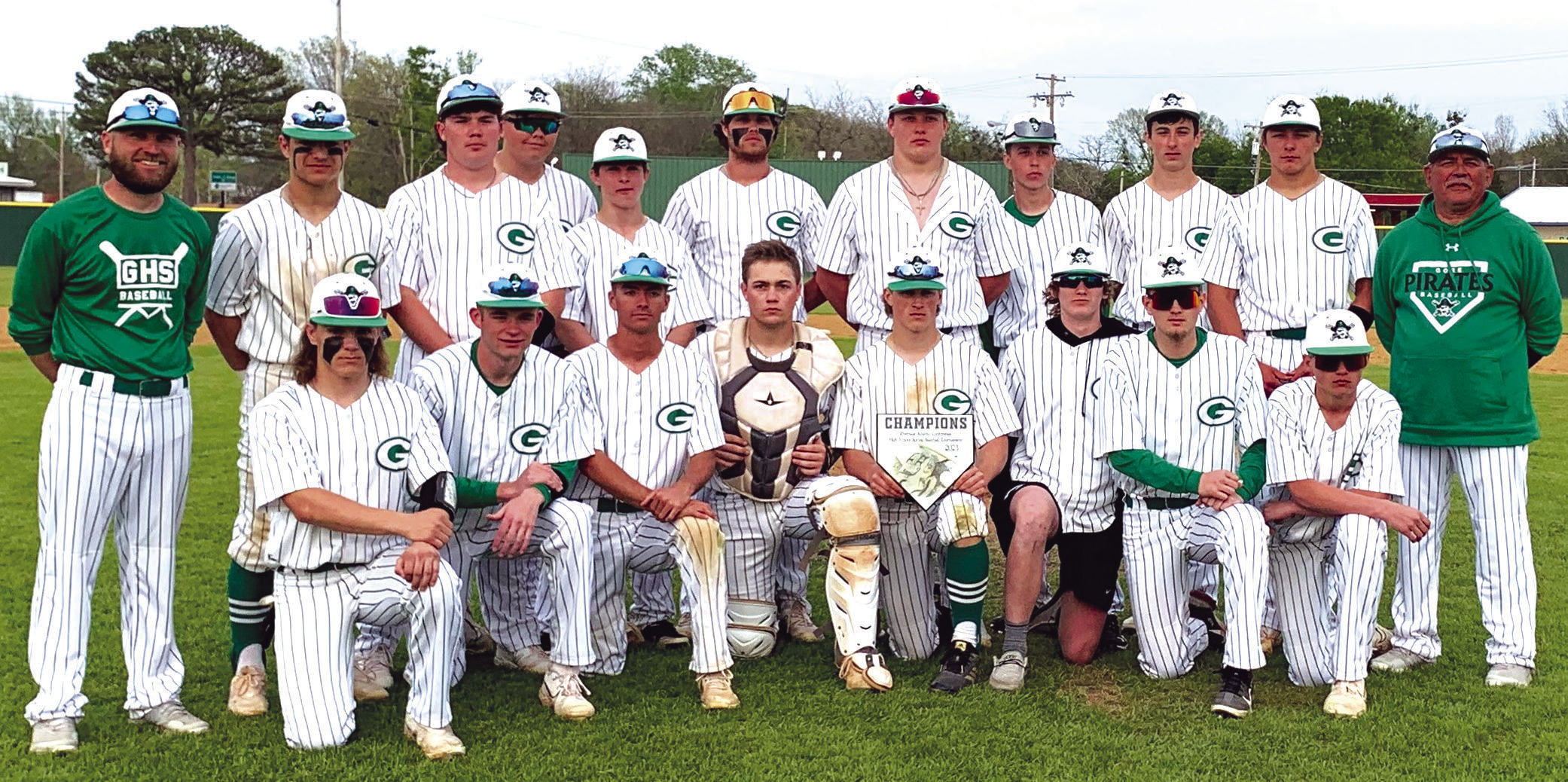 Gore baseball
Pirates beat Porum to claim Riverside Conference tourney title
Gore's high school baseball team defeated Porum 9-1 Friday at Gore to win the Riverside Athletic Conference Tournament championship.
First-year Gore head coach Tyler Lewis was pleased with the way his team played in the tournament.
"We played some good teams and just happened to kind of find our bats, and played pretty good defense behind that and were able to score some runs when we needed to and control most of the games," Lewis said. "I thought we played pretty well. We kind of struggled a little bit the week before and early in that week, and the guys came out ready to play. It was a good weekend."
The Pirates started tournament play on Thursday at home with a 16-2 three-inning run-rule win over Arkoma.
"Against Arkoma, Ben Kirkpatrick was our starting pitcher, and then we brought in Jimmy Brasuell, a freshman," Lewis said. "Ben threw two (innings) and Jimmy threw one. Ben Kirkpatrick, Blane Barnes and Tyler Lane each went 2 for 2 at the plate."
Gore defeated McCurtain 9-4 in its semifinal game Thursday at Gore.
"We started with Mike McAlister (against McCurtain), and he pitched four and a third innings, and then Ben Kirkpatrick was able to come in due to pitch rules, and finish that game," Lewis said.
"He pitched two and two-thirds. Gabe Dozier, Hunter McGee and Dayne Perryman all went 3 for 4 at the plate."
In the championship game Friday at Gore, the Pirates run-ruled Porum, 9-1.
"Gunner Dozier threw a complete game against Porum," Lewis noted. "Gunner threw five complete innings, and hitting-wise, Blane Barnes, Jackson Duke, Layne Ward and Gabe Dozier were offensively the guys who kind of led us."
The Pirates take on Kellyville at 5 p.m. Thursday in Preston's Dawson Sumner Invitational Tournament.