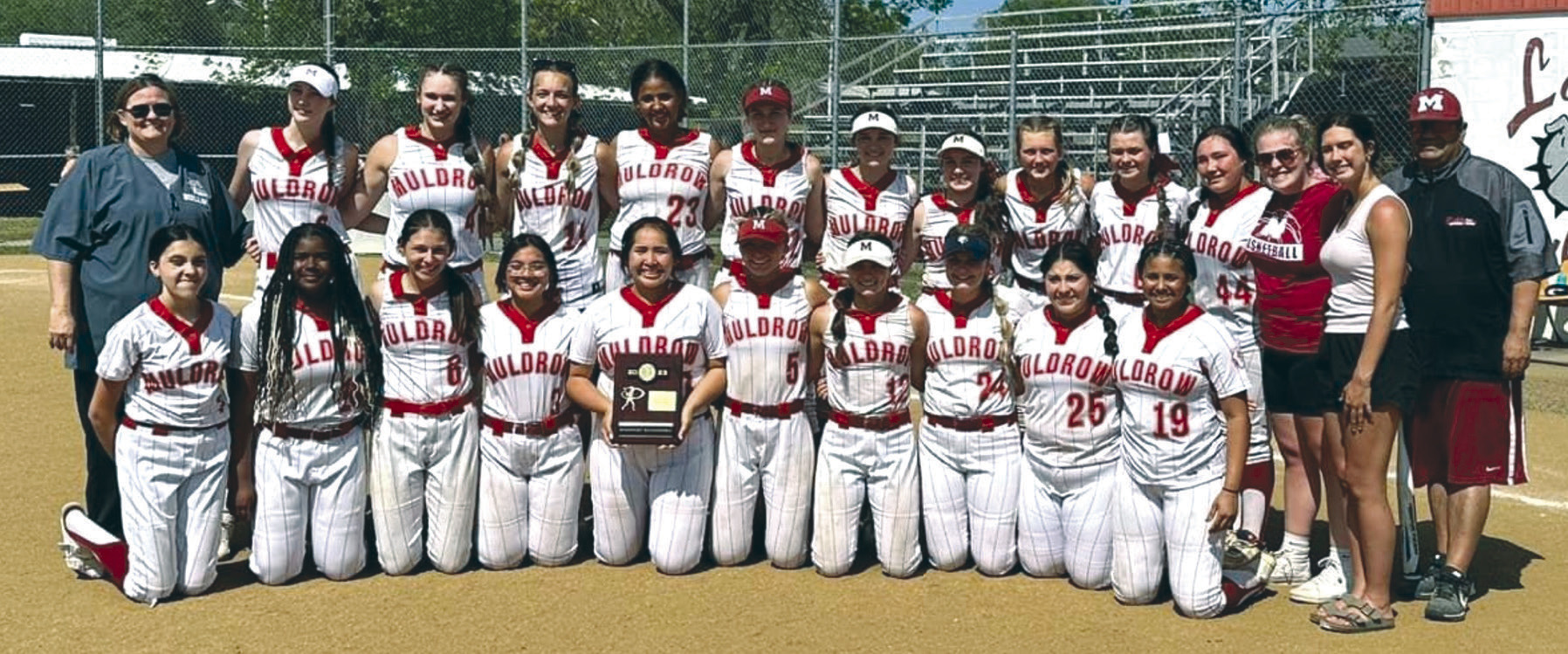 Muldrow slowpitch
Lady Bulldogs win 5A-11 district title
Muldrow's high school slowpitch team scored 36 runs while allowing one during their 3-0 run to the district championship Tuesday at Lady Bulldog Field.
The Lady Bulldogs (14-7 overall) will begin regional tournament play next week.
Sallisaw (2-18) defeated Checotah (1-16) 14-8 in the tournament opener before Muldrow eliminated Checotah 17-0 in the second game. The Lady Bulldogs downed the Lady Diamonds 9-1 and 10-0 in the tourney's final two contests to claim the district championship.
In Tuesday's championship game the Lady Bulldogs registered four runs apiece in the bottom of the third and fourth innings before ending the game with a pair of runs in the sixth to beat the Lady Diamonds 10-0.
Sallisaw's Cambree Scott led off the top of the opening frame with a base hit up the middle but the Lady Diamonds could not generate another hit during the at-bat.
Muldrow put runners on second and third in the bottom of the first following Danica Tune's base hit and Kennedi Wight's double but a flyout ended the inning.
The Lady Diamonds' Shaylee Choate and Muldrow's Addison Allen had a hit apiece for their respective teams in the second inning.
The Lady Bulldogs registered four runs in the third on Allison Goodwin's double, Tune's RBI single, an error, Lani Israel's RBI double, Wight's base hit and Kaydence Young's RBI single.
Sallisaw's best scoring opportunity came in the fourth frame. With one out singles by Emily Gregory and Camdyn Johnson put runners on first and second and the Lady Diamonds loaded the bases with two outs following a fielder's choice and a walk to Rylee Meece but a strikeout ended the scoring threat.
In the bottom of the fourth inning Cailey Grinstead singled with one out before Ashley Price's inside the park home run made the score 6-0. Three straight base hits by Goodwin, Tune and Israel loaded the bases and Young's line-drive single added two more runs to the Lady Bulldogs' lead.
Allison Grimm started the Sallisaw third with a single to left field but three consecutive outs finished the half inning.
Grinstead and Price hit back-to-back singles with two outs in the bottom of the sixth for the Lady Bulldogs and in the top of the sixth Gregory recorded a base hit for the Lady Diamonds.
In the Muldrow sixth base hits by Tune and Israel and a walk to Wight loaded the bases and Young's two-RBI double down the third-base line scored Tune and Israel to end the contest.
Muldrow head coach Jana Armer was proud of her team's performance Tuesday.
"We were really proud of the girls and they've worked really hard," Armer said after the final game. "It's been a while since we've won a district and so we were glad to be able to get past this district tournament and make it on into regionals."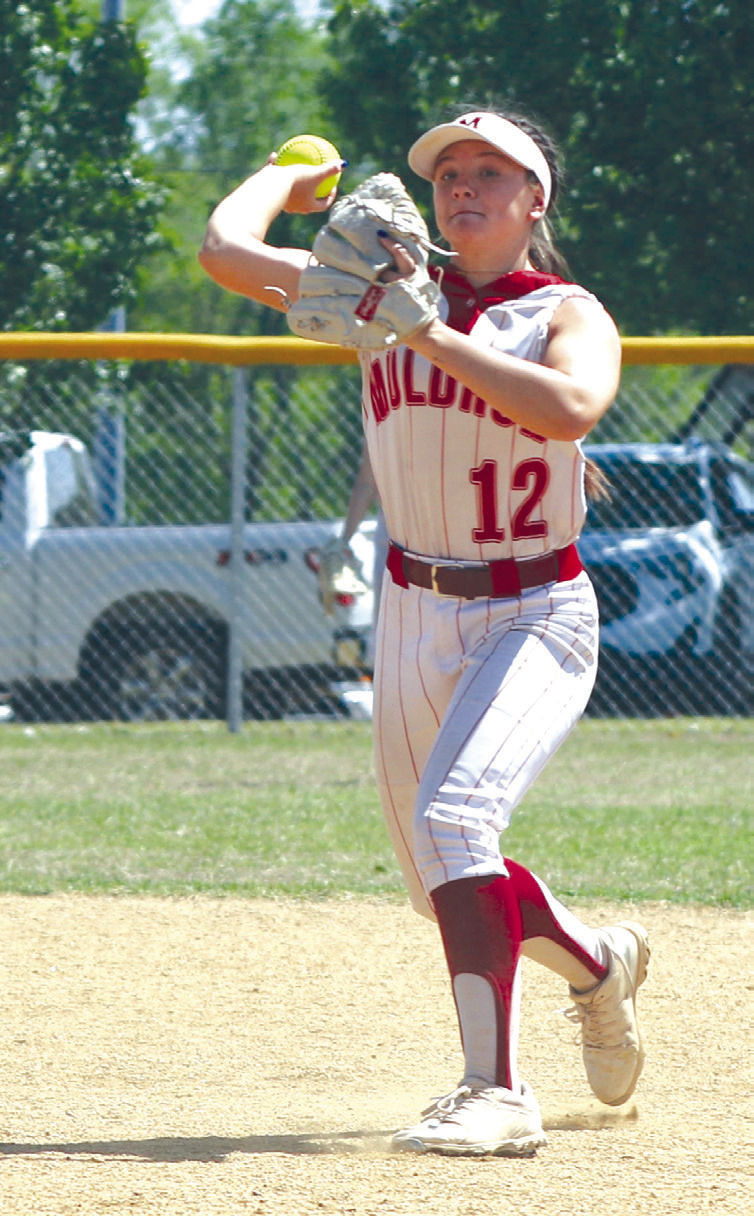 Muldrow shortstop Lani Israel throws to first base during Tuesday's 5A-11 slowpitch district tournament at Muldrow. The Lady Bulldogs topped Sallisaw 10-0 in the title game to advance to next week's regional tournament. LEA LESSLEY | TIMES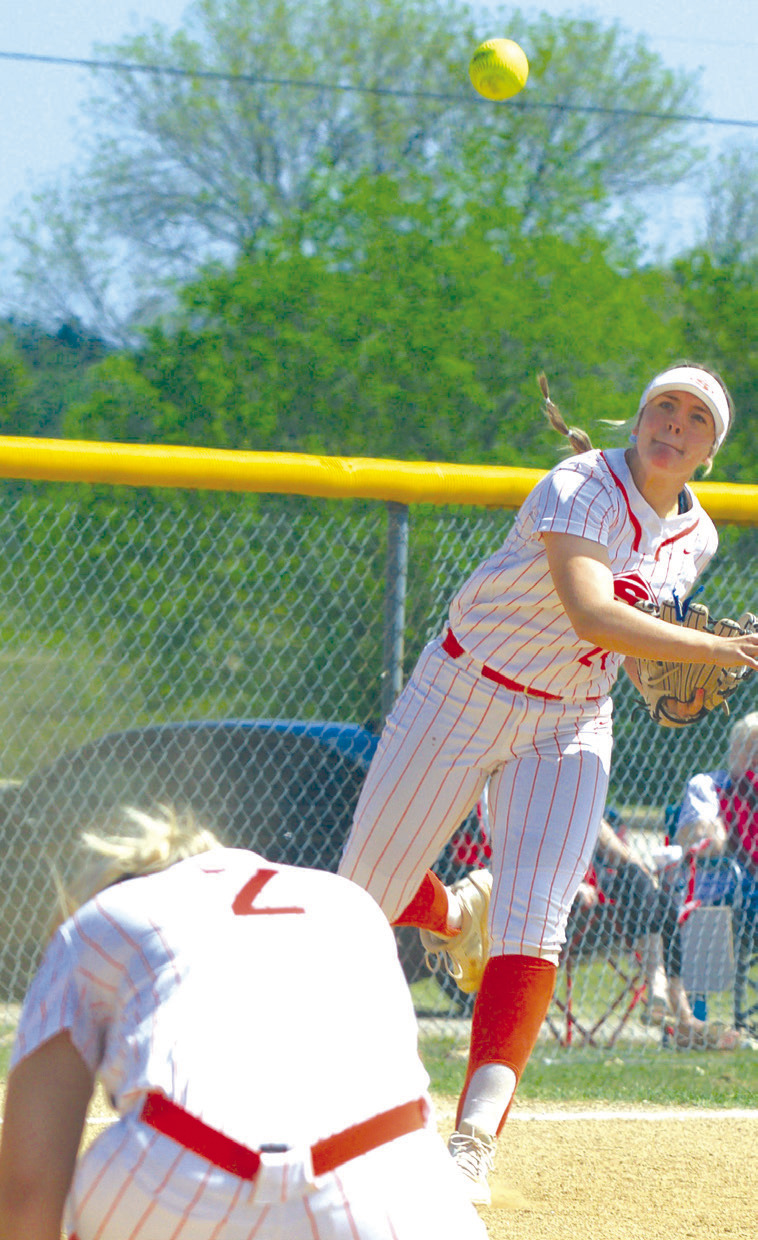 Sallisaw third baseman Emily Gregory throws to first base during Tuesday's 5A-11 slowpitch district tournament at Muldrow, as pitcher Cambree Scott crouches down. The Lady Diamonds beat Checotah 14-8 in their tournament opener, but a pair of losses (9-1 and 10-0) to Muldrow ended their season. LEA LESSLEY | TIMES