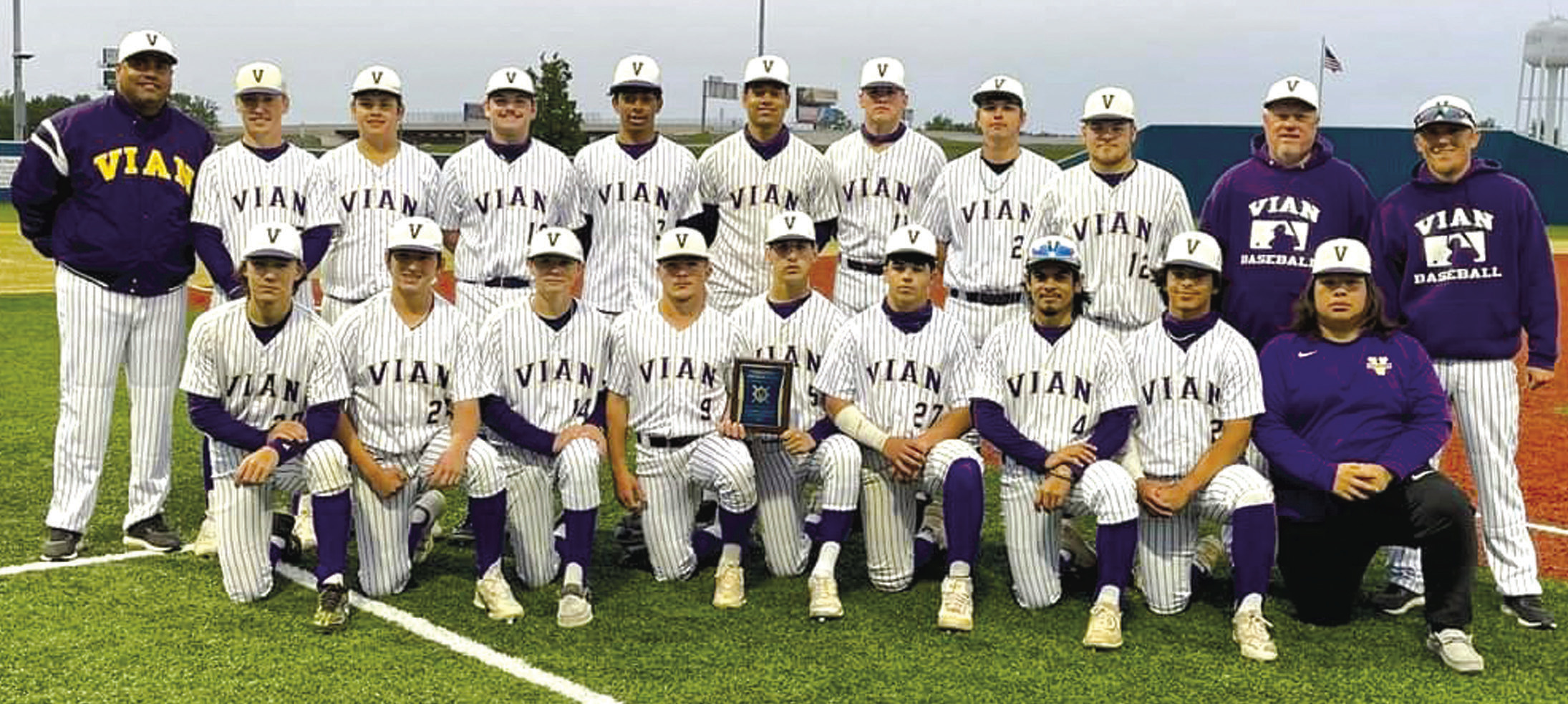 Vian baseball
Wolverines host Nowata in district tournament
Vian wins Checotah Tournament
Vian begins its postseason Thursday when the Wolverines host Nowata in a Class 2A district tournament.
The Wolverines (24-8 for the season) take on Nowata (7-14) at 1 p.m., and the second game of the double-elimination tournament will follow. An if-necessary game would be played on Friday.
On Saturday Vian won the Checotah Tournament by defeating Central (10-13) 12-4. The Wolverines started tournament play on Thursday with a 20-0 victory over Colcord before shutting out Will Rogers 10-0 on Friday (see separate story).
Vian 12, Central 4
After a pair of scoreless innings the Wolverines registered its runs in the final four frames while overcoming a two-run deficit as Vian topped the Tigers in the championship contest.
Central took a 2-0 lead in the top of the third inning before Vian got on the board with three runs in the bottom of the frame to make the score 3-2.
After adding three runs to its advantage (6-2) in the fourth Central sliced a run off the deficit in the top of the fifth before Vian scored four in its at-bat in the fifth to go in front 10-3. Singles by Draighton Fletcher and Cash Collins and a double by Brandon Redburn provided key hits for the Wolverines in the fifth.
The Tigers scored their final run in the sixth before Vian ended the contest with a pair of runs in the bottom of the inning.
Destry Bethel went 3 for 4 at the plate for Vian and Fletcher, Redburn and Collins had two hits apiece while Riley Ellis, Lynden Manning and Michael Polecat added a hit apiece. Redburn had two doubles in the game and Manning, Bethel and Fletcher each had one two-bagger.
Driving in the Wolverines' runs were Redburn and Fletcher (3 RBIs each) and Bethel and Collins (2 apiece).
Central's Connor Walters and Bo Locust had a hit apiece for the Tigers in the contest. Locust, who registered a double, drove in two runs and Walters and Kyle Harden each drove in a run.
Diego Ramos (6.0 innings) went the distance for the Wolverines on the mound while picking up the win. The senior struck out 12 and walked five while allowing two hits and two earned runs.
Central's Hardy Buzzard (3.0) struck out three and walked two while giving up three hits and no earned runs and in relief Waylen Campbell (2.2) struck out one and walked two while allowing nine hits and four earned runs.
Central committed four errors in the game and Vian had three.