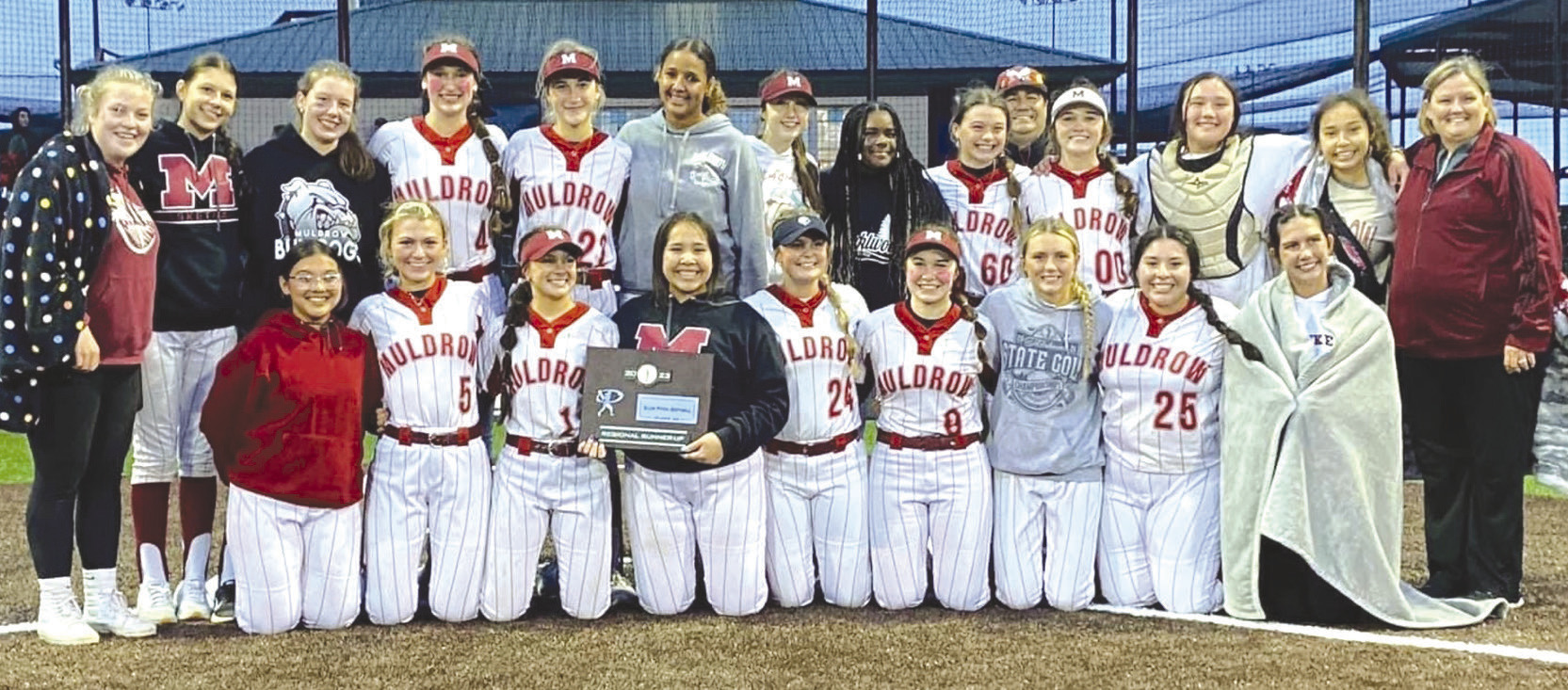 Muldrow slowpitch
Lady Bulldogs advance to Class 5A state tournament
Muldrow's high school slowpitch team advanced to this week's Class 5A state tournament by placing second at Friday's regional at Shawnee.
The Lady Bulldogs played top-seeded Washington Tuesday in their first game of the single-elimination state tournament at Hall of Fame Stadium in Oklahoma City.
Fourteenth- ranked Muldrow (16-8 overall) lost 20-19 to No. 7 Perkins-Tryon (19-7) in their regional opener before moving on to the state tournament with an 8-6 win over No. 15 Eufaula (20-11) and a 2115 victory over Perkins-Tryon. Second-ranked North Rock Creek (35-2) defeated Eufaula 24-5 and Perkins-Tryon 12-10 to also advance to the state tournament.
Muldrow head coach Jana Armer said her team played well in all three phases of the game at Friday's regional tournament at the FireLake Ball Fields in Shawnee.
"We played our absolute best softball that we've played all year," Armer said. "We had timely hitting and big plays on defense. Cailey (Grinstead) pitched three great games and it just seemed like everything came together at the right time and hopefully we can continue that on tomorrow at the state tournament."
Ashley Price and Amaya Duran each went 4-for-4 in the final game (21-15 win over Perkins-Tryon), Armer said.
"Over the three games we had eight different people (Allison Goodwin, Danica Tune, Kennedi Wight, Lani Israel, Kaydence Young, Amaya Duran, Jaydin Dean and Ashley Price) hit a home run."
At Tuesday's state tournament the Muldrow-Washington winner played the Bristow-Broken Bow winner and the winner of that contest advanced to the title game against North Rock Creek, Dickson, Tecumseh or Cache.