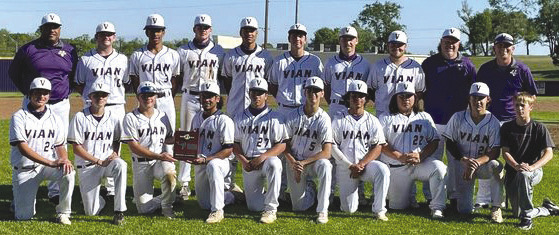 Vian baseball
Vian tops Nowata to claim 2A district championship
After receiving a stellar pitching performance from Diego Ramos on Friday the Wolverines scored 24 runs in the first inning of Saturday's contest on their way to the Class 2A district tournament title at Vian.
The Wolverines are scheduled to begin regional play Thursday at 1:30 p.m. against Pocola at Preston.
Vian 31, Nowata 2 (Saturday)
The Wolverines scored 24 runs in the top of the opening inning Saturday and Vian defeated the Ironmen in the second game of the Class 2A district tournament to win the title and advance in the playoffs.
Vian's Destry Bethel hit a grand slam while driving in six runs in the game and Connor Collins and Draighton Fletcher drove in six and five runs, respectively.
Brandon Redburn, Diego Ramos and Riley Ellis drove in three runs apiece, Cash Collins had two RBIs and Lynden Manning, Stryker Fields and Michael Polecat each drove in a run.
Bethel homered twice and Connor Collins, Ellis, Fletcher and Manning had one home run apiece.
Bethel, Connor Collins, Ellis, Polecat, Ramos and Redburn each hit a double in the game.
Ellis was the winning pitcher after striking out five and walking none while allowing three hits and no earned runs.
Vian committed one error and Nowata had none.
Vian 9, Nowata 0 (Friday)
Diego Ramos tossed a one-hit shutout in Vian's district tournament opener Friday and Cash Collins went 2 for 4 at the plate with a triple while driving in five runs.
The Wolverines registered two runs in the bottom of the first inning, four in the second, two in the fourth and one in the sixth.
Brandon Redburn also went 2 for 4 and Ramos, Lynden Manning, Connor Collins, Destry Bethel, Draighton Fletcher and Riley Ellis added a hit apiece.
Manning and Connor Collins each recorded a double in the game.
Talon Henderson registered Nowata's hit.
Ramos (7.0 innings) struck out 19 and walked three while allowing one hit.
Each team committed an error in the contest.
Vian head coach John Brockman was pleased with his team's performance on Saturday.
"I thought we played real well Saturday," Brockman said. "I didn't think we played very good on Friday but I thought we played real well on Saturday. It's not often you score that many runs (24) in the first inning and hit six home runs there in the first inning."