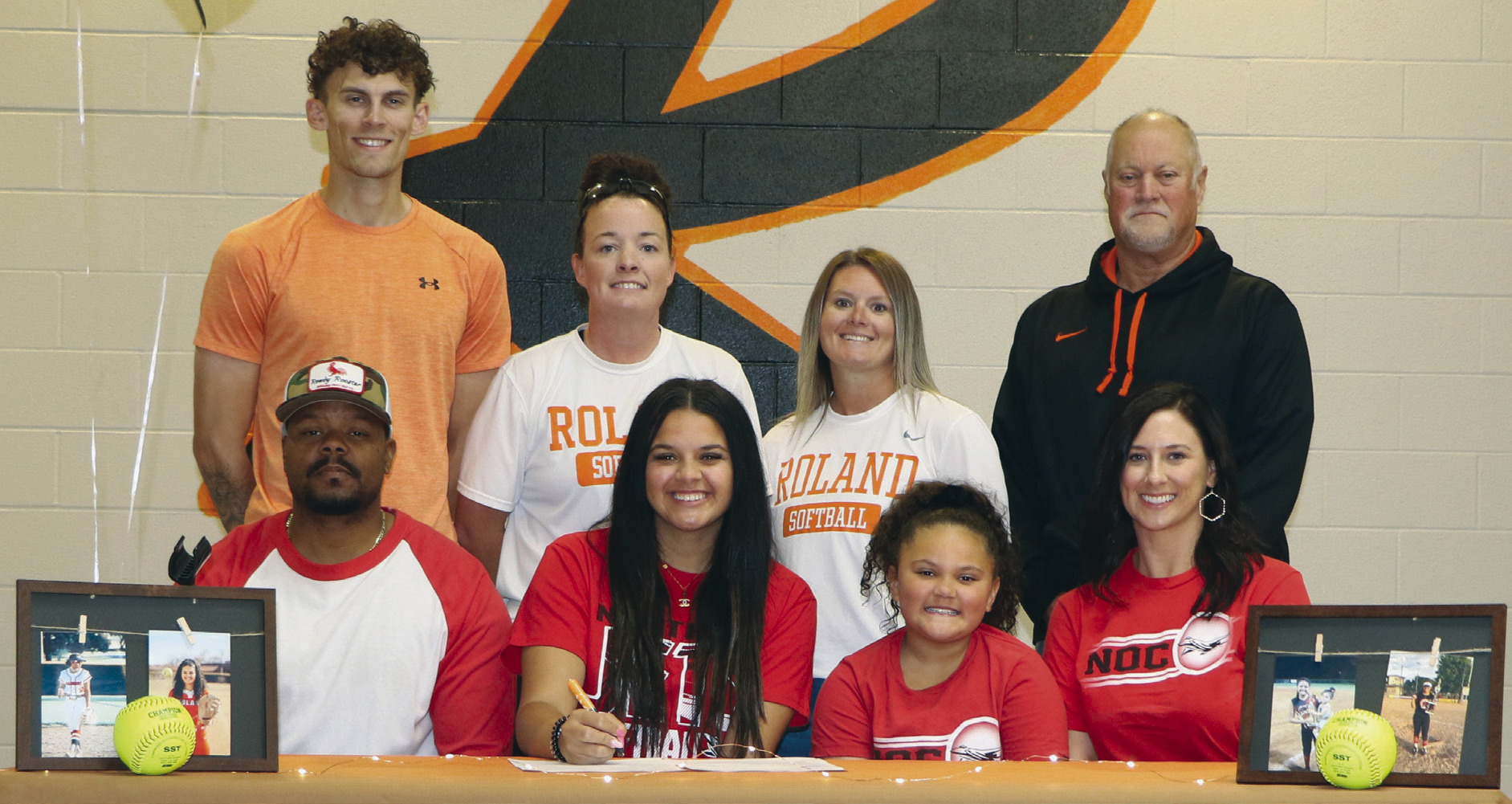 Roland softball
Burrell signs letter of intent with NOC Enid
Roland High School senior Jaidyn Burrell signed a letter of intent to play collegiate softball at Northern Oklahoma College Enid Wednesday morning in the high school's Commons Area.
Burrell is excited about attending NOC Enid, a National Junior College Athletic Association Division II member, and becoming a member of the Jets' program.
"I am just so excited" said Burrell, a four-year letterman for the Lady Rangers. "It was a long, thought-out process, and if I wanted to go that far, but coach (Megan) Hill just made it feel so homey that it doesn't even feel like its three and a half hours away."
Megan Hill is the Jets' head softball coach.
Burrell has primarily played first and third base during her high school softball career.
"Mostly I have played first base and third base, and for travel I have always been a first baseman. For slowpitch, I stepped out of my comfort zone this year as a slowpitch pitcher, which was fun and something new.
"I'm hoping to play first, but I wouldn't mind trying something new and possibly play at third a little bit more at the next level and possibly even a little second base, just for fun."
Burrell said she enjoyed her first visit to NOC Enid.
"I got injured in basketball in my junior year before the season even started, I tore my groin muscle in my leg, so that was a long road to recovery so I was late to the softball recruiting process. I went in December to a camp at NOC and just fell in love with coach Hill and the coaching staff and they offered me. I had a few more offers like Oklahoma Wesleyan (in Bartlesville) but nothing felt like home like NOC did."
Burrell, who wants to enter the nursing field once her playing career is over, would like to continue her playing career at a four-year school following her two-year stay at NOC Enid.
"I plan to go into the nursing field and I will graduate as a sophomore in college with the concurrent hours through Carl Albert."
Roland head coach Dara Tyler is proud of what Burrell has accomplished both on and off the field.
"I'm so proud of her," Tyler said. "It's been a goal of hers to play at the next level. The Enid thing came about back around Christmas time and she's good buddies with Emily Gregory from Sallisaw, who's also going to Enid. I think that helped a little bit, having a friend and a familiar face. They've played a lot of travel ball together over the years.
"I know that Jaidyn's had a lot of apprehension about it, am I doing the right thing, is this the right place, and I'm just so proud of her for taking that step into the unknown, for facing her fears and following through with it.
"Jaidyn's been through a lot. She's never waivered. She's been a constant on the softball team even at times when it wasn't easy. Jaidyn's been there. She's been a pillar of security for the other girls. She's played a lot of different positions for us. She's been willing to do whatever we needed her to do to help our team and I really admire that because that's hard, especially for travel ball players who predominantly have been chosen to play a specialized position, and it's not that way in school ball, you have to do what's best for your team and she's been willing to do that from the second I met her."
Tyler also said Burrell and Madi Mulanax, who will sign a softball letter of intent with Carl Albert State College in Poteau on Monday, are both excellent role models.
"They are both extraordinary young women," Tyler said. "You couldn't ask for better role models for our elementary kids or our younger players, they're just excellent kids. They make good grades, they're dependable and they're everything that you want in a student-athlete and I know that regardless of anything pertaining to softball they're both going to be hugely successful adults and contribute a lot to our society one day."