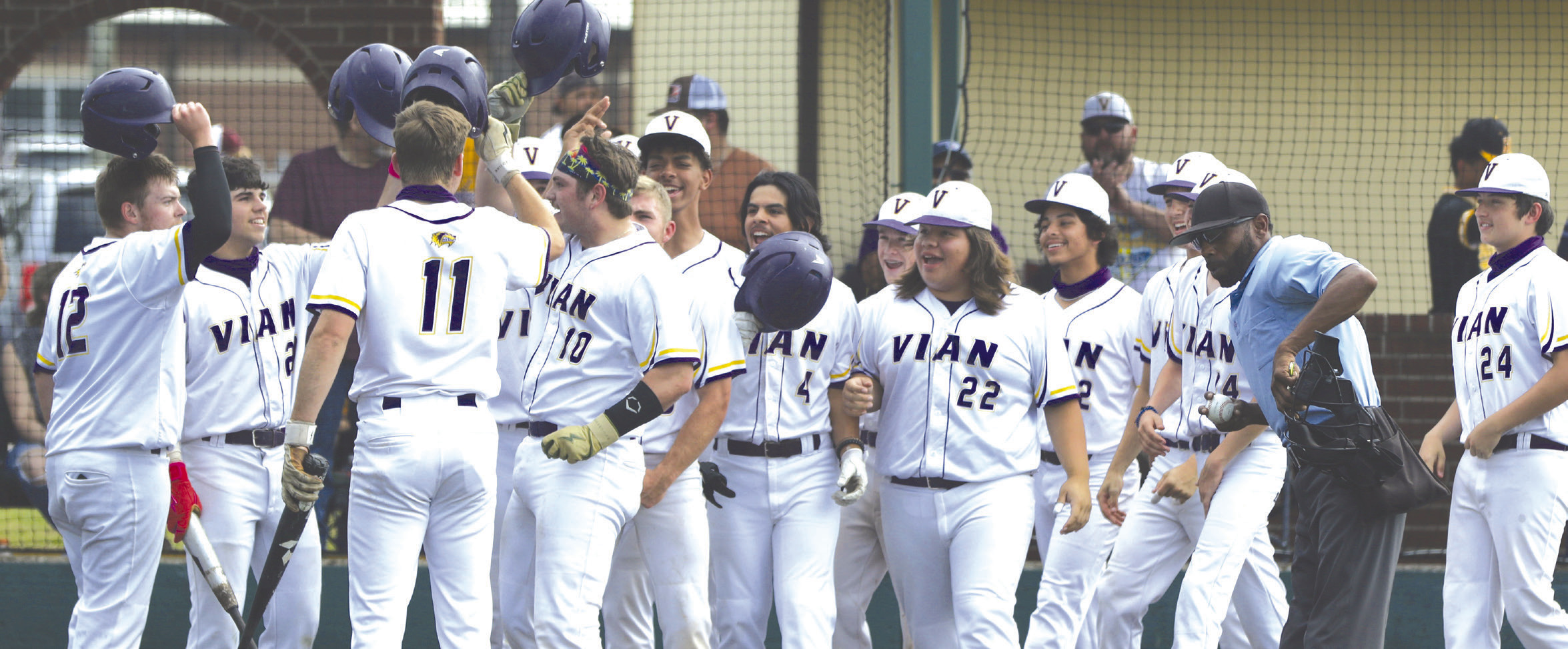 Vian baseball
Preston ends Vian's season at regional tourney
Vian's high school baseball season ended Saturday at Preston with a 10-8 loss to the No. 8 Pirates in the Class 2A regional tournament.
The ninth-ranked Wolverines (29-10 overall) started tournament play Friday with a 17-1 win over Pocola before falling 11-8 to Preston in their second game. On Saturday Vian topped Pocola 15-1 prior to their second contest against Preston.
Preston 10, Vian 8 (Saturday)
After trailing 10-1 through five innings the Wolverines rallied in the final two frames by scoring seven unanswered runs but the Pirates (28-2) held on to win the regional title and advance to this week's state tournament.
In Vian's four-run sixth Destry Bethel hit a home run, Brandon Redburn singled, Diego Ramos walked and Cash Collins drove in a run with a sacrifice fly.
The Wolverines added three runs in the seventh on Michael Polecat's single and Draighton Fletcher's homer.
Vian had 10 hits in the game and Redburn led the way by going 3 for 4. Bethel also had multiple hits.
Connor Collins (0.2 innings) walked two while giving up three hits and four earned runs and in relief Bethel (5.1) struck out four and walked none while allowing nine hits and four earned runs.
Vian committed one error in the contest and Preston had none.
Vian 15, Pocola 1 (Saturday)
The Wolverines scored a combined 11 runs in the first three innings in their first game Saturday as Vian stayed alive in its bid for the regional championship.
Destry Bethel, Riley Ellis, Brandon Redburn and Diego Ramos each racked up two hits apiece for the Wolverines.
Bethel (2.2 innings) struck out four and walked none while giving up one hit and one earned run and in relief Kaden Fulbright (2.1) allowed one hit.
Neither team committed an error.
Preston 11, Vian 8 (Friday)
Vian's Destry Bethel drove in five runs and hit a three-run home in the bottom of the first inning but the Pirates withstood the Wolverines' seventhinning comeback to register the regional win.
Vian went to the fourth leading 4-2 but the Pirates scored a combined nine runs in the fourth, fifth and sixth frames before the Wolverines rallied with four in the seventh.
Cash Collins, Bethel, Brandon Redburn and Diego Ramos each had two hits for Vian in the contest.
Ramos (4.1 innings) struck out five and walked seven while allowing five hits and six earned runs and in relief Michael Polecat (2.2) struck out one and walked two while giving up four hits and three earned runs.
Vian committed two errors and Preston had none.
Vian 17, Pocola 1 (Friday)
The Wolverines started regional play on Friday with a convincing victory over Pocola .
Vian led 1-0 after two innings before breaking the game open with seven runs in the third and nine in the fourth.
Brandon Redburn, who hit a grand slam in the fourth frame, went 4 for 4 at the plate for Vian and Connor Collins and Destry Bethel also each had a home run.
Redburn, Collins, Bethel and Michael Polecat all had multiple hits for the Wolverines.
Riley Ellis (5.0 innings) struck out 10 and walked six while allowing three hits and one earned run.
Pocola committed four errors in the game and Vian had none.