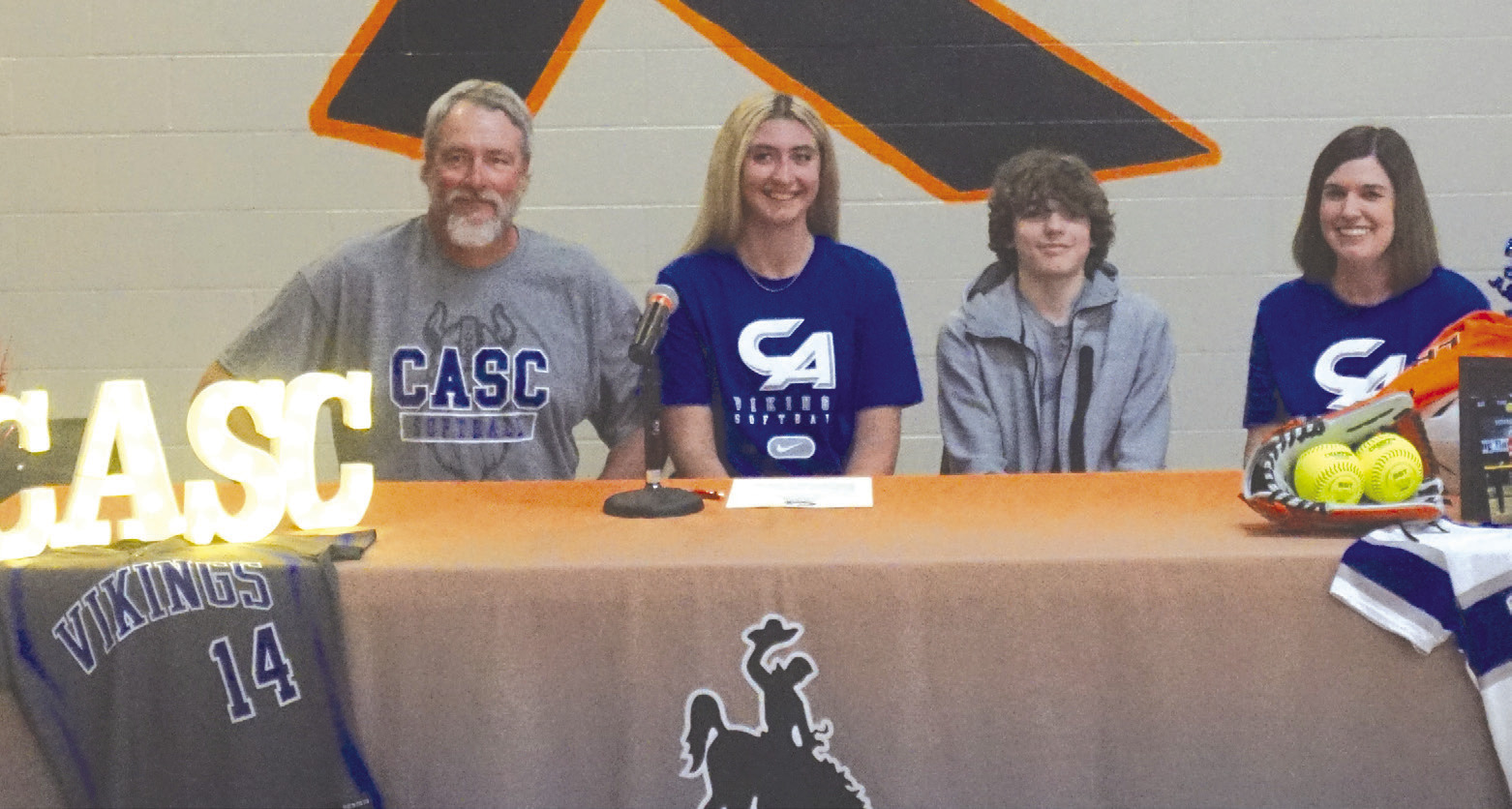 Roland softball
Mulanax signs letter of intent with CASC
Roland High School senior Madi Mulanax signed a letter of intent last week at RHS' Commons Area to play collegiate softball at Carl Albert State College in Poteau.
Mulanax is looking forward to continuing her education and playing softball for the Vikings at Carl Albert, a National Junior College Athletic Association Division I member.
"I'm beyond excited," Mulanax said. "It's been a dream to play softball all my life, and I'm proud to have that opportunity."
Mulanax caught the attention of Carl Albert head coach Lexi Watson during a tryout in Poteau.
"We just went and practiced," said Mulanax, a four-year lettermen for the Lady Rangers. "She (Watson) saw me. I fit in well with the team, and I had to make sure of that. I've played travel ball with over half of them (CASC team members)."
Mulanax wants to be a veterinarian, and plans on transferring to Oklahoma State University in Stillwater after attending Carl Albert.
During the 2022 season, Mulanax posted a .906 fielding position at third base for the Lady Rangers while registering a .475 batting average with an on-base percentage of .492.
Roland head coach Dara Tyler said Mulanax will be an asset for the Vikings.
"Madi is very much in the same boat as Jaidyn (Burrell)," Tyler said. "She's been a four-year letterman here at Roland. She's been a constant through everything, ups and downs, and she's withstood it all."
Burrell, also a senior at Roland, recently signed a softball letter of intent with Northern Oklahoma College-Enid.
"She is very excited to play at the next level," Tyler said. "We went down to Carl Albert, and she didn't know what to think, she didn't know what to expect, and the campus, the coaching staff, everything just won her over. She knew before she even went to the tryouts that if it worked out, that's where she wanted to be. We went down one afternoon to go through a tryout, and the coach let me know before the end of the day that she wanted her to come. She was really looking for a middle infielder, which played right into Madi's best positions. It felt like Madi's going to be a huge asset for them."
Tyler said Mulanax will most likely play one of the middle infield (shortstop or second base) positions or third base.
Tyler also said Mulanax and Burrell are both excellent role models.
"They are both extraordinary young women," Tyler said. "You couldn't ask for better role models for our elementary kids or our younger players, they're just excellent kids. They make good grades, they're dependable and they're everything that you want in a student-athlete, and I know that regardless of anything pertaining to softball, they're both going to be hugely successful adults and contribute a lot to our society one day."