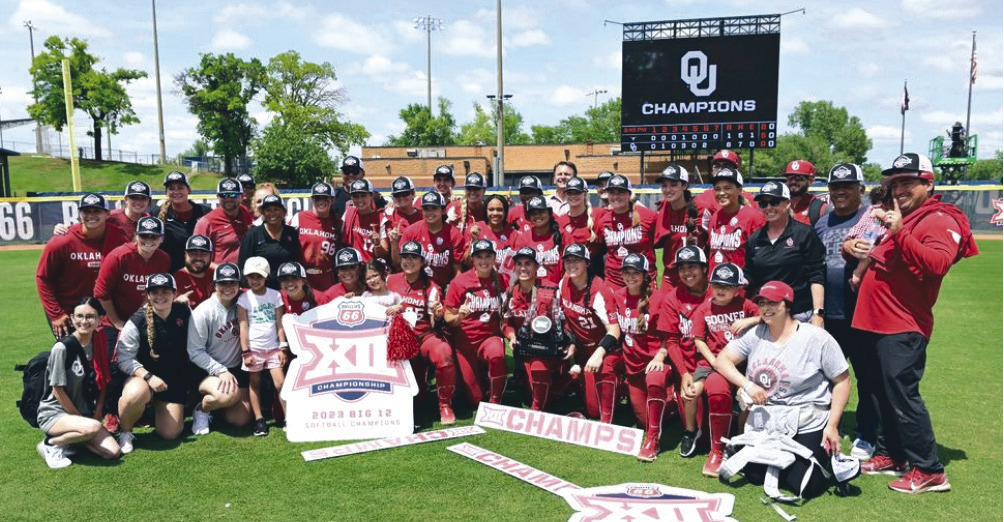 OU softball
Sooners roll Texas, win Big 12 Tournament title
OKLAHOMA CITY – For the eighth time in program history and the fifth time in the last six conference championships, No. 1 Oklahoma was crowned champion of the Big 12 softball tournament after defeating No. 7 Texas, 6-1, on Saturday at USA Softball Hall of Fame Complex in Oklahoma City.
The win tallied Oklahoma's 23rd overall conference title, and secured the Sooners' fifth Big 12 title sweep.
The Sooners (52-1, 18-0) extended their program record winning streak to 43 games, four wins shy of the NCAA record set by Arizona in 1995-96. The win pushed OU to 21-0 this season vs. ranked opponents as the Crimson and Cream dispatched the No. 7-ranked Longhorns (42-13-1) in a dominant effort.
The Sooners struck first behind Haley Lee's 13th home run of the season in the bottom of the second inning, but Texas responded with a solo home run in the top of the fourth frame off Nicole May to tie the game at 1-1, just the fifth long ball May has surrendered in 2023.
Oklahoma reclaimed the lead for good in the bottom of the fourth when Lee singled down the left field line before Alyssa Brito doubled to plate the Sooner senior. A wild pitch scored Brito, and a double from Rylie Boone sent pinch runner Jordy Bahl home to give the Sooners a 4-1 advantage.
In the bottom of the sixth stanza, Lee walked to reach base for the third time and Avery Hodge pinch ran. Hodge scored on an error to make it 5-1 after a Bahl single to right center. Bahl made it 6-1 when Kinzie Hansen drove her in later in the inning.
Bahl relieved May in the circle after the fourth inning, and threw three scoreless innings to secure the Sooner title. May improved to 16-0 on the season, earning the win after allowing just three hits and one run in the effort.
Six Sooners recorded a hit in the game, paced by Lee's 2-for-2, one home run showing with two runs scored.
Lee collected Most Outstanding Player honors for the tournament, while six Sooners earned all-tournament accolades (Lee, Bahl, Brito, Jayda Coleman, Tiare Jennings and Grace Lyons).
Saturday's title game attendance was 4,684, and the championship's total attendance was 11,367 – the second highest in conference history.
The Sooners were tabbed as the No. 1 seed during Sunday's NCAA Softball Championship Selection Special. Regional action is slated for May 19-21, Super Regionals the following weekend and then the Women's College World Series in Oklahoma City from June 1-9.