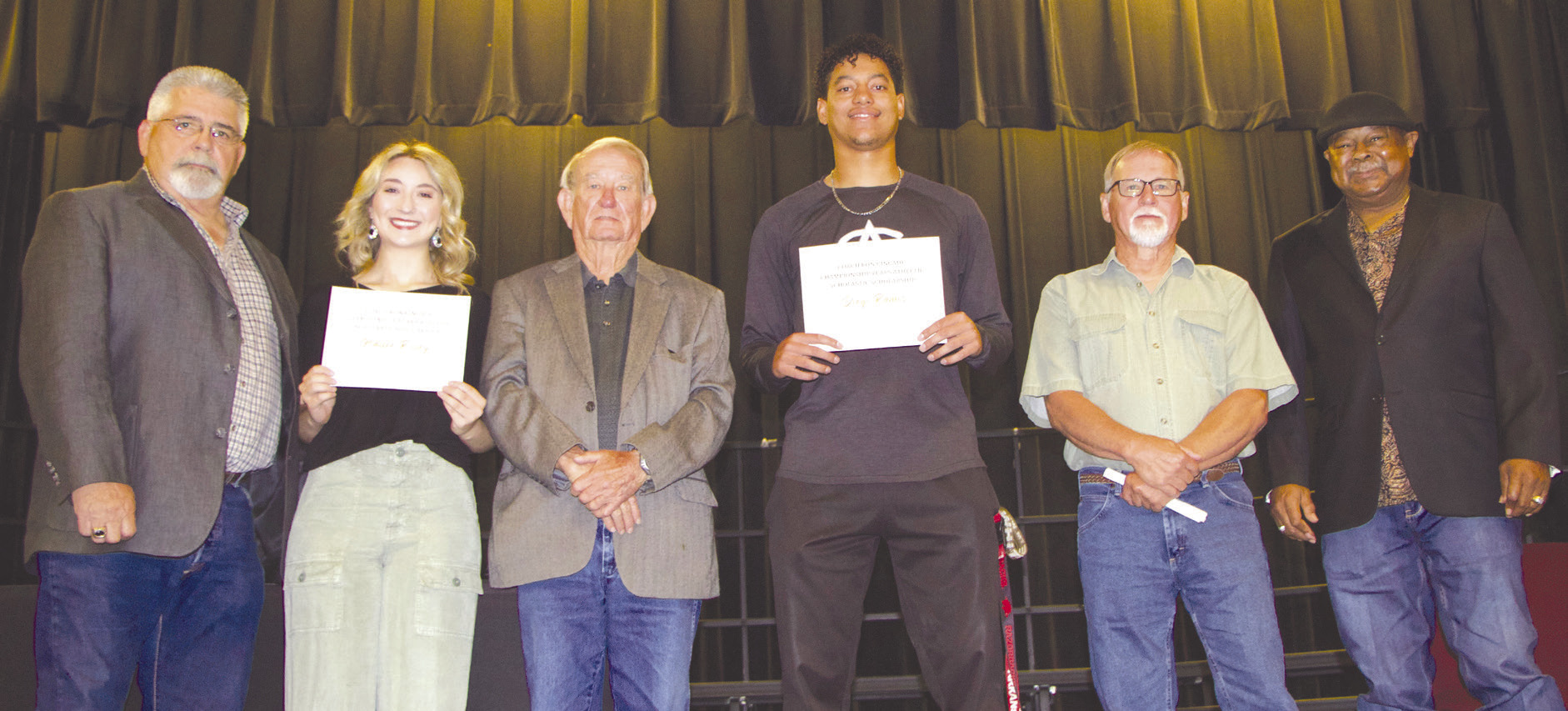 Vian athletics
Risley, Ramos awarded 1st Ron Kincade scholarships
Vian High School seniors Hallee Risley and Diego Ramos were awarded the first Coach Ron Kincade Championship Years Scholarships for cheer and football, respectively, during VHS' awards assembly Wednesday morning inside the school's cafetorium.
Former players of Ron Kincade, the Vian head football coach who led the Wolverines to a state runner-up (1970) finish and a state championship (1971), started the Coach Ron Kincade Championship Years Scholarship Fund.
Risley and Ramos were appreciative of their $1,500 scholarships.
"I'm very grateful for this," Risley said following the presentation. "It's going to help me a lot whenever I go to college. I'm just very appreciative of this."
Risley plans on continuing her education at Northeastern State University in Tahlequah.
"I'm going to attend Northeastern State and hopefully get into the optometry program," remarked Risley.
Risley cheered three years for the Wolverines in high school.
"I didn't do it my sophomore year due to COVID and some other issues but I basically cheered my whole life," said Risley, who will not cheer at Northeastern but instead focus on her studies."
"I'm just grateful and thankful," said Ramos, a football, basketball and baseball standout at VHS during his high school career. "This is the first year to give out this award so I'm just grateful to achieve it and it's a great honor to get this award that they presented me with."
Ramos will attend the University of Arkansas at Fayetteville on a baseball scholarship and study finance at the university. Ramos would also like to play professional baseball following his stint with the Razorbacks.
Kincade, the head coach of the Wolverines' football team for three seasons (1970-72), said the scholarship fund was important to him.
"These kids (former players) put it together and they wanted to put my name on it but really this is for that era, for that group that played here," Kincade said Wednesday. "It means an awful lot to me."
Vian's football team was 4-6 the season before Kincade arrived in Sequoyah County.
"I came here and the program was kind of in shambles," said Kincade, who coached at Locust Grove before moving to Vian. "We got to look at Steve Davis and Sallisaw the first ballgame, and we played the socks off them, and then we got to look at the Selmon kids the next week so we lost our first two ballgames and then we won like 11 in a row and got beat in the state finals.
"The next year we beat Sallisaw and then we lost to Eufaula and the Selmon boys and then we preceded to win 23 ballgames in a row plus the state championship and got beat in the state quarterfinals that last year."
Following their successful high school careers Davis and the Selmon brothers (Lucious, Dewey and Lee Roy) had stellar college football careers at the University of Oklahoma.
"These are great kids, great kids to work with, and the best three years that I spent in my life were right here," Kincade said."
Kincade left coaching after leaving Vian.
"I didn't coach anymore after I left Vian," said Kincade, who lives in Catoosa. "I had an opportunity to go to work for a very large building materials corporation. I thought I would give that a try and probably go back to coaching but just never did. I went into business for myself."
Horse racing is one of Kincade's current hobbies.
"I've got a couple of race horses," Kincade said. "That's just a hobby. I lost my wife four years ago and that's one thing she said, 'don't give up your horse business.' It's a lot of fun."
Wilburn Goss, a member of Vian's 1971 state championship team, helped organize the Coach Ron Kincade Championship Years Scholarship Fund.
"We (Goss and other former players) had a little meeting and came to a (VHS) football game and we all met up there at Simple Simon's," said Goss, a 1972 Vian High School graduate. "We just wanted to do something and we also wanted to honor coach Kincade. He's really behind it and he was really stoked about choosing a cheerleader with that deal because they do so much and people don't recognize it. They work hard too.
"We're getting this started and the people will be able to donate to it."
Donations to the Coach Ron Kincade Championship Years Scholarship Fund can be made at the Armstrong Bank in Vian.