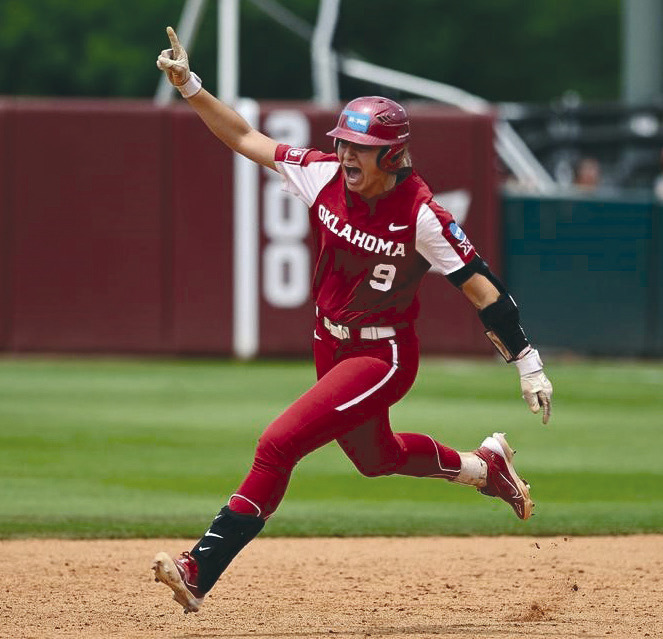 OU softball
Sooners sweep Clemson in Super Regional, heading to WCWS
NORMAN — It took some dramatics in Game 2 Saturday at Marita Hynes Field, its potential final game to be played there, the top-ranked Oklahoma Sooners softball team finds itself in a familiar place — the Women's College World Series.
The Sooners rallied from a 4-0 deficit to knock off the Clemson Tigers on a Tiare Jennings solo home run in the ninth inning to win 8-7 on Saturday. OU took Game 1 by a score of 9-2.
In the super regional clinching win, the Sooners (56-1), winners of 48 straight games, scored three runs in the seventh inning to tie the game at 7 to force extra innings, thanks to Kinzie Hansen's two-out, three-run home run.
The Game 2 win just so happened to come on OU coach Patti Gasso's birthday, and it also broke the record of the longest winning streak in Division I softball "We're never out of a game — no matter what," Gasso said. "We could be down by five, four, whatever. We're not out of the game, and we believe that. We've done it on this stage with so much at stake, and the stakes are higher. Can we do this? I guess we can. They don't doubt it."
In Game 1, Cydney Sanders' two-run homer in the bottom of the fourth pushed the OU lead to 4-0.
Sparked by two OU errors in the fifth inning, the Tigers closed the deficit to 4-2, which could have been even tighter had they not left the bases loaded.
The Sooners opened the bottom half of the inning with five straight hits — an impromptu bunt single down the first-base line by Rylie Boone, a line-drive single to center from Jayda Coleman, an infield single to shortstop from Jennings to load the bases with no outs, followed by a grand-slam home run to center by Haley Lee and a solo homer from Alyssa Brito, who committed an error in the top half of the inning.
OU will meet Stanford at 1:30 p.m. Thursday at Oklahoma City's Hall of Fame Stadium in the opening round of the WCWS.