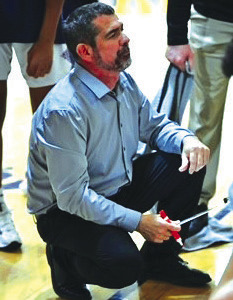 VIAN BASKETBALL
Vian boys basketball coach taking over girls program, also
When the Vian Public Schools Board of Education made its decision late last month to reassign girls basketball coach Tina Ramos, there was a void to fill. So, it went to Vian boys coach John Mays to help fill that void, which he will do.
"They (Vian Public Schools Board of Education) came to me to see if I could step in and help," Mays said. "The situation as it is now, I'm just the in-between guy for now and just kind of help both programs the way I can. It's a tough situation. Until they tell me differently, I'm looking at it that way. I will not put a timetable on it because that one year might turn into two years."
Mays believes his previous stint as Lady Wolverines basketball coach was a factor as to why the board sought him out to be Ramos' successor.
"The board and administration came to me and said we have a situation that needs help," he said. "They came to me and asked if I could fill in the gap for right now. I coached here one time before. I was the girls coach for four years before I left and came back. I have prior knowledge of girls basketball. I think that was part of it (the decision to have Mays coach the girls basketball program as well as the boys) for right now. I have some knowledge from watching them last year. It will be an easy transition."
Mays won't have to get acquainted with the Lady Wolverines as he will see them on the diamond for both fast-pitch and slow-pitch seasons with hoops in between.
"I already know these girls," Mays said. "I've coached them in softball. So, I have a little bit of a prior knowledge of the girls. That's kind of the whole thing (about the board's decision to hire Mays to coach both basketball teams). I already have knowledge of the girls and know who they are. I just got done with them for the slow-pitch season. It will be an easy transition. It might be one of those situations where they may want to keep me around."
Last week was the first true opportunity for Mays to get acquainted with his basketball girls.
"We had a team camp here last week," he said. "We had two good days. We played six games in two days. That was my first really chance to sit down and watch them. Now, it's just kind of at that point where I'm taking a few notes. I'll go back and watch film and try to piece some stuff together. There are things I'll want to probably do a little bit different. This will be the last time I'll see them (before school begins). We will have an open gym for them. I got a pretty good sense of what direction we need to go."
Mays is looking forward to the new duties, but he said he couldn't have done this without quality assistant coaches with both squads.
"I am looking forward to it in a weird, tiresome way. It still sets up good for us, " Mays said. "I'll have them (girls) for first hour (athletics). I'll have the girls in the morning and the boys in the afternoon for last hour. In that sense, it works out well for me. I am looking forward to it because I think we have two good groups, boys and girls. I think we can do well with both. I'm excited for the girls and the boys. We're going to be pretty decent on both sides.
"I have two very good assistants — Athena McCoy on the girls side and Lance Winans on the boys side — who are going to take a lot of this on their shoulders. Me going into this, they were the first ones I sat down with. I told them I'm going to need a little bit of help with this. They're all ready to go. It will be a good thing."