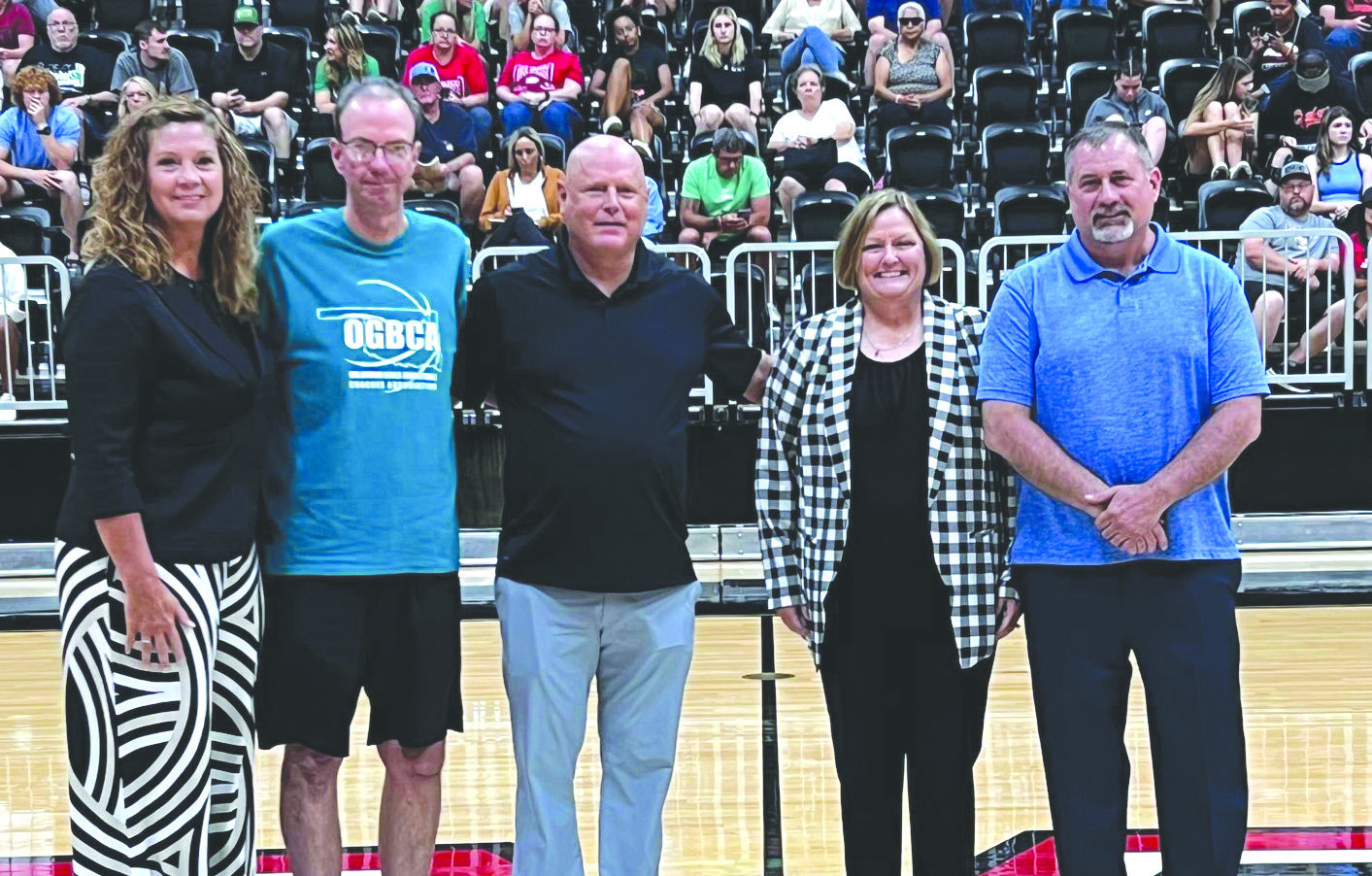 MULDROW BASKETBALL
Lady Bulldogs coach humbled by induction into OGBCA Hall of Fame
When Muldrow Lady Bulldogs basketball coach Jana Armer got word last spring that she was going to be among the five individuals to be part of the Class of 2023 Oklahoma Girls Basketball Coaches Association (OGBCA) Hall of Fame earlier this month, two key feelings overcame the veteran coach.
"It was almost disbelief, but also very honored," Armer said. "Both of my high school coaches, Wayne Morgan and Mark Hudson, are in the (OGBCA) Hall of Fame. I absolutely think they hung the moon and know everything. I didn't think I would be named with those coaches. I'm very honored to be voted in by your peers. It's special."
Armer found out right after the 202223 basketball season came to an end.
"I found out at the end of March," she said. "Scott Lowe from Fort Gibson texted me that I had been inducted into the (Oklahoma Girls Basketball Coaches Association) Hall of Fame."
The induction took place during the 2023 OGBCA All-State Games the first weekend this month at Mustang. Armer talked about the big day, the day in which she was officially inducted into the Hall of Fame.
"To be surrounded by my loved ones, my family, my board members and my superintendent was just amazing. It was a great day. I can't really put it into words."
The veteran coach is quick to point out that it took a big family, both blood-related and Muldrow-related, to help earn her this honor.
"It was just a big honor to be inducted into the Hall of Fame," Armer said. "There are just so many people who got me here. I'm not here without great family support or school support, or great players — players who have bought in what we've done here and how we handle things as Lady Bulldogs, just hard-nosed basketball players. I've had some of the greatest assistant coaches around. Several of them have gone on to become head coaches. I've had five, and this last one is my favorite — my husband Jamie. I've been surrounded by great people."
Armer was joined in the Class of 2023 inductees with Andrea Guizec, Mike Fitts, Jeff Zinn and Scott Reed, all of whom she has known for quite some time — with two of them being opposing coaches she has faced.
"I know them very well," she said. "I've had battles with two of them — Scott Reed from Vinita and Jeff Zinn, who's at Southwestern (Oklahoma State University) but was at Anadarko. They (Zinn's team) beat us in the state finals in 2019. So, we've known each other a long time."
However, once the festivities ended, it was back to work as a basketball coach.
"It's an honor, but I'm not going to change anything around here," Armer said. "I'm still coaching. Monday morning (June 5), I went right back to basketball camp. I just continued with what we normally do. We just went back to work and got going."
One of those duties is happening this week with the 2023 Muldrow Lady Bulldogs Basketball Camp at Roger Sharp Activity Center, with the two-day morning session dealing with campers in grades five through eight, and the two-day afternoon session being for campers in prekindergarten through fourth grade.
"We have about 35 (Monday) morning (for grades five through eight camp)," she said. "We'll have an afternoon session (for pre-kindergarten through fourth grade camp), and that usually has about 50 kids. My high school girls work this camp. It pays their expenses to team camp. It's great for them to put back to the community, too. For those younger kids to get to see them, come game time, they have somebody to cheer for. On the flip side, it also shows those high school girls how hard it is to teach someone. They'll say to me, 'Coach, those girls won't listen.' I'll tell them, 'Welcome to my world!' It's good for everybody. Wayne Morgan started it when I was probably in third or fourth grade in the early '80s. I've had camp here or come to camp here almost every year since then. I missed three years — the two years I went to college in Edmond and one year when I was pregnant. I think there's only been three years since I was in third or fourth grade that I haven't done camp."
It gives the veteran girls basketball coach pleasure seeing young hoopsters becoming stellar high school players.
"I love seeing the younger kids," Armer said. "I like to see them progress from seeing them as a kindergarten kid who can just barely dribble, and then you're watching them in high school. Many of the people around the community, and even the surrounding towns, have come to camp with us — then we get to play them when it comes high school time. That's pretty neat."