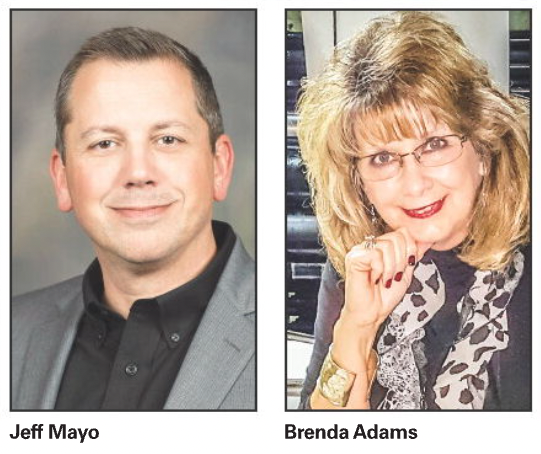 A: Main, Main, News
June 13, 2023
Mayo, Adams inducted into newspaper longevity clubs
SHAWNEE — Jeff Mayo, publisher of Your TIMES and six other area newspapers, and Brenda Adams, an advertising professional who is now a digital specialist for Cookson Hills Publishers, Inc., on Saturday were inducted into the Oklahoma Press Association's two fraternities honoring longevity in the newspaper profession.
Mayo was inducted into the Quarter Century Club and Adams into the Half Century Club in ceremonies during the OPA's annual convention, held this year at the Grand Casino Hotel and Resort.
Jeff Mayo
Mayo began working at Your TIMES in 1980 at the age of 8.
Today, he serves as publisher of Your TIMES as well as the six newspapers under the umbrella of Cookson Hills Publishers, Inc. — Eastern Times-Register, Eufaula Indian Journal, Henryetta Free-Lance, McIntosh County Democrat, Okmulgee Times and Vian Tenkiller News. Mayo and his brother Jack became owners of Cookson Hills after the passing of their parents, Jim and Becky Mayo.
A 1990 graduate of Sallisaw High School, Mayo earned a degree in community journalism from the University of Kansas in 1994, and a law degree from the University of Minnesota in 1997.
He joined Your TIMES in June 2003 as assistant publisher and general manager. He served on the OPA Board of Directors, and was president of the state association in 2013, following in the steps of his father, who was president in 1986, and his grandfather, Wheeler, who was president in 1944.
He was awarded the Daniel M. Phillips Leadership Award in 2010 by the National Newspaper Association, and is currently the vice chair of the NNA after serving as treasurer from 2020-22.
Mayo is a third-generation newspaper publisher, and five of the last six generations of his family have been in the newspaper business in Oklahoma, Arkansas and before Indian Removal in 1835 in Georgia.
He is also the 2018 recipient of the prestigious H. Milt Phillips Award, the highest individual honor given by the OPA.
Brenda Adams
When it was announced Adams was to be inducted into the Half Century Club, surely there were those who speculated that she must have begun her newspaper career as a child.
They would be right.
Adams' first newspaper was The Weekly Smash, a small-format newspaper that she sold for a penny apiece when she was a Chickasha fifth-grader.
She began her professional newspaper career on the editorial side as an intern for the Chickasha Daily Express in 1973 while attending the University of Science and Arts of Oklahoma. Adams was soon named sports editor, and also served as feature writer and lifestyles editor until 1978 when she became the first woman hired in advertising at the Express. She was later promoted as the newspaper's first woman advertising director, and in 1988 became one of only four women serving as publisher in the nationwide Donrey Media Group at the time.
Most of her career has been in advertising and administration, serving as publisher and regional manager for newspapers in Oklahoma, Texas, Ohio and Virginia.
In her 50 years in the newspaper business, Adams has worked at 14 newspapers in seven states, and has seen the industry evolve from typewriters to computers; newsprint to the web; broadsheet to magazines; and cold type to digital, including QR codes and geofencing.
Adams is currently digital specialist for Cookson Hills Publishers, Inc., selling digital products in the company's three county markets for seven newspapers.