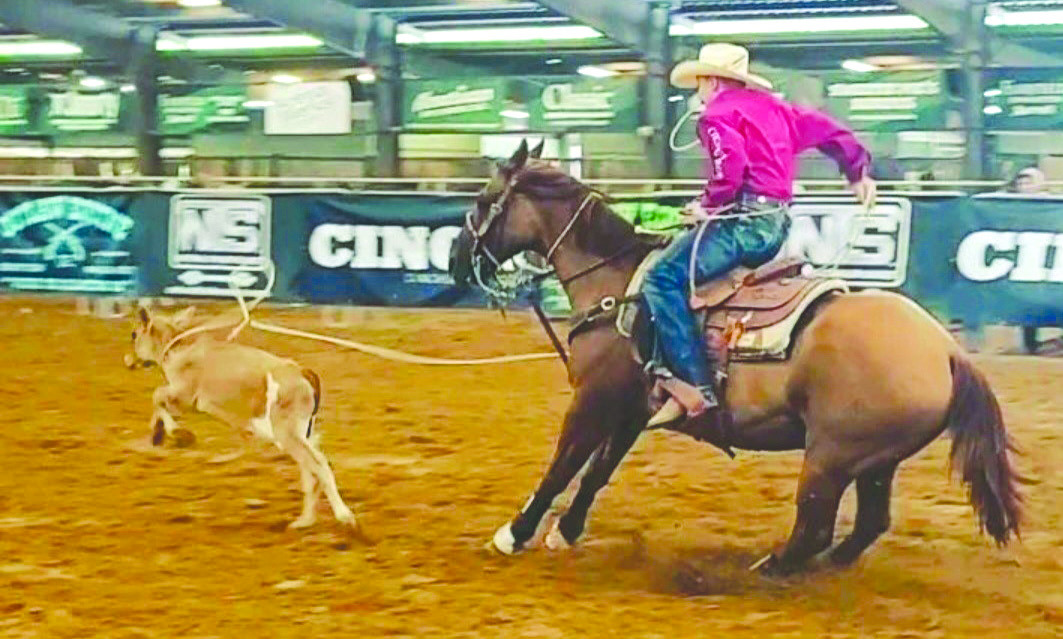 JUNIOR HIGH RODEO
Youth rodeo athlete 'excited' about 2nd trip to National JH Rodeo Finals
If you want to find J-Luke Wickett next week, you'll have to go to the Peach State.
For the second straight year, the Sallisaw youth rodeo athlete will compete in four events at the 2023 National Junior High Finals Rodeo, which will begin Sunday in Perry, Ga.
"I'm very excited," said Wickett, who is quick to thank all his individual and business sponsors for making his trip to this year's National JH Rodeo Finals a reality. "This will be the biggest stage I have ever been on. It's going to be pretty tough. I'm looking forward to it."
Just how big is this stage for the Sallisaw 13-yearold? Next week's event will feature roughly 1,200 contestants from 43 states, five Canadian provinces, Australia and Mexico. In addition to competing for more than $80,000 in prizes, Wickett also will be competing for more than $200,000 in college scholarships — and, of course, the title(s) of world champion.
The event can be watched as part of "The Cinch High School Rodeo Tour" on RFD TV as well as streaming on www.cowboychannelplus.com.
Wickett qualified for nationals in four events during the Oklahoma JH State Rodeo Finals, which took place May 18-21 in Chickasha.
Wickett earned a state championship for being both the team roping state champion header — with partner Brady McClemore of Gracemont (which is just north of Anadarko in Caddo County in southwest Oklahoma) — and roping state champion.
In the state finals, he was third in calf roping and fourth in light-rifle shooting.
Wickett said that having McClemore as his partner instead of someone else takes away a lot of pressure.
"I wouldn't have liked that," he said. "It helps that I know him and he knows me." Wickett said he's been prepping really hard this last month from the time he qualified in his four events for nationals and next week's event.
"I've been trying to practice and get ready for it," Wickett said. "I've been roping a lot. They (past rodeo events) have helped me practice for nationals."
Wickett competed in the 2023 Oklahoma Junior Rodeo Association Finals this past weekend in Mounds, in which he won the Age 10-13 All-Around Cowboy Award as well as four events — calf roping, ribbon roping, breakaway roping and heeling. After next week's nationals, Wickett said he will be participating in a rodeo event near the end of the month in Cody, Wyom.
Wickett said it might be hard to put into words his feelings at the end of next week should he win one, two, three or four national championships.
"It would be awesome," he said. "I would really like that."
Wickett has been being a rodeo athlete since he was age 8 or 9. He gave his reason as to what made him want to be a rodeo athlete.
"I wanted to get into rodeos because my dad did it," he said.
If Wickett's dream becomes a reality, he will become a professional rodeo athlete.